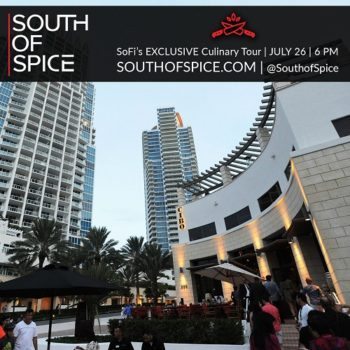 The 2nd Annual South of Spice event brings together the top chefs and restaurants in Miami Beach's famed South of Fifth neighborhood for a one-night-only exclusive Culinary Tour. CI Management and RS Consulting have teamed up again to produce this highly exclusive luxury tasting event that unveils anticipated summer menus in Miami's most iconic eateries.
South of Spice takes place on Tuesday, July 26th from 6-10 PM. Guests will check into an assigned restaurant, where they're given VIP all-access passes, an event map and menu of the sips and samples being unveiled at each location before they hit the town. Once checked-in, guests are free to tour the participating restaurants in any order or hop on a luxury chauffeured MiRide to stay out of the heat and ensure they get to every stop of the culinary tour!
Each location will host a private area for the SOS guests to meet and greet with their chef, sample their summer menu items, sip on a featured cocktail or glass of wine, and enjoy some entertainment that will be sprinkled throughout the event. Featured entertainment will showcase some of the additional artistic talent of SoFi, to include fashion designers, artists, and entertainers, among other fun excitement. Participating restaurants include:
– Red, the Steakhouse
– Zest
– Celebrity Cruises
– The Local House
– Izzy's Oyster Bar
– CIBO
– Radio Bar
– TiramesU
– Craft Social Club
– Il Mulino
– Talde
– Portofino Wine Bank
South of Spice will benefit the CI Foundation and their community initiative Eat Smart, a program that finds a balance between battling childhood hunger and providing healthy meals to promote youth nutrition.
Tickets cost $45 and can be purchased at SouthofSpice.com. Use coupon code PUG to save $5.