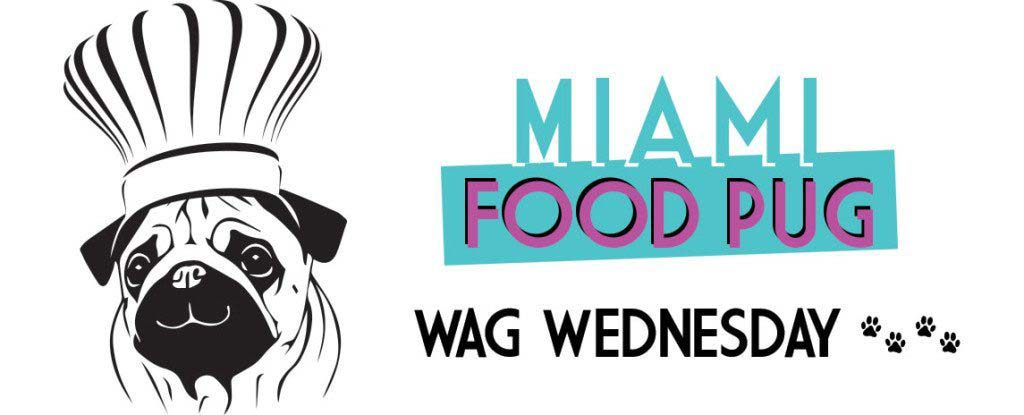 Since starting the blog, we've interviewed many members of the hospitality industry, and one constant among the interviewees has been a profound love for their pets. We thought it would be great to share this love with our readers.
That's why we launched an ongoing feature called "Wag Wednesday" to showcase industry peeps and their pets. Know someone who wants to be featured? Email us at bark@miamifoodpug.com.
This week, we're featuring Scott Linquist, Chef/Owner of Olla and Chef/Partner of Coyo Taco; Alexandria Guerra, Culinary Publicist; and their Weimaraner, Strummer.
Your Names: Scott Linquist and Alexandria Guerra
Your Pet's Name: Strummer
Sex: Male
Age: 3 1/2 months
Breed: Weimaraner
How did you come to own your dog? What drew you to him?
Scott: I had a Weimaraner for 10 years who passed away the night before the opening of COYO. It was such a tragic experience for me, and I thought I could never have a dog again until I met Alex. I wanted a Weimaraner again because, in my opinion, they're the best dogs: loyal, great companions, very loving, super athletic and really smart.
What's the story behind your dog's name?
Scott: We wanted to name Strummer after someone legendary and someone who's also a badass. Joe Strummer is the lead singer and co-founder of my favorite band, The Clash, and we thought his originality and rhythm only made sense to name a dog after. Rock on!
How would you describe your dog's personality?
Scott and Alex: Strummer is a strong, loving maniac. He goes from 0-100 and then 100-0 all day long — but we wouldn't want him to be any other way.
How has owning a pet made your life richer?
Alex: Strummer has made Scott and I better people in general. We really feel like a family, and it feels so indescribable to have Scott and Strummer in my life. Scott and I do everything together and now we have Strummer to include! It's so rewarding to come home and hang out with the puppy while Scott is making dinner and just have this adorable dog who is so happy to be with us.
We love waking up every day to our precious puppy (except for those mornings when we've had one too many martinis the night before). Strummer is so sweet and just loves us for us. It's the best feeling in the world.
It's said that dogs reflect their owners and vice versa. How does this apply to you and yours?
Alex: I have serious ADD, and I have now met my match. We have a puppy who's the same way, and we do not like being alone either so he keeps Scott and I very busy. We love being outside together and running around, which is a great reason to burn our daily obnoxious food consumption. Strummer also wants to eat everything; Scott and I could easily say we feel the same. I love sleeping as well, and now I get to cuddle constantly with Strummer — except it's not fun when he tries to eat my hair. He loves to sleep on top of our heads.
Scott: He's a badass like me.
Tell us a funny story about you and your dog.
Scott: Well, Strummer is probably the most spoiled dog in the world — no, he absolutely is. We bring him to work every day, which is every puppy's dream (and our workplace is where every dog wants to hang out). He hangs out with Alex in the office, and someone strolls in to say hello to Strummer probably every 10 minutes. He's basically living the doggy dream: He is surrounded by food constantly and gets attention all day from the staff at Olla. Everyone at the restaurant really loves him, and he's an immediate stress reliever (especially after crazy services).
Are you involved in any pet organizations or philanthropies?
Alex: Not yet! We would love to, though. There are so many pups who suffer and need special care and lots of love! Not that we are alluding to getting another puppy or anything. ?
We follow a lot of dog social media accounts like Doug the Pug, Rocco's Contemporary Life, and Menswear Dog. Do you? Which are your favorites?
Alex: I follow hotdudeswithdogs. Nah, just kidding — I got Scott. 😉
See past editions of Wag Wednesdays here.