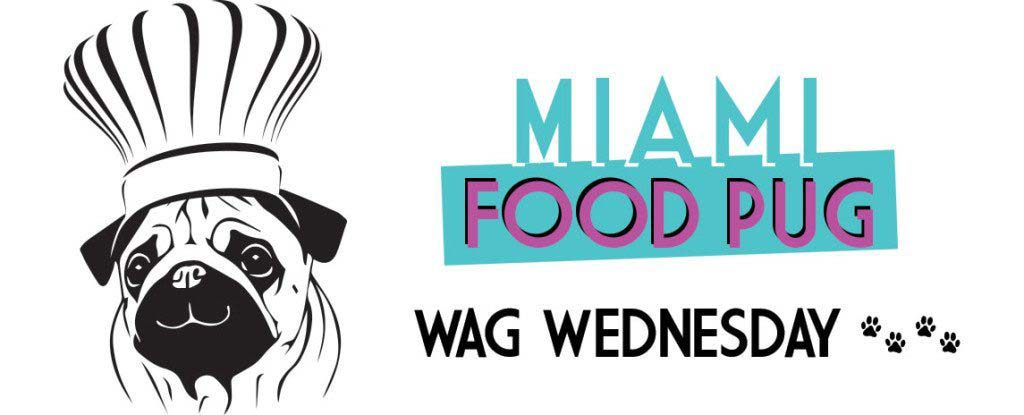 Since starting the blog, we've interviewed many members of the hospitality industry, and one constant among the interviewees has been a profound love for their pets. We thought it would be great to share this love with our readers.
That's why we launched an ongoing feature called "Wag Wednesday" to showcase industry peeps and their pets. Know someone who wants to be featured? Email us at bark@miamifoodpug.com.
This week, we're featuring Ghazal Yazdanparast, Sales & Events Manager at La Centrale, and her pup, Chloe.
Your Name: Ghazal Yazdanparast
Your Pet's Name: Chloe
Sex: Female
Age: Unknown, but I think 9-10 yrs old.
Breed: Another unknown! Possibly a Papillon and Terrier mix.
How did you come to own your dog? What drew you to her?
I went to Miami's Animal Services to look at a dog I had seen on their site. I went into the wrong room and came across Chloe. She was a bit aggressive, infested with ticks and not friendly at all. According to the volunteers there, she was meant to be put down that week, and I decided then I was taking her home. I actually had to sign a waiver agreeing she had behavior issues and I couldn't return her. But she's completely different now!
What's the story behind your dog's name?
Since she was such a mess coming home from Animal Services, I thought she deserved a feminine human name. Though, everyone loves calling her Gizmo.
How would you describe your dog's personality?
Chloe is a dog's version of an introvert. She likes to be on her own, doesn't really play with other dogs and doesn't even play with toys. She is very low key and unassuming until you approach her food or another dog gets too close to her. She did have a brother, Sasha, until three years ago and I think she's gotten quieter since then. She just loves her walks and prefers to stop for kids to play with her vs. other dogs.
How has owning a pet made your life richer?
I've made so many friends just meeting other dog owners in my neighborhood, and it's a great excuse to be out and active. Regardless of the type of day I come home from, she makes me laugh waiting for me with her tongue sticking out.
It's said that dogs reflect their owners and vice versa. How does this apply to you and yours?
We both like to lay out in the sun and take it slow on the weekends. We're both very independent, affectionate and always looking for an excuse to eat.
Tell us a funny story about you and your dog.
I lived with a friend who had Jack Russell Terrier mix, Daisy, and she had a big trunk of toys. We noticed the majority of the toys had gone missing and realized Chloe had been taking them one by one and stashing them under my bed. Some were bigger than her head, and she wouldn't even play with them, but she managed to hide them all!
Are you involved in any pet organizations or philanthropies?
We usually attend the Humane Society's annual Brunch for the Animals and donate supplies to animal services.
We follow a lot of dog social media accounts like Doug the Pug, Rocco's Contemporary Life, and Menswear Dog. Do you? Which are your favorites?
@MonsierSaul cracks me up and @MarnieTheDog reminds me of Chloe. @TheDogist is also my favorite.
See past editions of Wag Wednesdays here.