On November 10, 2010, three cousins — Nedal Ahmad, Otto Othman and Nizar Ahmad — opened Pincho Factory at 9860 SW 40th Street with only $6.27 to their names. The local fast-casual concept proved successful, and the trio went on to open a second store at Coral Gables in 2010 as well as an outpost inside American Airlines Arena just this year. With another location opening soon in Hialeah and other franchise projects in the works, there's no stopping these guys.
To commemorate Pincho Factory's 5-year anniversary, the team has rounded up five South Florida culinary superstars to create some killer burgers: Sef Gonzalez (Burger Beast), Phil Bryant (The Local Craft Food + Drink), Jose Mendin (Pubbelly), Giorgio Rapicavoli (Eating House) and Aaron Brooks (EDGE Steak + Bar).  From Monday, November 9 to Friday, November 13, patrons can visit either location and enjoy these unique burgers. You'll want to come in every day, though: Only one burger will be featured each day — and only on that day; once it's gone, it's gone. Here's the schedule:
Monday, November 9: Burger Beast's Cousin Otto Burger – an ode to Pincho Factory co-owner Otto Othman, features Pincho Factory's own signature burger patty, sweet chili sauce, jalapeños, bacon, pepper jack cheese (optional) on a brioche roll with Cajun fries.
Tuesday, November 10: Phil Bryant's El Camino – burger patty, sweet potato tots, Ropa Vieja, Swiss cheese and Mojo ketchup.
Wednesday, November 11:  Jose Mendin's Le Pincho Royale –  foie gras & shortrib pincho, gruyere cheese and black truffle jus.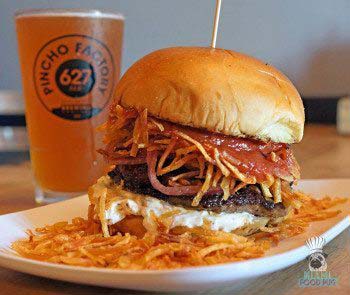 Thursday, November 12: Giorgio Rapicavoli's Calle Ocho Burger –  Angus beef, fried onion, potato, sweet plantains, smoked cream cheese, guava ketchup and mojo.
Friday, November 13: Aaron Brooks from EDGE Steak + Bar will be celebrating with an Aussie Lamb Burger.
"To honor five years of Pincho Factory, we wanted to celebrate with five people who have really changed the way Miamians eat and think about food in the city," said Othman in a press release. "We're huge fans of these folks and thrilled they'd take the time and share their talents with us and our fans."
For more information, be sure to follow Pincho Factory on Facebook, Twitter and Instagram.