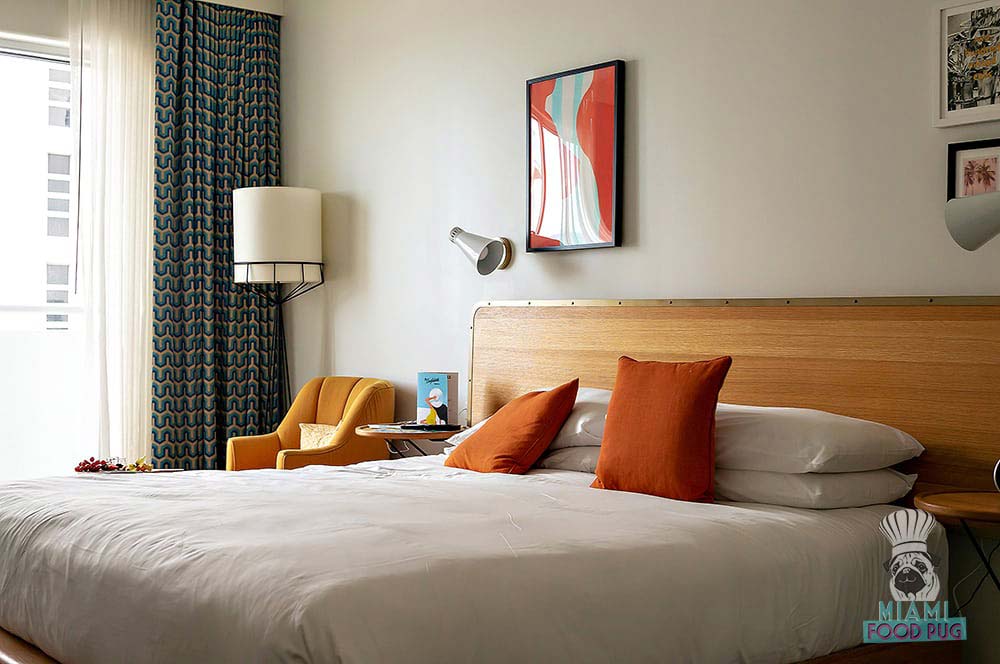 We're spoiled here in Miami. We have beautiful beaches in our backyard that we can visit whenever we feel like it. It's easy to take a day on the sand and in the sun for granted.
Nothing has made us appreciate this proximity more than a weekend staycation. Sure, other neighborhoods like Wynwood have just as many attractions and activities to offer, but there's something special here you can't find on the mainland: The Confidante Hotel.
The Building
If you're staying on the water, you want some good views — plain and simple. At The Confidante, you'll find that along with modern amenities and decor that put you in a South Beach state of mind. It's hard not to feel relaxed when surrounded by such chic furnishings; we kinda got a Key West vibe from our room.
Not all of the 363 units in the building offer an ocean view, but plenty of them do. Ours came with an partially obstructed view, but we hardly noticed the obstruction; the water and sand were just too captivating. A well-stocked minibar ensures you don't get too thirsty out on the balcony.
Upstairs, you'll find the spa and fitness center in case you want to unwind further or actually work out on your vacation. One thing we particular enjoyed about the fitness center was the availability of disposable headphones, which came in handy for this forgetful couple. State-of-the-art machines also let you connect to Spotify and other services, so you can get in the zone. This is great since you're going to need to burn some calories for dinner.
The Food 
The hotel offers room service as well as a poolside menu, but the real attraction here is the sit-down restaurant: Bird & Bone. The Southern-inspired eatery from Chef Richard Hales (the man behind beloved Blackbrick Chinese and Sakaya Kitchen) serves up breakfast, lunch, dinner and brunch — you'll never go hungry during your stay.
Unlike his other restaurants where Asian specialties abound, Chef Hales' Bird & Bone is cooking Nashville hot chicken, burgers and other sizable American fare around the clock. You can read our original dinner review for recommendations, but there's one dish we've tried since then that we have to suggest: the Bird & Bone Burger. It's a double Angus beef patty creation with Florida cheddar cheese, comeback sauce and other things your cardiologist will hate — and it's delicious.
Looking back on our stay, we'd do it all over again. A beach getaway does wonders for your stress levels. And when you're at a cool spot like The Confidante, all you want to do is chill out, soak up some sun and eat some good food. Thanks to the hotel, that's exactly what we did: escape for a weekend and live our best life.
The Confidante Miami Beach is located at 4041 Collins Ave. on Miami Beach. For hours of operation and other information, visit their official website or call 305-424-1234.