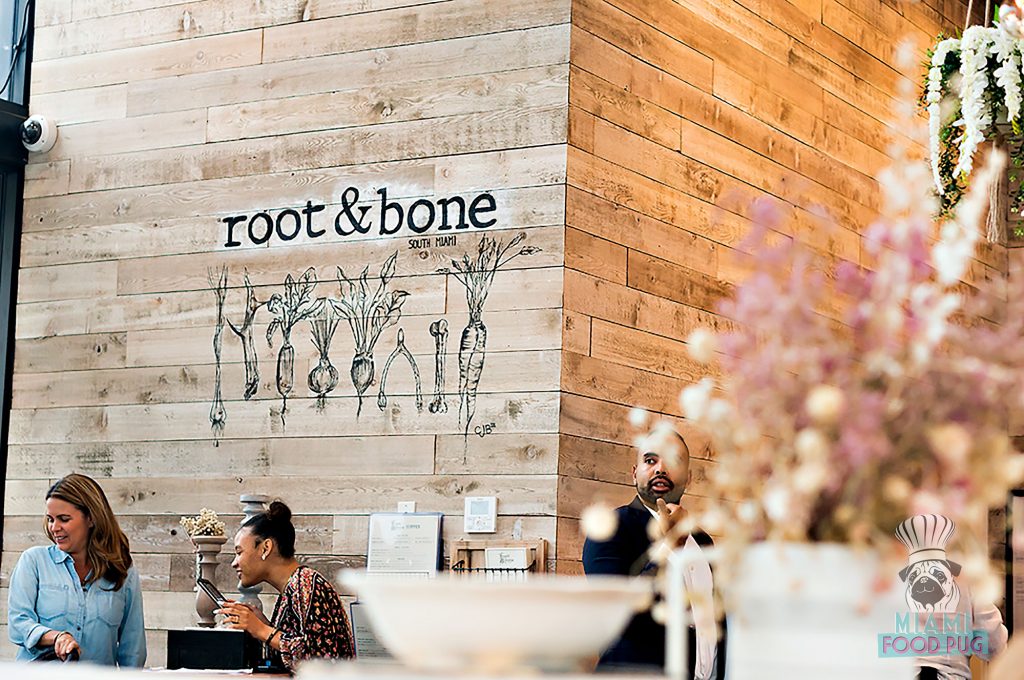 When we first heard that Root & Bone was opening in South Miami, we were a little skeptical. Why would a celebrity chef duo open a restaurant in this neighborhood? To be frank, it's where a lot of restaurants go to die; we've seen our fair share of closures around these parts.
Well, our skepticism was for naught. We've visited a few times already, and the place is SLAMMED. And after eating here, you'll know why.
Power couple Jeff McInnis and Janine Booth are behind the SoMi concept. You've likely heard of them before: They're responsible for Stiltsville Fish Bar on Miami Beach, and they both are Top Chef alumni. Together, the couple has developed a mouthwatering menu of Southern favorites — with their own personal touches. The restaurant is a place that's best enjoyed when you're realllllly hungry. Why? Because you're going to want to order everything.
With that said, as much as we wanted to order the entire menu, we had to settle on a reasonable amount of food (#ShreddinForTheWedding). We recommend starting with the bar bites, specifically the Smashed Sunchoke Tostones. Three words: buttermilk creme fraiche. And oh yeah, caviar. Once you start eating these things, you can't stop. Same goes for the Chicken Biscuits; juicy chicken between some oh-my-god-how-are-these-so-good biscuits. They are dangerous, to say the least.
You could easily make a meal out of the sizeable bar bites, but that would mean missing out on plates like Barbecue Bruleed Spare Ribs. A full rack will set you back $32, which is a steal once you see how much you're getting. We split them between two people and still had leftovers for a while. The Shrimp and Grits are just as massive and no less tasty — it just depends what you're in the mood for. Either option is satisfying AF.
Honestly, you don't really need dessert after a meal like this. Everything is humongous, and you will likely be full halfway through your mains. If you can make room for it, though, get the Caramel Pot de Creme. It's on the smaller side (compared to the other options), but it packs some big flavors. Wash down all of the above with a Sweet Tea or one of the restaurant's many cocktails; there's a ton of adult beverages here, so make sure to visit during happy hour as well. Honestly, just make sure to visit at all. Now that we've tried dinner, we can't wait to come back for brunch and lunch. We think you'll feel the same way.
Root & Bone is located at 5958 S Dixie Hwy. in South Miami. For hours of operation and more information, please visit their official website or call 786-785-1001.