September 4, 2020
Each Friday, we compile South Florida food-related news and events that we couldn't fit on the site earlier in the week, as well as other local news that piques our interest. Want to be included in our next roundup? Shoot us an email at bark@miamifoodpug.com.
Live Collaboration at Vecinos Market
New Breakfast Experience By Lona
New Taco Pop-Up Debuts in Downtown
MK Takeaways Launches Kid-Friendly Menu
Paletas Morelia Celebrates New Location
Caja Caliente's Food Truck Finds Permanent Home
Sweet Liberty and Café La Trova Team Up
Live Collaboration at Vecinos Market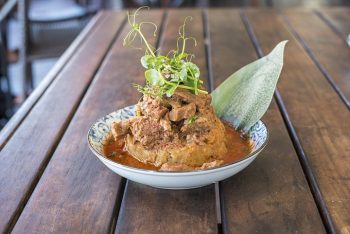 Next Friday, September 11, Vecinos Market Miami is hosting a live collaboration between Chef Jose Mendin and Bar Lab at 7 p.m. where Chef Mendin will demonstrate how to prepare Mofongo de Carne Guisada Boricua (Puerto Rican beef stew), and Bar Lab bartenders will walk us through a cocktail creation.
Attendees can sign up to follow along for free here, and then purchase the Mofongo Kit ($55) and add on the Bar Lab Swizzle Cocktail Kit ($9.50) here on Vecinos website. The Mofongo serves 4 people.
New Breakfast Experience By Lona
Since it opened its doors, Lona Cocina & Tequileria at The Westin Fort Lauderdale Beach Resort has enjoyed a well-earned reputation as one of the top spots for dining and drinks oceanside in Fort Lauderdale. At the same time Lona made its initial splash on the scene its sister restaurant, Tinta ("ink" in Spanish, the ink to Lona's "canvas") quietly opened inside the resort, exclusively serving breakfast. Launching Tuesday, September 8, 2020, Tinta by Lona will be the new breakfast experience at the resort and the coastline's new spot for desayuno.
The savory, spicy, Mexican-inspired breakfast menu, served inside the dining room or on Lona's open-air patio 7AM to 11AM daily, embraces Chef Pablo Salas' sense of whimsy and, like Lona's acclaimed menu, tempts with perfectly balanced flavors and textures, at once provocative yet approachable.
Likely one of Tinta by Lona's biggest sellers will be breakfast Tacos, served on corn or flour tortillas with salsa roja. Options include bacon, egg & cheese; chorizo, egg & cheese and potato, egg & cheese ($3 – $4). An array of omelets and Benedicts (Especialidades) are on offer, from a Yucatan Omelet – lump crab, cream cheese, chipotle béchamel, cotija cheese, pickled onion and cilantro ($12) – and Smoked Salmon Benedict with tomato caper hollandaise ($11) to the Mexico City Omelet – adobo pork, grilled pineapple, onion, cilantro and salsa verde ($10) and the Baja California Omelet with black beans, Monterey Jack cheese, poblano sauce and crèma fresca ($9).
A selection of Favoritos includes a Smothered Burrito stuffed with scrambled eggs, chorizo, poblano, queso, salsa roja, avocado and refried beans ($9); Chilaquiles – corn tortilla chips, salsa verde, crèma fresca, cotija cheese and fried eggs ($8); Carnitas Hash – slow cooked pork shoulder with potato, onion, poached eggs, chipotle hollandaise ($9); and a shredded beef Machaca Skillet with bell peppers, onion, tomato, scrambled eggs, guacamole and Pico de Gallo served with fresh tortillas ($10).
Dulces, served with Vermont maple syrup and sweet butter, include traditional buttermilk pancakes ($7 – $8); dulce de leche chocolate chip pancakes ($8 – $10) and cinnamon raisin French toast ($10).
Fanatic fans, and there are many, of Lona's Bottomless Beachside Sunday Brunch fear not. It remains in its most recent incarnation, delivering a safe, secure dining experience complete with no-touch action stations. The brunch is priced at $40 per person and available every Sunday from 11:30 AM to 3PM.
New Taco Pop-Up Debuts in Downtown
The popular 'red tacos' food craze in Mexican cuisine makes its way to the heart of Miami's Downtown District, and foodies will alas rejoice with every crunchy bite at the quick-service, outdoor pop-up restaurant El Primo Red Tacos beginning this Friday, August 21, 2020. Owners of the fan-dubbed #BestMexicanInMiami PEZ, the U.S. flagship restaurant by Chef Javier Plascencia known for the innovative Baja-Med cooking style born in Tijuana, celebrate the launch with FREE tacos on opening night from 5 – 9 p.m. EDT for dine-in guests.
During a transient time for many small businesses, the team behind El Primo Red Tacos gained inspiration and creativity following the aftermath of the COVID-19 pandemic on small businesses and the challenges it has specifically presented for their other restaurant endeavor PEZ, which temporarily re-opened its doors to welcome guests back to its dining room during a COVID-19 phase of reestablishing business operations, and has since needed to remain closed due to the current local restrictions on indoor dining.
El Primo Red Tacos gives #TacoLovers a chance to taste and enjoy the latest food trend in an outdoor, casual, quick service pop-up, similar to what is found in many of the street taquerias in Mexico which specialize in one item. Soon enough, the mouths of those who call the Magic City home and visit from places afar will be craving the deliciousness found in every bite of the #BestTacosInMiami Beef Birria Taco or Birria de Res (for those fans of the Spanglish menu items) at El Primo Red Tacos while the pop-up remains open.
Open on #TacoTuesday, Friday and Saturday from 5 to 10 p.m. EDT, the pop-up restaurant shares its culinary origins with PEZ as well as its temporary location, making the facade of PEZ the perfect backdrop for a cool and laid back atmosphere to enjoy the #BestTacosInMiami, and is located at 20 W Flagler Street, Miami, FL 33130.
MK Takeaways Launches Kid-Friendly Menu
Serving made-from-scratch, Chef-prepared meals since opening in July 2020, MK Takeaways (MKT) is the family-owned, ghost kitchen concept offering chilled, never-frozen dishes delivered to your home. Owned/operated by husband and wife duo, Michael and Karen Stanley, the Broward-based business serves South Florida's Tri-County area every week, Monday through Friday. With school back in session, MKT has launched an extensive kid's menu, "Takeaways for Tots and Teens" to eliminate mealtime stress for parents during these unprecedented times.
Conceptualizing this new, kid-forward menu was no sweat for the Stanley duo—the couple already own and operate Yummy in My Tummy (YIMT); a successful, Organic and Natural School Lunch Program in business since 2008. Before schools closed in March 2020, YIMT provided 4,000 meals a day across 90 schools in Miami-Dade, Broward and Palm Beach counties. YIMT has received rave reviews and accolades for providing Organic and Natural Meals as vendors of both the National School Lunch Program and the Adult Care Food Program as well as to private schools throughout the Tri-County area.
With each plate priced at $7, the "Takeaways for Tots to Teens" menu is perfect for no-fuss lunches and dinners during virtual school sessions. Meals arrive fully cooked and refrigerated to preserve freshness and include heating instructions. Busy parents looking to stock up for the school week can order five meals for $30 with MKT's "Youth 5 Meal Deal." Meals are made-to-order with the highest quality mix of conventional, all-natural, and organic ingredients.
Menu highlights include Lean Beef Burger with hand cut cottage fries (.50 extra for cheese); Homemade Chicken Tenders served with a choice of Yummy Mac-N-Cheese or hand cut cottage fries; Grilled Steak with rice pilaf and broccolini; Chicken and Cheese Quesadillas with rice and beans; Arroz con Pollo with plantains and Lean Beef Meatballs with pasta. Vegetarian options include Veggie Crumble Meatballs served with pasta; and Handmade Cheese Ravioli with tomato sauce.
Customers can access the menu and order via the MK Takeaways website – www.mktakeaways.com.
Paletas Morelia Celebrates New Location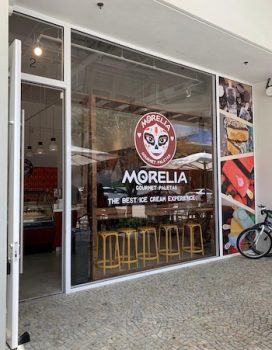 Morelia Gourmet Paletas, a gourmet build-your-own-popsicle shop known for its fresh ingredients and extensive menu, opens up its seventh location in Florida. The new location is set to open in South Beach on September 5th located at 1664 Lenox Ave #2, Miami Beach, FL 33139; located on Lincoln Road next to Shake Shack and Rosetta Bakery. This location will have indoor and outdoor seating with takeout and delivery via their website https://order.paletasmorelia.com/#/onlineorder or on delivery apps such as Postmates and UberEats.
Morelia Gourmet Paletas customers and newcomers will now be able to explore their sweet tooth and create their favorite version of the Mexican style paleta. The new gourmet popsicle shop invites guests this summer to choose from up to 16 popsicle flavors including pistachio, mango, Belgian chocolate, banana filled with Nutella, and many more! They offer over a million different combinations by adding dippings and toppings to enhance the ice cream experience and taking its flavors to the next level.
After customers select their paleta, the fun begins with Dippings such as dark chocolate and Toppings like rainbow sprinkles and Oreos. You can try their signature S'mores topping which is a marshmallow fluff torched with graham crackers on top, the signature Paleta Sandwich OR the new Waffle topping; the Paleta Burrito or the Waffle Bowl! Everyone's taste buds are sure to embark on the sweets journey of their life. All of Morelia's paletas are Kosher certified by Kosher Miami (KDM).
On September 5th, guests will be able to get a free paleta only at the NEW South Beach location from when they open at 1 p.m until their very last paleta at 9 p.m. Paletas Morelia will be giving away more than 1000 paletas this day so make sure you come by early as they will run out quickly! This summer is for letting your imagination and creativity flow by creating the Best Ice Cream Experience with Paletas Morelia. To register for your free paleta, please go to https://palet.as/open.
Caja Caliente's Food Truck Finds Permanent Home
Caja Caliente's Food Truck finds a permanent home in the Design District. The luxe neighborhood has been craving a fresh new spirit, something that will cater to shoppers and locals who are looking for a grab and go delight! Known for its "Original Cuban Taco," Caja Caliente reinvents the traditional Cuban meal. Mika León, owner of Caja Caliente, merged her passion for food, cooking, family, traveling, and is getting creative during these new 2020 times.
These times have made adapting to change a must and owner Mika Leon, strongly believes in rebooting carry out and delivery efforts, Leon was thinking outside the box to venture her devotion for cooking. Food trucks have become a booming trend, and Caja Caliente is taking it back to its roots. Leon will launch two trucks, with one permanently stationed in the Design District at 95 NE 40th St, Miami, FL. Her second truck will be used for catering and to tour around Florida and eventually across the nation. At the Design District, guests can expect Caja Caliente's classic menu as well as a one-of-a-kind pop-up menu with a few more surprises. The food truck destination will also serve as a delivering hub for neighboring areas like Wynwood, Edgewater and MIMO, to name a few.
The Design District Caja Caliente pop-up will have outdoor seating socially distant for those who wish to enjoy their bites on site. Caja Caliente has always been a neighborhood-focused eatery, and during these times they aim to spread love in the form of tacos and their delicious Cuban bites, all while following all CDC, and City regulations.
Sweet Liberty and Café La Trova Team Up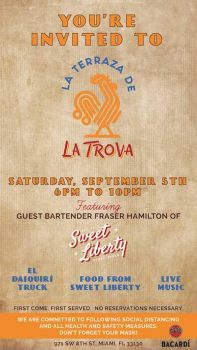 Sweet Liberty will be joining La Terraza De La Trova — Café La Trova's new outdoor popup — this Saturday from 6 to 10 p.m. Guest Bartender Fraser Hamilton will be joining Julia Cabrera on El Daiquiri Truck and guests can also enjoy several signature dishes from Sweet Liberty's menu.