October 2, 2020
Each Friday, we compile South Florida food-related news and events that we couldn't fit on the site earlier in the week, as well as other local news that piques our interest. Want to be included in our next roundup? Shoot us an email at bark@miamifoodpug.com.
Est. 33 to Open at Brickell City Centre
Fireman Derek's  Launches Ice Cream Menu
Coming Soon: Hachidori Ramen Bar
Bodega Debuts New Spinoff Concept
Phuc Yea Celebrates 4 Years
Leku Opens for Dinner
Est. 33 To Open at Brickell City Centre
EST. 33 Thai Craft Brewery and Kitchen will open its doors this November, offering a new dining experience inspired by a harmonious blend of Eastern and Western cultures and the confluence of heritage and innovation. Located on the fourth floor of Brickell City Centre, the new restaurant features an extensive covered outdoor patio, bar and seven fermentation vessels in addition to seven serving tanks in its brewery housed in the interior of the restaurant.
Boon Rawd Brewery Company Limited, which produces Singha and Leo beers, is the first-ever and still number one brewer in Thailand and is excited to bring the EST. 33 concept to Miami, the first opening outside of its home market.
EST. 33's most prized pints include The Legend Lager ($7), favored in Thailand for its golden body, it's a refreshing blend of malted barley and noble hops from Europe, perfect for humid climates; and The One and Only Kopper ($7), EST. 33's proud take on the Vienna-style lager, with intense caramel notes that emulate Kalamay, a traditional sticky coconut rice delicacy.
In the kitchen, Asian flavors meet the distinctive techniques of American barbecue. The unique and exotic ingredients and spices characteristic of Asian cuisines are further developed and deepened by the heat of a barbecue grill and large smoker fueled by hickory wood to invoke aromatic dishes showcasing bold yet approachable flavors.
The grilled menu features two-piece skewers including Chicken Satay ($12) served with tamarind peanut jam; Duck Breast ($18) with a sweet sesame teriyaki; Scallops ($19) with a green curry coconut glaze; and Corn with Thai basil chimichurri ($9).
The smoked menu, which is served with steamed buns, features Beer Brined Pork Shoulder ($14), Char Siu Pork Ribs ($11 half / $20 whole), Thai Lemongrass Chicken ($14 half / $26 whole) and Thai Spice-Rubbed Beef Brisket ($18). This is just a taste of the many dishes available.
EST. 33 will be open Sunday through Wednesday from 11:30 a.m. to 11:00 p.m. and Thursday through Saturday from 11:30 a.m. to midnight. For more information, call (305) 374-7535 or visit www.est33.us.
Fireman Derek's Launches Ice Cream Menu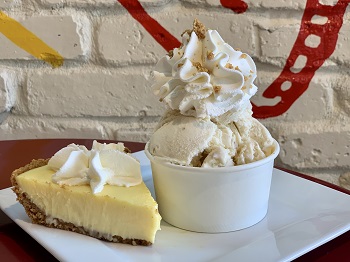 Pie master Derek Kaplan and the talented team at Fireman Derek's Bake Shop have been whisking up extraordinary confections in their Wynwood and Coconut Grove shops for years.
Now, this one-of-a-kind Miami dessert destination has announced the launch of their new, hand churned ice cream inspired by Fireman Derek's titillating goodies. Fireman Derek's ice cream will be available in-store at the Coconut Grove location beginning September 26; plans for ice cream service in Wynwood are forthcoming.
Graduating in January 2020 from Penn State University's Ice Cream School, Fireman Derek Kaplan is bringing his newfound talents back to Miami.
"Penn State accepts 120 students from all over the world to attend the ice cream program each year. Honing my technique alongside tastemakers-in-training from big names like Ben & Jerrys, Häagen-Dazs and Baskin Robbins was such an invaluable experience," says Kaplan. "After months and months of practice, I'm excited to show the Magic City everything I learned."
Fireman Derek's will serve eight flavors of handmade ice cream; flavors to include bake shop favorites like White Chocolate Guava Cookie Dough, Salted Caramel, Birthday Cake, Red Velvet Cake, Key Lime Pie, Chocolate Brownie with Caramel Swirl and more.
Ice cream is served in a 5 oz. cup (one scoop) for $4.50 and 10 oz. cup (two scoops) for $8. Furthering his commitment to no-nonsense ingredients, Fireman Derek's ice cream flavors are free of artificial flavoring, high fructose corn syrup and made with milk from rBST-free cows.
Coming Soon: Hachidori Ramen Bar
Miami will soon be slurping on inventive noodles when Hachidori Ramen Bar debuts in the Little River neighborhood. The spirited Japanese eatery is set to officially open on Oct. 22.
Translating to "hummingbird," hachidori in Japanese culture represents the enjoyment of life and its simple pleasures. Inspired by the husband-and-wife team's honeymoon travels to Japan, Hachidori Ramen Bar seeks to transport diners to Tokyo with its bold flavors, dim lights and throwback hits. The restaurant will serve up Japanese soul food and street fair staples with the promise of exceptional hospitality in a laid-back setting.
Ramen takes center stage at Hachidori, where all broths are made from scratch and simmered slowly. Sure to become a guest favorite, The "OG" Ramen features a 20-hour Tonkotsu broth topped with 2-day cured, 4-hour braised pork belly; a house-made spice mix; miso tare; and marinated soft-boiled egg.
Shoyu the Money is a chicken and soy sauce-based ramen with dashi and bonito flakes for extra umami flavor, and for vegan and vegetarian diners, The Shrooms is made with a mushroom and onion stock that simmers for 6 hours.
Guests will also find izakaya-style tapas meant to share – from classics like Gyozas and Bao Buns to imaginative dishes including Umami Sticky Bread, Japanese Street Corn, Korean Chicken Wings and Crispy Yakiniku Ribs – all perfect for washing down with an ice-cold beer. Hachidori's wine and sake program was also curated to pair with these menu offerings.
Hachidori Ramen Bar will be open for dinner nightly from 5:30 p.m. to 10:30 p.m. Reservations can be made online at HachidoriRamen.com.
Bodega Debuts New Spinoff Concept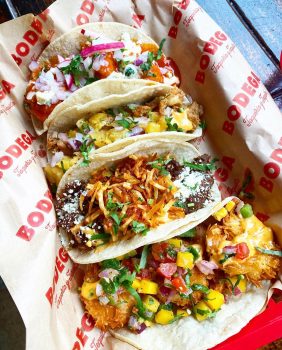 Bodega has announced the expansion of its brand with the inception of its first spinoff concept: Bodega Taqueria, which will mirror the award-winning fast-casual Mexican food portion that makes up Bodega Taqueria y Tequila.
The flagship Bodega Taqueria y Tequila opened in 2015 in South Beach and quickly became the go-to spot for authentic Mexican street food in the front and the "secret" late-night speakeasy in the back. Realizing the menu offerings' approachability and affordability, expanding the Taqueria portion of the brand was the logical next step.
The debut of the Bodega Taqueria announcement coincides with two confirmed locations slated to open in North Beach and downtown Miami. The Bodega Taqueria in North Beach will open in 2021 in between 73rd Street & Collins Avenue servicing Surfside and Bal Harbour, while the location in downtown Miami will open in 2022 inside of Natiivo Miami, the highly anticipated residential tower, servicing the Brickell area (601 NE 1st Ave, Miami, FL 33132).
These two locations will pave the way for at least another 10 Bodega Taqueria's to open within the next 18-24 months.
Breast Cancer Awareness Month at Tacocraft
Mexican taqueria and tequila bar Tacocraft is doing their part to support the fight against breast cancer by going pink for the month of October for Breast Cancer Awareness Month. All tacos at the South Miami and Lauderdale by the Sea location will be served on pink handmade corn masa tortillas. A portion of the proceeds from both locations will be donated to the Florida Breast Cancer Foundation.
Guests can chow down on their favorite tacos for a good cause including the Crispy Shrimp taco made with tempura-battered shrimp, mango salsa, spicy mayo and cilantro; Korean Short Rib with sweet and spicy glaze, pickled cucumbers, asian slaw, green onion and gochujang aioli; Braised Chicken topped with adobo marinade, queso fresco, pico de gallo and cilantro-lime crema; Exotic Shroom made with mushroom confit, roasted corn, cotija cheese, truffle crema and cilantro.
Phuc Yea Celebrates 4 Years
Locals are invited to celebrate and closeout the month-long Phuc Yea anniversary party, while savoring Colombian dishes and cocktails by Cumbe Aguarardiente. Here are some of the dishes you can expect:
Gloria's Sancocho de Gallina: cooked outside in the garden, Cornish hen, mixed root vegetables, sate, white rice and avocado
Coctel de Camarones: a shrimp salad, tostones, charred avocado and oranges, cilantro, sriracha, mayo ketchup
Picada: crispy blood sausage, chorizo and andouille sausage, chicharron, yucca, pickled red onions, sriracha aioli, sate.
To make your reservation for the grand celebration, click here.
Leku Opens for Dinner
LEKU, the Spanish Côte Basque-inspired restaurant located within the Rubell Museum in Miami's Allappatah neighborhood, is now serving dinner.
Helmed by the dynamic team of executive chef/partner Mikel Goikolea and chef de cuisine, Aitor Garate Berasaluze, LEKU features innovative cuisine without losing sight of its Spanish Basque roots, following the same principle of adhering to seasonal local ingredients and using cooking methods that are based on tried and true techniques.
LEKU's new dinner menu will introduce dishes such as a Ensaladilla Rusa Con Carpaccio de Gamba + Salicornia( $15), Caviar + Pan + Mantequilla ($35), Gambas al Ajillo ($21) to start. For entrees, guest can expect Solomillo de Wagyu, Siciliano de Setas, Crema de Berengenas, Compota de Manzana y Estragón ($52), ), Salmon y Coliflor ($26), and Lenguado a la Meuniere (MP). Desserts include Flan de Queso ($9) and Peras Al Vino ($9).
These new additions are set to highlight LEKU's dinner experience while still complementing existing guest favorites such as Croquetas de Iberico 5 Jotas, Hamburguesa de Short Rib + Pan de Leche ($15), Tartare de Remolacha with Olive Oil Caviar ($13), Arroz de Setas a La Brasa ($21) cooked in a Josper Grill, Chuletón De Vaca (MP), and Carre de Cordero a Baja Temperatura ($47).
An enhanced cocktail list will complement the new dinner menu with a Gin & Tonic Bar where guests can select their Macerado (Choices include: Strawberries + Basil, Rosemary + Florida Citrus, Roasted Pineapple + Mint, Green Apple + Ginger) with a Tonic of their choice.
Located at 1100 NW 23rd St in Miami's Allapattah neighborhood, LEKU's new hours of operation are Wednesday- Sunday 12:00 – 3:00 p.m, for lunch and 6:30 p.m.- 11:00 p.m. for dinner.
Photo Credit: Felipe Cuevas