September 25, 2020
Each Friday, we compile South Florida food-related news and events that we couldn't fit on the site earlier in the week, as well as other local news that piques our interest. Want to be included in our next roundup? Shoot us an email at bark@miamifoodpug.com.
Caja Caliente Debuts Breakfast Service
National Coffee Day at Delicious Raw
Drinks to Go at Osaka
Now Entering Croqueta County
Lightkeepers Launches Revamped Brunch
Sushi Maki Opens 6th Location
National Quesadilla Day at Coyo Taco
Caja Caliente Debuts Breakfast Service
Caja Caliente, the infamous eatery known for its Original Cuban Tacos and iconic neon Taco sign at its old Wynwood location, is now serving breakfast! Chef Monica "Mika" Leon and her mother, Lupita Estupinan, bring the most important meal of the day to the restaurant's menu serving up tasty eats that will make you feel right at home.
The new breakfast menu serves well-known Cuban breakfast delicacies that brings a whole new meaning to comfort food. From Cafecitos like Café con Leche and Coladas to Los Discos which include flavors such as the traditional "timba" to guava, cheese & bacon or to the crowd favorite Lechon, to Desayuno with a buttery Tostada Cubana alongside a Tortilla Española that can be stuffed with ham & cheese or chorizo.
Locals can also enjoy their all-time favorites, the Empanadas with picadillo or guava y queso, and of course their Breakfast Tacos, with scrambled eggs, queso frito, avocado, bacon & pickled red onions.
The breakfast menu is available at its brick and mortar location in Coral Gables with indoor and outdoor dining and delivery via DoorDash, Postmates, and UberEats. Caja Caliente will continue to serve all-time favorites such as the famous Lechon Tacos, Vaca Frita Tacos, Octopus Tacos, Lechón Pulled Pork Sandwich, Cuban Tamal, and their Customizable Bowls, and many more so don't fret starting at noon every day. Locals can also expect surprise menu options from Leon's mom, Lupita.
National Coffee Day at Delicious Raw
Delicious Raw in Davie and Sunset Harbour offers an array of barista creations on the Supercharge menu featuring unique coffee drinks (all starting at $6) such as the Mocha Chaga Latte infused with medicinal mushrooms, cacao, chai spice and almond milk; the Maca Bullet, an espresso shot with maca, bee pollen, coconut oil and almond milk, and the Golden Turmeric Latte with anti-inflammatory compounds of turmeric, ginger and cinnamon with coconut milk.
All pair perfectly with Delicious Raw's new breakfast items for Vegetarian Awareness Month (October) and National Vegan Month (November), the Veto Breakfast Salad with house-made savory tofu, crispy kale, blistered black beans, corn salsa and fresh mango and Next Generation Breakfast Sandwich on artisan brioche bun with two eggs, smashed avocado infused with truffle oil and lemon, smoked aioli, roasted tomatoes, baby arugula, and pickled onion.
Photo credit: Gary James
Drinks to Go at Osaka
Transport yourself to Osaka's Kero Bar with it's colorful selection of spirits. Prepared with the same craft, technique and ingredients you would receive in the restaurant, you can now enjoy Osaka's popular cocktails at home – no bartending skills required!
With ready to serve cocktails complete with garnish and branded ice ball, guests can channel their inner bartender and enjoy the progression of flavors with every sip. Choose from selections like OSK Spicy Paloma or the Pisuko Trip, ranging in price from $18 to $22 with servings enough to create two cocktails.
Osaka to-go spirits goes beyond cocktails with its ample list of sake, perfect for complementing it's dishes. With sake selections like Soto Sake, bringing elegant, smooth flavors of fresh apple and cucumber to Rihaku bringing a crisp acidity, guests will transform their palettes, experiencing colors, flavors and textures with each sip. Guests can place their orders by phone at 786-627-4800 for recommendations on the ideal F+B pairing.
Now Entering Croqueta County
Islas Canarias Restaurant & Bar since 1977, the miami-based food and beverage company, is excited to announce Croqueta County as an homage to the croqueta community and in celebration of more than 40 years of quality service. Established by the late Raul and Amelia Garcia and currently run by their daughter Nancy Andrade and her husband Luis Andrade, Islas Canarias continues to preserve Raul's secret family recipe for the Islas Canarias Croqueta.
The restaurant's croquetas have been an iconic favorite in Miami-Dade County for more than 40 years. Miami's highly-coveted croquetas and the yearly sold out Valentine's Day heart-shaped croqueta boxes stem from the family's use of the finest ingredients. Islas Canarias Restaurant aims to prepare quality, traditional plates from the family's original recipes from Cuba. With a casually elegant atmosphere inspired by the European architecture of 1950s Cuba and the friendly ambiance.
The exclusive campaign launch aims to show appreciation for the community that has continued to support the restaurant by frequenting their establishment for the famous croquetas. The campaign has incorporated hashtag such as #croquetacounty and #miamisfavoritecroqueta and dedicated handles that include @croquetacounty and @islascanariasrestaurant.
The intent is to continue to celebrate the established croqueta community by sharing their love for croquetas on their social channels. As part of the celebration, a new website croquetacounty.com will launch where the community can purchase t-shirts. A free sticker comes included with the purchase of a t-shirt. Visit the restaurant's webpage at islascanariasrestaurant.com.
Lightkeepers Launches Revamped Brunch
Lightkeepers, the casually elegant restaurant and bar housed at The Ritz-Carlton Key Biscayne, Miami recently launched a revamped weekend brunch, inviting guests to enjoy the ultimate brunch experience while overlooking the Atlantic. Named as a homage to the lighthouse keepers who watched over Key Biscayne's historic Cape Florida Lighthouse, the oceanfront eatery's brunch offerings, served Saturday and Sunday from 11AM to 3PM, include decadent coastal fare, bottomless bubbly and handcrafted cocktails.
The menu offers a variety of delectable dishes that feature the freshest seafood and land dishes from South Florida's waters and local farms. Heartier Brunch Plates include The Keeper's Wife served on local grilled artisan country levain with 63° poached egg, shaved asparagus, tomato jam, Hollandaise, crab and avocado ($22); Brioche French Toast with berry compote and cherry preserve butter ($19); Crispy Crab Cake with Florida citrus and Cajun aioli ($19); and Lobster Mac-N-Cheese with Winter Park dairy cheddar ($18).
Lighter fare offerings include Salmon Salad, butter lettuce and baby red oak with bleu cheese crumbles, toasted pumpkin seeds, golden raisins, candied bacon and lemon vinaigrette ($22); LK Fitness, two eggs with steel cut oatmeal and seasonal local fruit ($18) and LK Omelet, a choice of: protein – ham, sausage or bacon; vegetables – mushrooms, tomato, peppers, onion and spinach; and cheese – cheddar, mozzarella or feta, served with white or wheat toast or an English muffin ($22).
A satisfying weekend brunch is incomplete without a stellar beverage lineup. On Saturday and Sunday, Lightkeeper's offers the Bottomless Beverage + Bubbly Package, available with food purchase, which includes unlimited bubbly, brunch punch, sangria, Bloody Mary's, draft beer and mimosas for $25 per person.
Sushi Maki Opens 6th Location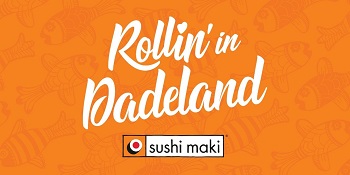 While the hospitality industry continues to face hardships during this pandemic, Sushi Maki is committed to the community and celebrates 20 years of rollin' in the 305 by continuing to invest in South Florida's restaurant sector. The brand is spreading the joy of sushi and hopes to carry the legacy of Canton Chinese by opening its new Sushi Maki Dadeland location to the public on Oct. 1, 2020. Fittingly, the local brand will continue to offer Canton favorites as part of their regular menu.
Founded by Abe Ng and his family, Sushi Maki is a local favorite with over 20 locations throughout South Florida. By design, no two Sushi Maki restaurants are alike. Each caters to the needs of its customers and neighborhood residents.
Located just off US 1 & Ludlam Road, the Sushi Maki Dadeland location will be bright, modern, yet casual and welcoming, — appropriate for the entire family. Boasting Japanese and Chinese inspired dishes, including popular items like Dragon Roll, Wok-Fired Udon, Volcano Fries, and signature Canton favorites like Honey Chicken, and the iconic Canton Steak — it doesn't stop there.
Sushi Maki is in it for the long haul, not only caring for Miami but also protecting the ocean and its wildlife! With hopes to guarantee fish for generations to come, the brand carries the Marine Stewardship Council Certification. Partnering with MSC, Sushi Maki promotes sustainable fishing practices, by sourcing seafood products from certified sustainable fisheries from around the world.
National Quesadilla Day at Coyo Taco
National Quesadilla Day is here, and in celebration of the cheesy (pun intended) holiday, Coyo Taco will be offering a special happy hour deal. From 4-7pm on September 25, anyone who purchases a quesadilla will receive a free draft margarita! Available at all four of Coyo Taco's locations.