September 18, 2020
Each Friday, we compile South Florida food-related news and events that we couldn't fit on the site earlier in the week, as well as other local news that piques our interest. Want to be included in our next roundup? Shoot us an email at bark@miamifoodpug.com.
Carryout With Cochon555
Big Changes at Sala'o
New Brunch Cocktails at Brimstone Doral
Black Market Miami Reopens with New Chef
Macchialina Launches Bestia
La Mar Presents CineMAR
My Ceviche Announces New Chef and Dishes
Bebito's Hosts 'My Cuban Spot' Pop-Up
Now Open: Unit B Eatery + Spirits
Carryout With Cochon555
A much-anticipated annual culinary event with stops in cities across the United States, COCHON555 will return to Miami Tuesday, September 22-Sunday, September 27, 2020 as CARRYOUT WITH COCHON555 presented by Citi, a virtual and interactive feast featuring five of the city's top talents.
Across five different nights, a stellar line up of South Florida celebrity chefs – Michael Lewis (KYU), Michael Schwartz (Amara at Paraiso), Janine Booth & Jeff McInnis (Root & Bone, Stiltsville), Giorgio Rapicavoli (Eating House) and Brad Kilgore (Ember) – will conduct "virtual dinners" via Zoom, offering participants the opportunity to partake in an intimate, interactive dining experience, complete with all of the ingredients necessary to enjoy a pork-centric meal including wine and cocktails.
Guests will purchase tickets ($115 for one; $200 for two) which will include a multi-course meal, prepared by the featured chef with almost all of the ingredients sourced from heritage breed pig farms; a bottle of wine (red or white) from Bodegas Ontañón and a cocktail kit or pre-mixed cocktail comprised of either Buffalo Trace or Wheatley Vodka.
During a 45-minute live Zoom, the Chefs will recreate one of the featured dishes (guests will cook along); the other dishes will be pre-prepared and ready to heat and/or serve. Guests can choose to pick up their kit at the chef's designated restaurant or have it delivered for an additional $30 fee.
For more information and tickets, click here. Use discount code cochon555 to enjoy 15% off your tickets until Sunday, September 20.
Big Changes at Sala'o
As they celebrate their one-year anniversary, Sala'o Cuban Restaurant & Bar is officially announcing its new executive chef, his inspired new menus and a dynamite new bar program. A
Newly appointed Executive Chef Alejandro Porben joins Sala'o with an impressive culinary background. Prior to his current role at the eatery, Porben worked at some of Miami's highly acclaimed restaurants including Scarpetta at Fontainebleau Miami Beach, Pubbelly Sushi Dadeland, and Zuma.
Chef Porben's inventive new menu – set to go live on Wednesday, September 23rd – mixes the flavors of his Caribbean roots, his classic culinary training and deep experience with global cuisine. Menu standouts include Ceviche Cubano – corvina, red pepper, onion, coconut leche de tigre; Sardine Croquettes — bechamel, sofrito, salsa verde; Pulpo Criollo — sofrito, Idaho potato, Spanish chorizo; and Pincho de Res —mignon skewer, pimenton de la Vera, roasted red pepper sauce. the Arroz Negro de Calamar – calamari, squid ink rice.
Much like the fare, the cocktail program at Sala'o highlights the bounty of Cuba's indigenous ingredients as well as pay homage to the island's rich cocktail heritage. Developed by dream beverage power duo Ben Potts and Gui Jaroschy, under the Halcyon Beverages banner. Highlights include La Guara — Grey Goose, Fresh Lime, Garden Rosemary and Clementine Reduction, Sparkling Water; and Acere Swizzle — Havana Club Anejo, Fresh Lime, Orange, and others.
Photo credit: RM Studio Corp.
New Brunch Cocktails at Brimstone Doral
Brimstone Woodfire Grill at CityPlace Doral is launching new breakfast cocktails for brunch this weekend. Guests can sip on any of the four new cocktails for only $14 and are available during brunch service on Saturdays and Sundays from 12 to 3:30 p.m.
The new drink menu will now include the Berry Parfait made with Sugar Island Rum, Baileys, berry compote and topped with a white chocolate graham cracker chocolate ganache; Maple Syrup Old Fashioned made with Woodford Reserve, maple syrup, bitters and candied bacon; Pineapple Mimosa made with Sugar Island Rum, champagne, fresh pineapple juice, topped with whip cream and coconut shavings; French Toast Martini made with Jack Daniel's Tennessee Fire, Rumchata, chocolate syrup, topped with french toast and powdered sugar.
Black Market Miami Reopens with New Chef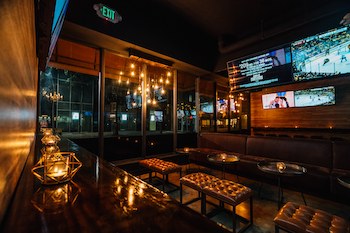 As this has been a difficult time for sports, nightlife, bars and restaurants – this pioneering bar Black Market in Downtown Miami is making a comeback. The 13,500 sq. feet space offers a generous amount of seats following CDC guidelines in a sleek, chic and fun environment. while the second floor will also showcase the UMiami football games on a projector screen.
In addition to the relaunch, the Downtown pioneer has appointed Chef Brian Gonzalez as Executive Chef (previously at DIRT) and welcomes Bar Manager, Johnny McConnon (formerly at Taurus Coconut Grove).
New menu additions include –
Calle Ocho Sandwich: Croquetas from the iconic Islas Canarias, tomato, swiss cheese, shoestring fries and our secret scotch bonnet sauce finished on the grill ($13.50)
Black Market Crispy Sandwich: panko breaded chicken, shredded lettuce, pickles and a top-secret hot sauce ($13.50)
Lava Burger: half-pound of organic angus beef patty, onion rings, lettuce and tomato on a brioche bun served alongside a molten cheese and beer infused dip ($16.50)
Smoked Old Fashion: Havana Club Rum, angostura and orange bitters, sugar and rosemary smoke essence ($14)
Macchialina Launches Bestia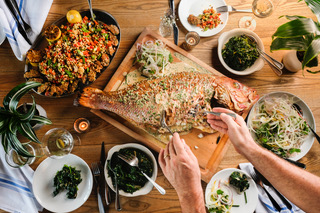 Macchialina has reopened their dining room for whole beast dinners. A blow out feast for 4-12 guests, this group experience is the only way to dine inside Macchialina's dining room (for now).
This visually stunning meal features large format meat, fowl, or seafood. Your party will embark on a culinary feast specially curated by chef Michael Pirolo. There is only one table available for booking each night. Reservations require a prepay. Prices start at $450.
The meal begins with bread service curated by Macchialina's own baker Alix Furjanic. Naturally leavened focaccia, sourdough country loaf and bread sticks are served warm
with a brown butter tomato spread. The meat option offers a whole leg of lamb slowly braised in its own juices then glazed with honey calabrese chillis and balsamic vinegar. It's accompanied with tomato rice, a medley of roasted carrots, fennel, cippolini onions and Bibb and avocado salad topped with lime and mint yoghurt.
The seafood menu starts with a daily rotating crudo and is followed by a whole (8lb) snapper, marinated with thyme and lemon, then roasted head on and charred until crispy when its covered in a warm Dijon and chive vinaigrette. Served with braised greens, a shaved fennel and herb salad, fregola and stuffed mussels "parmigiano".
If you saved any room, you can round off the meal with your choice of dessert off the menu. Reservations need to be booked at least 48 hours in advance. To reserve, email info@macchialina.com with Bestia in the subject and make sure to provide your party size, preferred date and dining time.
Photo credit: @fujifilmgirl
La Mar Presents CineMAR
This Saturday, Sept. 19, La Mar by Gastón Acurio will present CineMAR: a curated dinner and movie experience set on Mandarin Oriental, Miami's Brickell Beach with a viewing of the late 90's classic "Selena" featuring Jennifer Lopez.
Guests will be welcomed with fruit cebiche and popcorn cancha with panoramic views of Biscayne Bay and the Brickell city skyline. The movie-night-menu will include Seafood Cebiche, Maki Anticuchero, Popcorn Chicken, Tuna Tostada, Lobster Roll, Yuzu and Chicha Morada Dessert with cocktails and beverages offered a la carte.
Doors will open at 6:30 pm. Movie will begin promptly at 7:30 pm. Tickets are $200 per couple (includes two tickets; plus tax and gratuity). Click here for more information.
My Ceviche Announces New Chef and Dishes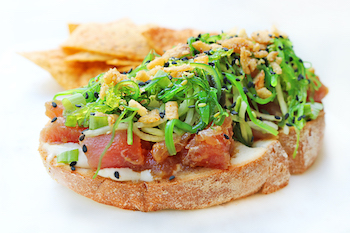 With COVID-19 taking storm earlier this year, My Ceviche founder Roger Duarte decided it was time for a chang. That's why he has brought on Peruvian native Henry Hané to the restaurant team. Chef Henry's career highlights include his positions at Two Michelin Star Le Manoir Aux Quat Saisons and the molecular gastronomy mecca at Two Michelin Star Miramar in Llanca, Spain.
With Chef Hane at the helm, familiar fans and first timers at My Ceviche can experience a cutting-edge line of toasts and authentic Peruvian twists. Inspired by the flavors of Chef Henry's hometown, the Peruvian native will recreate the Rocoto Crema and Ají Amarillo exclusively offered in the Ceviche and Ceviche Bowls. For the first time ever, guests will be able to order Ceviche Crujiente which includes the choice of fried calamari or tostones.
All toasts are made with bread from the local French institution, La Provence Bakery. Chef Henry worked closely with the team to add the following:
Creamy Avocado Toast ($6.99): served with fresh multigrain bread, freshly mashed avocado shaved radishes, cilantro and olive oil
Peruvian Avocado Toast ($7.99): layered with creamy avocado, ají amarillo, leche de tigre, garnished with fresh red onion and cilantro
Hawaiian Poke Tuna Toast ($13.99): topped with fresh diced tuna, seaweed salad, crunchy onions and Togarashi aioli
Ceviche Crujiente ($10.99): filled with mixed seafood, baked sweet potato, sliced red onion and cilantro accompanied by sweet corn and topped with choice of crispy calamari or Hawaiian style tostones
Bebito's Hosts 'My Cuban Spot' Pop-Up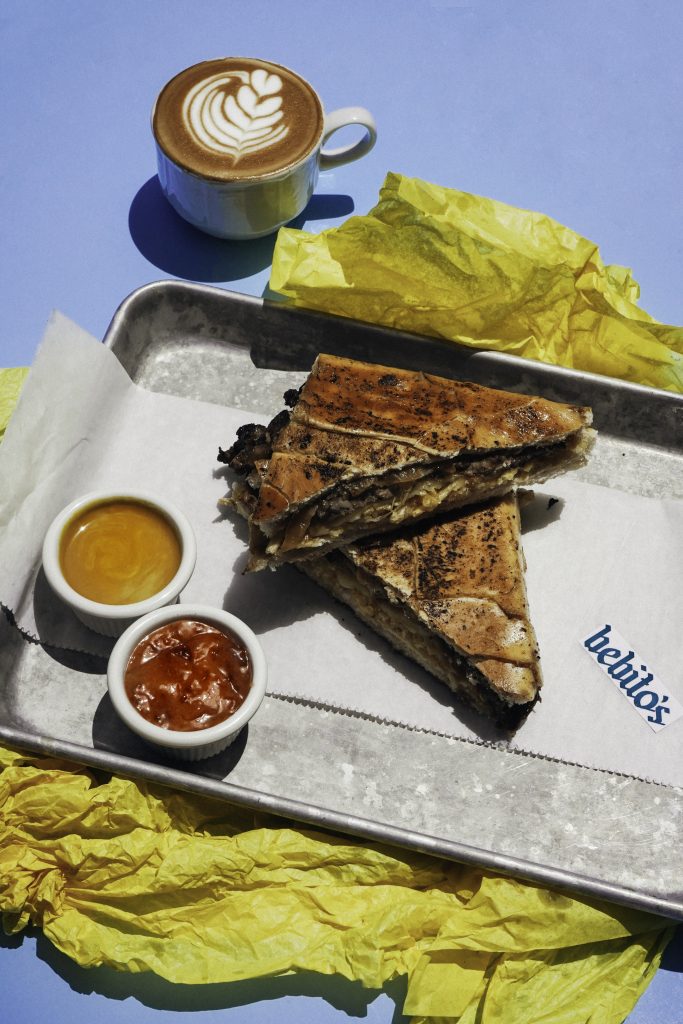 Bebito's, Jason Odio's beloved South Beach Cuban-American Cafe, is hosting a multi-weekend series pop-up in partnership with Chef Louie Estrada of famed New York ventanita My Cuban Spot. Celebrated by The New York Times for classic sandwich "The Boss," My Cuban Spot has been heralded as the best Cuban sandwiches in New York.
Chef Estrada, a Miami native and longtime friend of Odio, is also a familiar face as recent competitor and guest judge on "Chopped" and "Beat Bobby Flay." The series will offer a different specialty Cuban sandwich of Estrada's each weekend. Guests can pre-order their sandwich for $15 each via eventbrite as there will only be a limited amount offered each day.
Sept 19-20: This Little Piggy Needs Bread – Slowly cooked pork butt, mojo (blend of garlic, sazon & citrus) potato stix on Cuban bread
Sept 26-27: El Cubano – Ham, Swiss, Pork, Pickle & Mustard on Cuban bread
Click here for more information.
Now Open: Unit B Eatery + Spirits
Unit B Eatery + Spirits is now open at The Shops at Pembroke Gardens. The 2,500 square-foot concept brings New American small plates and hand-crafted cocktails in a big city prohibition lounge atmosphere to Pembroke Pines. The fashionable and intimate eatery is the sister restaurant to the Unit B speakeasy concept in Downtown Fort Lauderdale, known for some of the best cocktails in South Florida.
The food menu from Chef Harry Capacetti fuses international flavors and techniques, while focusing on unique palate experiences. The menu is broken down with a selection of raw bites, small plates, chef's signature dishes, main dishes and vegetables.
Guests can enjoy Char-Grilled Asparagus with bacon, aged cheddar and corn; Crispy Wahoo served with black radish, cucumber, yogurt, truffle and lemon; Charred Octopus topped with radicchio, yellow endive, cured black olives and spiced caper emulsion; Charred Beef Strip Loin with Moroccan black olives, cucumber, fermented fresno and basil.
The beverage menu features a variety of house cocktails, spirit forward classics and dessert libations devised by Bar Manager John Carabella, including the In Unit B Fashion made with Buffalo Trace Barrel Pick, Demerara and Angostura Bitters; Paz y Estrellas made with Los Vecinos Mezcal, Corazon Blanco, fresh lime juice, star anise, ginger and maple; Fruit Clouds made with Joto Nigori Saki, Glendalough Gin, fresh lemon, orgeat, cranberries and strawberries; Overcast Shadows made with Charcoal Coconut Rum, chard lemon, agave, aquafaba and raw ginger.