April 30, 2021
Each Friday, we compile South Florida food-related news and events that we couldn't fit on the site earlier in the week, as well as other local news that piques our interest. Want to be included in our next roundup? Shoot us an email at bark@miamifoodpug.com
Now Open: Strawberry Moon
Lure Fishbar Reopens May 5
New Menu Items at Frohzen
Hiyakawa Teams Up With Alex Chang
Now Open: Strawberry Moon
Located at The Goodtime Hotel, Strawberry Moon—a new collaboration by David Grutman's Groot Hospitality and the multi-hyphenate talent Pharrell Williams—has opened its restaurant doors, dipping pools, sun loungers and more on Miami Beach's 6th Street and Washington Avenue.
Strawberry Moon is a highly sociable—and spacious—food-and-beverage concept, dappled in Art Deco pinks, lagoon blues and palm greens. From its fresh, authentic Mediterranean cuisine to its vintage resort-inspired bar, Strawberry Moon flows seamlessly from indoor parlor to outdoor pool-scape, which will serve as a swimming-and-sunning club by day and a starlit lounge by night. In total, the space, designed by Ken Fulk Interiors and landscaped by Raymond Jungles, covers 30,000 square feet on the third floor of The Goodtime Hotel.
Strawberry Moon's menu has been developed by Groot Executive Corporate Chef Roel Alcudia, who previously honed his skills at Miami's Mandolin Aegean Bistro, alongside Executive Chef Ian Fleischmann. Plated on artisanal ceramics, small dishes include a beet and watermelon salad, mezze appetizers ranging from traditional Sheftalia spicy sausage to octopus to potato boreka, and Turkish-style pizzas.
Entrees will include grilled branzino and Wagyu beef short ribs. Overall, Strawberry Moon's menu aims to deliver easygoing but outstanding fare; the sort of feel-good food that diners will come to rely on, knowing that each and every experience will be as delicious as the last.
Aesthetically, Fulk's vision for Strawberry Moon has manifested itself in a modern-day iteration of retro getaway chic, transporting throwback Caribbean charisma to contemporary South Beach. Inside, there are blond wood floors and turquoise grasscloth walls, while scalloped shell barstools and Art Deco chandeliers add a nostalgic gloss. The pool itself is split into two white-and-pink tiled broad-stripe basins, with a palm-lined runway between them.
With multiple seating areas, including sun loungers, daybeds, VIP cabanas, and more, the outdoor expanse of Strawberry Moon progresses from its aquatic stage to a loggia lounge, where patrons will find a DJ-booth, additional seating and another open-air bar. Here, an elevator provides direct access from Collins Court downstairs: Strawberry Moon will be open to all, from hotel guests to those just wanting to stop by for a quick visit.
Photo credit: Matthew Taylor-Gross
Lure Fishbar Reopens May 5th
Lure Fishbar will once again dock at Loews Miami Beach Hotel after a year at sea, opening its doors on Wednesday, May 5, 2021. While much has changed over the past year, the passion, quality and talent behind the elegant seafood brasserie and cocktail bar remain the same.
A treasure trove of fresh catch dishes with a vibrant bar scene and elegant atmosphere, Lure has been a staple for seafoodies and a haven for Miami locals for seven years. Between consistent, catch-of-the-day freshness and a posh nautical motif, Lure has earned its stripes in Miami's culinary scene as the place for honest seafood. In celebration of Lure Fishbar's return, guests are invited to indulge in the specially curated Cheers to the Sea shellfish tower promotion, available through June 30, 2021.
Cheers to the Sea is priced at $199 and features a bottle of Veuve Clicquot champagne paired with Lure Fishbar's signature Plateau Royale shellfish tower. The decadent seafood tower features Alaskan King Crab, Seafood Salad, Tuna Tartare, a half-pound of lobster, eight oysters, six shrimp, six clams and six crab claws.
Fans of Lure (and new Lure lovers) can enjoy an array of raw bar, crudo and sushi offerings prepared by Executive Sushi Chef Khaleel Ali, as well as Miami-inspired appetizers, entrees, surf and turf and more at the hands of Executive Chef James Kelly. Hamachi Ponzu Crispy Rice, Lobster Fra Diavolo, Squid Ink Tagliatelle and caviar service are among the mouthwatering new additions to Lure Fishbar's menu.
Diners can still feast on signature favorites like Grilled Daurade, as well as the Lure Burger "Bash Style," a five-time New York and South Beach Wine and Food Festival Burger Bash winner (and known personal favorite of actress/model Chrissy Tiegen).
Lure Fishbar South Beach derives its seafood-centric concept from seasoned New York City restaurateurs John McDonald and Joshua Pickard, along with Celebrity Chef Josh Capon, who crafted the contemporary menu with Miami in mind. Channeling the mystique of a luxury cruise liner, the restaurant showcases world-class seafood, modern cocktailing and unparalleled service in an oceanfront, upscale setting.
New Menu Items at Frohzen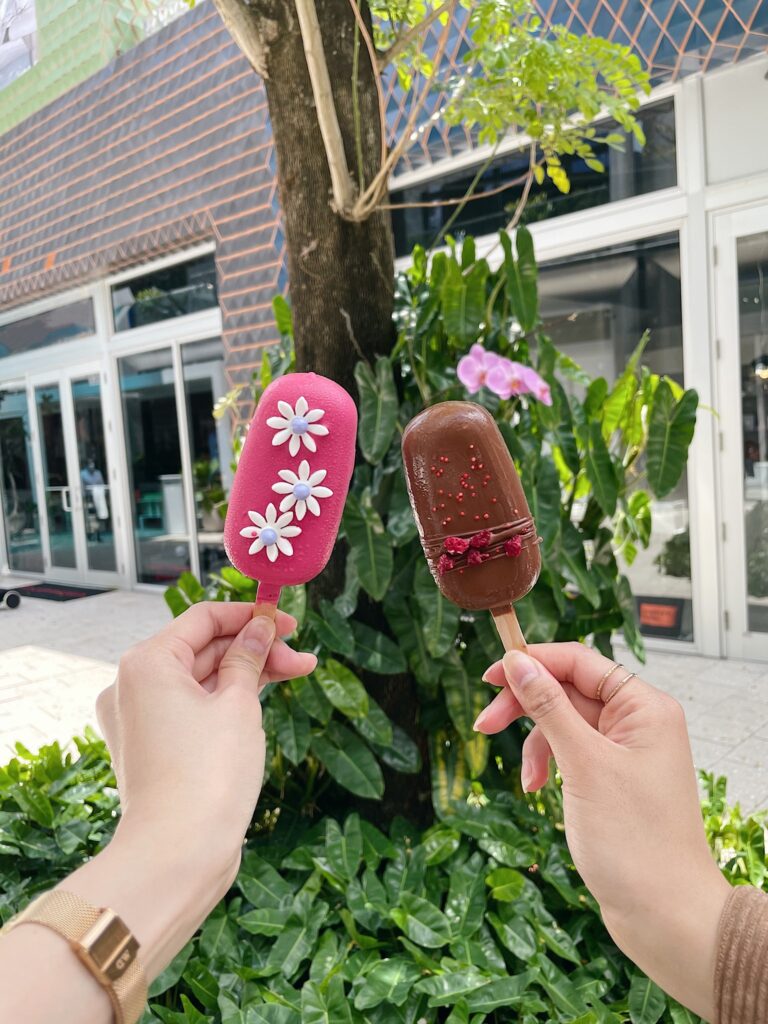 Frohzen, the whimsical ice cream shop by longtime protégé of the late Joël Robuchon, Executive Pastry Chef Salvatore Martone, has debuted new and exciting menu items that make for the ideal indulgence as the Miami weather heats up.
Known for his boundless creativity and use of innovative techniques, Martone has developed unique and Insta-worthy treats, all using his signature ice cream flavors as the base. Frohzen's classic desserts including Ice Cream Cupcakes, Frohzen Macarons, Cake-sicles and Ice Cream Cakes remain on the menu.
His newest creation is the Ice Cream Donut ($7). Taking inspiration from the beloved dessert, but made completely out of ice cream, the donuts have two layers of different ice cream flavors, dipped in chocolate and topped with a signature glaze. The Ice Cream Donut comes in two different flavors with additional flavors to come:
Jelly – frutti di bosco berry sorbet and donut dough ice cream covered in white chocolate and topped with red glaze
Boston Cream – chocolate ice cream and donut dough ice cream dipped in chocolate and topped with yellow glaze
An elevated version of a classic treat, Cookie Sandwiches ($7), have been added to the menu alongside the popular Frohzen Macarons. Homemade cookies are filled with ice cream and rolled in sprinkles and Fruity Pebbles. They come in flavors including:
Oreo – in a chocolate chip cookie, rolled in sprinkles
Guava Maria – in a sugar cookie, rolled in Fruity Pebbles
For those who prefer to drink their ice cream, Milkshakes ($10) are now available and are created with Martone's unique "cake ice creams," which are made by blending house made sheet cakes with an ice cream base. Milkshakes are topped off with colorful marshmallow lollipops, crumbles, sauces and, of course, sprinkles. Milkshake flavors include birthday cake, chocolate, red velvet and tres leches.
Lastly, double-flavor Popsicles ($5) for easy, on-the-go indulging come in flavors such as raspberry pistachio, coconut mango and chocolate hazelnut.
Hiyakawa Teams Up with Alex Chang
The upscale and contemporary Japanese restaurant Hiyakawa in Wynwood is hosting its first ever guest chef collaboration dinner. For one weekend only on May 15th and May 16th, owner Alvaro Perez Miranda and Hiyakawa's Executive Chef Masayuki Komatsu welcome Chef Alex Chang from Quiquo to offer an exquisite meal where cultures blend and the finest ingredients shine.
Chef Alex was born in Hong Kong to a Mexican mother and a Chinese father and was raised in California, but that is not the only reason why his cuisine is borderless and multicultural. Chef developed his skills in various professional kitchens all over the world, from staging at the two-Michelin starred Les Créations de Narisawa in Tokyo, cooking at Animal in Los Angeles, Pujol and Quintolini in Mexico City, In De Wulf in Belgium, and to opening Vagabond in Miami with restaurateur Alvaro Miranda Perez, the owner of Hiyakawa, and earning the StarChefs Rising Star Chef award in 2016.
His acclaim gained him the opportunity to collaborate with celebrity chefs Andrew Zimmern and Tom Colicchio, and in 2017, Chang was appointed to be Executive Chef at the Freehand Hotel in downtown Los Angeles where he was responsible for overseeing food at TheExchange Restaurant, Rudolph's Bar and Tea, and the Broken Shaker. The Exchange received a rave review from the famous LA Times food critic, Jonathan Gold, and was featured on his yearly list of best restaurants' in Los Angeles. He is now preparing for his future project, Quiquo.
Hiyakawa's Executive Chef Masayuki "Masa" Komatsu, originally from Osaka, has also been travelling across the seas for the passion of cooking too, from working at Sushiden in New York, Kenzan in Tokyo, Morimoto on South Beach, and Blue Ribbon in Miami before joining Hiyakawa in 2020. Chef Masa crafts traditional Japanese cuisine with tireless dedication to details, orchestrating series of seasonal ingredients, which of many are flown in directly from Tokyo.
For two nights only, these two international chefs will be working side by side, offering an 8-Course Tasting Menu full of unique dishes with Japanese essences, such as Gougère with Japanese Curry and Comté Cheese, Hokkaido Uni with Buckwheat Waffle and Koji Cream with Finger Lime, and Soba Panna Cotta with Strawberry Granita. There will be a "sushi-break" in the middle of the tasting menu too.
The tasting menu is $175 per person with an option of a beverage pairing available for $79 per person, on Saturday, May 15th and Sunday, May 16th only, between 6 pm and 11 pm. Reservations can be made up to a party of four via Tock.
Photo credit: Michael Pisarri