May 21, 2021
Each Friday, we compile South Florida food-related news and events that we couldn't fit on the site earlier in the week, as well as other local news that piques our interest. Want to be included in our next roundup? Shoot us an email at bark@miamifoodpug.com
Now Open: Sushi By Bou Beach Club
Get Vaxxed and Sloppy at Lost Boy
Full Moon Party at The Ritz-Carlton
Celebrate SOBEWFF at Loews Miami Beach
Daily Specials at PLANTA
Now Open: Sushi By Bou Beach Club
The much-anticipated opening of Sushi by Bou's first oceanfront concept, Sushi by Bou Beach Club at the Marriott Residence Inn Pompano Beach, is well underway. The restaurant has officially opened its 10-seat sushi bar to the public, offering an exquisitely crafted hourly omakase menu, served up with a side of breathtaking ocean views. In June, the restaurant will launch an eclectic Izakaya menu in complement to the sushi bar, seating an additional 80 diners between inside dining and wood-hewn outdoor tables.
The restaurant is an expansion on the acclaimed omakase experience, with a slate of signature cocktails, and the addition of an a la carte Izakaya sharing menu which will feature everything from Sweet & Sour Chicken and Waffles with grilled pineapple and sweet and sour sauce to pan-seared Miso-Glazed Eggplant topped with Japanese mayo.
Sushi master David Bouhadana returns to South Florida to develop the "chef's choice" omakase menu, a spirited 12-course interactive journey through fresh, locally sourced and flown in fish. Over the course of the allotted hour, guests will enjoy an array of nigiri sushi ranging from Bluefin tuna, Otoro, marinated Ikura, Uni sea urchin and fatty tuna to Unagi and Hokkaido scallop topped with charcoal salt.
The intimate omakase bar is limited to 10 seats per hour with seatings priced at $50 per person (exclusive of tax and gratuity). Photo by Soho Estudio.
Get Vaxxed and Sloppy at Lost Boy
Now through Sunday, May 23 Lost Boy Dry Goods in Downtown Miami is handing out free Sloppy Joses to anyone who gets vaccinated at The DuPont Building, which serves as a temporary vaccine site issuing Covid Pfizer shots from 8 am to 8 pm all week long.
People are welcome to walk in as the new site is no line no appointment needed. Once vaccinated, guests can show their vaccination cards at Lost Boy during bar hours to redeem the Sloppy Jose treat. Next door, Over Under is also offering a similar deal giving out free muscle relaxer cocktails to those who get vaccinated as well.
Full Moon Party at The Ritz-Carlton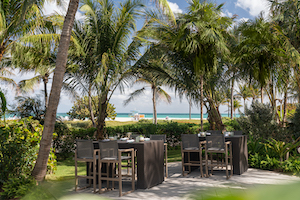 Channel the celestial energy of the upcoming Full Moon by stopping by DiLido Beach Club, located at The Ritz-Carlton, South Beach, on Wednesday, May 26th for a Full Moon party.
From 6:00pm to 10:00pm, DiLido Beach Club will have exotic libations, tribal beats, and inspiring eats for guests to indulge in.
Guests can also partake in meditation and sound healing starting at 6:00pm.
Celebrate SOBEWFF at Loews Miami Beach
SOBEWFF is here and Loews Miami Beach is once again the Host Hotel – 20 years and counting! In addition to hosting this year's Tribute Dinner honoring Giada de Laurentiis, the hotel is celebrating with festival themed food specials, a Salt & Straw ice cream take over and more. Here's how to fest & feast at Loews Miami this week:
Friday, May 21
Calling all ice cream lovers! Join us for a special cookbook signing (and complimentary ice cream) with Salt & Straw co-founder and Head Ice Cream Maker Tyler Malek. 1-3pm at Preston's Market
In celebration of the Heineken Burger Bash, take a bite out of Lure Fishbar's "Bash Burger," a 7-time Burger Bash winner, for $22 (bacon onion jam, shaved pickles, lettuce tomato & cheese)
Saturday, May 22
Can't make Tribute Dinner honoring Giada de Laurentiis? Executive Chef Frederic Delaire will be serving his entrée for the gala – Osso Bucco – at Bar Collins for $34 (Cheesy Creamy Polenta, Summer Root Vegetable, Gremolata)
Daily Specials at PLANTA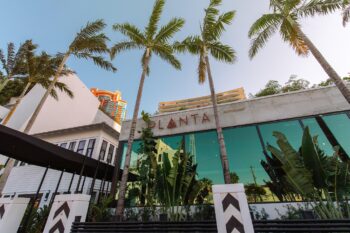 Plant-based eats weren't always so tasty, but thanks to PLANTA's daily specials, guests can elevate their Meatless Mondays and try something a little more tantalizing. For an excuse to leave the house to eat food that is *actually* good for you, PLANTA's daily specials have something for nearly every day of the week.
Maki Mondays – Meatless Mondays are a thing of the past. In 2021, PLANTA does Meatless Mondays a little differently – try all you can eat (plant-based) maki for $27. From ahi watermelon "tuna" to "crab rolls" made from hearts of palm, guests will discover dishes made to play tricks on your mind.
Pour Decision Wednesdays – As classic as Taco Tuesday, Wine Wednesday is a day that will never get old. Enjoy half priced bottles of wine for the perfect pairings to your plant-based dishes.
Disco & Dumpling Friday (PLANTA Queen) – The perfect segway into the weekend: dumpling platters. Find $20 dumpling platters made of all of your faves such as Spinach Shiitake, Crispy Gyoza, Potato Truffle and Crispy Wontons.
Weekend Brunch – The highlight of everyone's weekend, PLANTA's weekend brunch let's guests toast to a good day ahead with endless mimosas and margaritas. ($35 PLANTA SoBe // $25 PLANTA Queen)