June 25, 2021
Each Friday, we compile South Florida food-related news and events that we couldn't fit on the site earlier in the week, as well as other local news that piques our interest. Want to be included in our next roundup? Shoot us an email at bark@miamifoodpug.com
Batch New South Kitchen & Tap Coming to FTL
Bastille Day at Le Zoo
Pisco y Nazca Turns 5
New Happenings at Uchi Miami
Rocco's Tacos Reopens in Palm Beach Gardens
Batch New South Kitchen & Tap Coming to FTL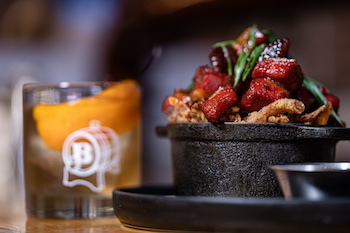 After conquering both Miami-Dade and Palm Beach counties with its massively popular gastropubs and southern kitchen, Batch Hospitality is completing the South Florida trifecta opening another Batch New Southern Kitchen and Tap in Broward County, at Ft. Lauderdale's Flagler Village Fall of 2021! Through the restaurant's efforts toward utilizing fresh ingredients and the newest technologies in its other three locations, guests can now celebrate any occasion knowing they are receiving top-quality products in Ft. Lauderdale!
The new 5,500 square-foot restaurant will take over the old Mellow Mushroom space at 525 N. Federal Highway, and will feature many of the southern specialties from Batch's first New Southern Kitchen in West Palm Beach. Additionally, the new location will feature a sprawling 3,000 square foot outdoor patio, ideal for enjoying warm, breezy Ft. Lauderdale nights and sunny weekend brunches.
The menu at the new Ft. Lauderdale's Batch New Southern Kitchen will look a lot like its Clematis Street location in West Palm Beach. The scratch kitchen will source from local farmers and purveyors, creating a farm-to-table menu full of southern comfort food such as Slow Smoked Burnt Ends with house-made root beer BBQ sauce; Shrimp n' Grits with jumbo blackened shrimp, white cheddar and jalapeño grits, and bacon jus; or Chicken N' Waffles with sweet tea brined and fried chicken topped with chili-thyme honey and bourbon maple butter, set atop a cheddar cornbread waffle.
For those looking for lighter options, Batch will offer its trademark Green & Grain Bowl, with red quinoa, broccoli, sugar snap peas, asparagus, toasted pumpkin seeds, and roasted tomato. It's topped with buttermilk green goddess dressing and house-made Farmer's cheese because this is still a southern restaurant. Vegetarians and vegans will find plenty of options on Batch's exclusive Grass-Fed menu, including BBQ Jackfruit "Pulled Pork" Sandwich with root beer BBQ sauce and crispy onion straws. Plus an Impossible burger and red bean and lentil chili.
Batch's famous garden-to-glass cocktails and extensive whiskey selection will also be coming to Ft. Lauderdale. The people who introduced South Florida to cocktails on tap will offer stuff like Blackberry Lemonade with Buffalo Trace bourbon, house-made blackberry cardamom syrup, fresh lemon, and house-made spiced bitters crafted in large batch format. For smaller, individually-made cocktails, the southern-inspired menu includes the ever-dangerous Carolina Sweet Tea, with American Born Sweet Tea Moonshine, black tea, and fresh lemon. Alongside the Toasted Pecan Whiskey Sour, and the New Southern Mule with Laird's Applejack 86 house-made Ginger Beer and fresh lime. Non-drinkers and designated drivers aren't left out of the experience either, with housemade sodas like fresh ginger beer highlighting the non-alcoholic drink menu.
Bastille Day at Le Zoo
Stephen Starr's South Florida eatery, Le Zoo Bal Harbour, is set to transport diners to the idyllic sidewalk cafes of Southern France in honor of Bastille Day.
Throughout the day, the French-Mediterranean restaurant will offer guests tableside cocktails and $1 oysters.
Additionally, from 12:00pm to 5:00pm, there will be a special performances by Paolo Di Francesco followed by Jazz musicians, The French Horn Collective, from 7:00pm to 10:00pm.
Picnic baskets will also be available for purchase throughout the evening for $125 and will include items like Laurent Perrier Brut Champagne, baguette, foie gras mousse and Camembert cheese.
Pisco y Nazca Turns 5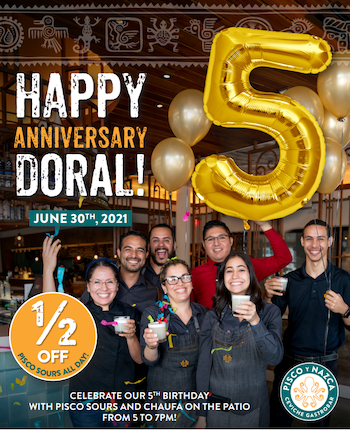 On Wednesday, June 30th, stop by Pisco y Nazca Doral to celebrate their 5th year anniversary! Celebrations will go on all day long with Pisco Sours and Chaufa on the patio from 5:00pm to 7:00pm.
Pisco y Nazca will also be offering guests half off Pisco Sours all day long! Additionally, there will be a special $50 gift certificate raffle for diners to participate in.
New Happenings at Uchi Miami
Uchi Miami is officially opening their sushi bar next week on Monday, June 28 allowing guests to grab a front row seat to the action and watch as Head Sushi Chef Cyrus Hire and his team of master chefs craft the restaurant's signature makimono, sushi and sashimi.
An exclusive experience with only eight seats available that cannot be reserved ahead of time, Uchi's sushi bar fully immerses diners in the restaurant's non-traditional approach to Japanese cuisine. Uchi's acclaimed sushi chefs will guide guests through their meal acting as both their server and chef for the evening, while guests can choose from any of the restaurant's popular menu items to enjoy.
Uchi's award-winning menu includes an array of options perfect for every sushi lover including vegetarians with their six-course vegetarian omakase. New dishes on the menu just in time for summer include the Oyster ($5.50/33) now prepared with fresno, koji and cilantro; Wagyu Ringo ($28), now crafted with short rib, smoked apple kimchi, candied garlic and tiger cry; Wagyu Strip ($32), with asparagus, ramp chimichurri and chanterelle; Tako ($28), fresh octopus now prepared with blue masa, preserved lemon and Chinese sausage; and for dessert the Black Forest ($10.50) with chocolate semifreddo, cherry and mushroom.
Rocco's Tacos Reopens in Palm Beach Gardens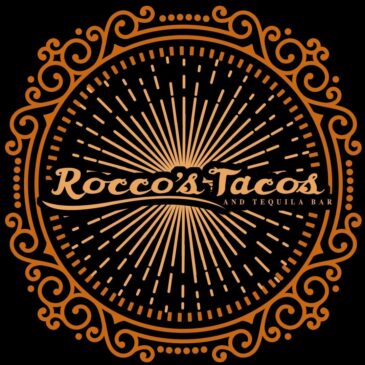 Rocco's Tacos & Tequila Bar, the authentic Mexican dining destination with a vibrant atmosphere is pleased to share the announcement of its Palm Beach Gardens location reopening this June. Rocco's Tacos Palm Beach Gardens, centrally located on PGA Boulevard, will welcome guests back into a fully transformed destination featuring a refreshed look and feel courtesy of renowned designers, Michael and Sean Saladino from Saladino Design Studio.
"With the unfortunate fire that took place at our PGA location this past November, it gave us time to reset and envision a new space and offerings for our guests to enjoy," says Rocco Mangel, owner of Rocco's Tacos & Tequila Bar. "We look forward to welcoming back our friends and family once more, and providing them with an exceptional dining experience here in Palm Beach Gardens."
All Rocco's Tacos locations, including Palm Beach Gardens, offer guests a true taste of Mexico within a casual and energetic environment. The 4500 square foot destination will now offer guests a whole new look and feel, similar to the Naples location. There will also be a temporary expanded outdoor patio area.
With the new addition of Rocco's Tacos corporate beverage manager, David Ortiz, PGA guests will experience a re-energized beverage program featuring a full range of new cocktails crafted with fresh ingredients such as hibiscus, mango, passion fruit and Aqua Fava for a vegan twist. New cocktail offerings include the Skinny Senorita, Rocco Mango, Frida Rita and Coco Pacifico. Paired with the cocktails in a twist on Rocco's traditional menu offerings including the addition of Birria Tacos and Brisket Nachos. Weekly offerings include Happy Hour, Late Night Happy Hour, Mezcal Mondays, Taco & Tequila Tuesdays and Saturday and Sunday bottomless brunch.