June 18, 2021
Each Friday, we compile South Florida food-related news and events that we couldn't fit on the site earlier in the week, as well as other local news that piques our interest. Want to be included in our next roundup? Shoot us an email at bark@miamifoodpug.com
Last Call for Wynwood Pride
Scotch + Bacon Group Announce Major Expansion
Kojin at KURA Debuts Secret Sake Bar
Full Moon Picnic at Burlock Coast
Last Call for Wynwood Pride
Miami's hottest new cultural hub and entertainment venue, The Oasis, is the mainstage for Wynwood Pride! Those looking to celebrate can enjoy a performance from artist Charli XCX today, June 18.
Shake It alongside everyone's favorite ally in The Oasis' expansive outdoor courtyard. With a colorful lineup of top talent, guests can also enjoy performances by RuPaul's Drag Race's iconic Kandy Muse, Miami drag legend Miss Toto.
Both a food hall and concert venue, guests will find bites that'll satisfy any craving. From New York City staples like Alidoro and Prince Street Pizza, to familiar flavors from Mr.Mandolin and Buya Dumplings to an entirely new concept at Los Buenos, guests can indulge in delicious dishes and hand crafted cocktails from the venue's eye-catching Tower Bar.
Tickets start at $70 and can be purchased via TIXR: oasismiami.tixr.com
Scotch + Bacon Group Announce Major Expansion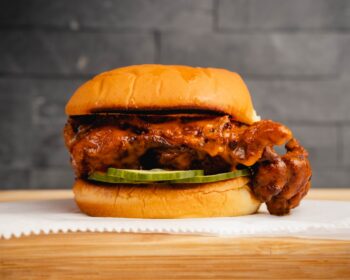 Fans of Scotch + Bacon Group, comprised of award-winning Chef Michael Lewis, Steven Haigh and Lizzy Maynes (KYU Mexico City, Buya Izakaya and formerly KYU Miami), have a lot to get excited about as the acclaimed restaurant group announces expansion with new comfort food concept Chikin, serving up Korean-inspired fried chicken sandwiches, and the long-awaited return of Laid Fresh, Chef Lewis' beloved all day breakfast concept focused on egg-centric sandwiches.
Chikin's first brick-and-mortar location is at The Oasis, Wynwood's trendy new open-air dining and entertainment destination, while both Chikin and Laid Fresh are also now available for takeout and delivery via multiple REEF Neighborhood Kitchens across Miami (Wynwood and Design District, with South Beach coming soon) and Fort Lauderdale (Flagler Village).
In addition to Chikin's outpost at The Oasis, both Laid Fresh and Chikin leverage REEF Neighborhood Kitchens' cooking facilities solely designed to prepare take out and delivery-only meals. Neighborhood kitchens offer the ability to expand into new markets, using the power of proximity to both the guest and product freshness, while also reducing the costs and barriers of expansion during COVID-19. Laid Fresh and Chikin recently opened kiosks in Toronto, Edmonton and Calgary, Canada, with plans to re-open brick-and-mortar locations in Montreal at Le Cathcart this month.
Chikin at Oasis debuted on May 7 and features the rightfully praised, freshly made Korean-inspired fried chicken sandwiches, Asian-inspired sides, crispy wings and more. Favorites include the signature Hot Mess sandwich (Fried Chicken, Housemade Hot Sauce, Blue Cheese, Napa Slaw and Yuzu Pickles, $15) and Fully Loaded Waffle Fries with Cheez Wiz and bacon bits ($10).
For those looking for something on the lighter side, Chef Lewis has created vegetarian-friendly options, including a refreshing Watermelon Chili Salad ($6) and the Fried Cauliflower (a Chef Michael specialty) sandwich ($13).
Laid Fresh caters to those who enjoy breakfast at any time. Its menu features a variety of egg-centric sandwiches, such as the popular Soft Scrambled (free range scrambled eggs, avocado and brie, $9) and Sausage and Cheese (fried egg, sausage and housemade Cheez Whiz, $9) which can be paired with lighter salads and sides, such as the Chef's BLT ($8) and Avocado Salad ($8) with lemon thyme dressing.
Chef Lewis is heavily involved in operations at the Chikin and Laid Fresh REEF concepts, often visiting to oversee training and quality control.
Laid Fresh and Chikin are conveniently available to order now through popular platforms including UberEats, GrubHub and DoorDash, and Chikin is available for dine-in and take out at The Oasis.
Kojin at KURA Debuts Secret Sake Bar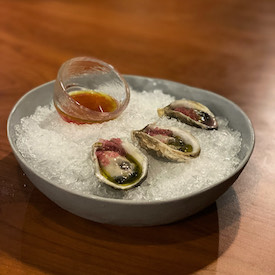 The teams behind Hachidori Ramen Bar and the popular E&P DMPLNGS pop-up have come together to open Kojin at KURA, a secret sake bar and Washoku dining experience in Little River. The concept will debut at KURA Sake Bar inside of Hachidori on June 22 and continue throughout the summer until mid-September.
Hidden in the back of Hachidori, KURA will function as a speakeasy sake bar and pop-up kitchen for private tastings, chef collaborations, and more. The small, dim-lit speakeasy features a 14-seat bar and accents like cherry blossoms and parasols that transport you to Japan once you walk through the doorway inside of Hachidori.
KURA will offer a variety of sakes, beer, wine and specialty cocktails curated by ChatChowTV's Gio Gutierrez. Inspired by Washoku cuisine, Kojin's food menu will feature a collection of elevated small plates designed by Resident Chef Pedro Mederos to complement the KURA beverage menu. Guests will be able to enjoy a selection of dishes ranging from raw bites and salads to hot plates and handcrafted desserts by pastry chef Katherine Randolph.
Chef Pedro, who most recently whet Miami's palette with E&P DMPLNGS, has an extensive background in Japanese cuisine. He previously worked at Single Thread Farm and Inn, a three Michelin-starred restaurant in California, where he focused on Kaiseki cuisine.
The Miami native returned to South Florida to work under James Beard Award finalist, Chef Brad Kilgore, and then in 2020, as local restaurants began to close due to the pandemic, Chef Pedro found himself with ample time to develop new dishes and explore food fermentation projects. In December 2020, he opened the E&P DMPLNGS pop-up to instant praise for its innovative dim sum.
Chef Pedro's menu at Kojin is a direct reflection of his respect for Japanese culture – an admiration he shares with his partners at Hachidori.
Full Moon Picnic at Burlock Coast
Grab your date and head over to Burlock Coast for an intimate meal under the stars. Available during a Full Moon only (June 24, July 24, August 22, September 20), for $150 all inclusive guests will an enjoy a meal for two by celebrated chefs Paula DaSilva and Brooke Mallory and a bottle of wine packaged in a picnic basket. Diners can take it to go or pick a spot on the beach. A shareable appetizer, two entrees and dessert will be chosen from a special menu. For orders, please email evelyn.lang@ritzcarlton.com or call (954) 302-6430.