July 2, 2021
Each Friday, we compile South Florida food-related news and events that we couldn't fit on the site earlier in the week, as well as other local news that piques our interest. Want to be included in our next roundup? Shoot us an email at bark@miamifoodpug.com
Now Open: Jaguar Sun
Byblos Hosts Collab Dinner
New Promotions at Latin Cafe
The Doral Yard Is Expanding
Swizzle Launches New Cocktail Menu
Vale Debuts 3-Day Meal Plans
Now Open: Jaguar Sun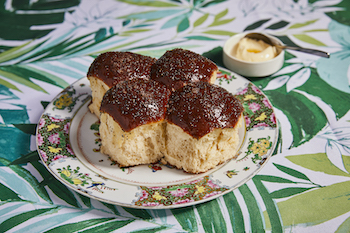 Jaguar Sun is rising in Downtown again starting Friday, July 2nd. After spending the last year operating Sunny's Someday Steakhouse in Little River, owners Chef Carey Hynes and Will Thompson are ready to return to the X Miami. The bar and restaurant will reopen with a redesigned dining room and new outdoor seating.
The cocktail menu will feature returning favorites from Downtown and Lot 6, like the Very Strong Baby (Mexican rum, strawberry campari, bittered vermouth, and pear eau de vie), and the Green Ghoul (blanco tequila, mezcal, poblano, cucumber, and lime). Brand new drinks by the team will also be on the menu, including the Madame Butterfly (chamomile gin, gentian, Mt Olympus flowers, lemon, and egg white), and the Kingfisher (reposado tequila, calvados, blackberry, ginger, lemon, herbsaint, and mint). The drinks are separated into three categories: Aperitifs ($12), Cocktails ($14), and Exotics ($16), making it easy for guests to navigate their evening.
The food menu will also bring back signature items, like the best selling Parker House Rolls, Bucatini Cacio e Pepe with two and three-year parmesans, pecorino romano and black pepper, and Spicy Rigatoni made with pork and Benton's bacon sugo. Hynes will be adding three new pastas to the menu, including a Squid Ink Campanelle with 'nduja and clams, Duck Paccheri topped with leek ash and charred poblano. Each pasta is made fresh daily and will start at $16.
Jaguar Sun will open at 5 p.m. Wednesday to Monday, until 1 a.m. during the week and 2 a.m. on weekends. Happy Hour will also be available Sunday through Thursday from 5 p.m. to 7 p.m. and will feature $1 oysters and a selection of $10 classic cocktails. Reservations will be available on Resy for dining room seating and bar room seating available for walk-ins.
Byblos Hosts Collab Dinner
On Thursday, July 15, Byblos Miami will welcome Chef de Cuisine Julio Cesar Ramos of Osteria Morini Miami Beach to join forces in the kitchen with Executive Chef Abel Veulens for a 'Mediterranean meets Italian' Chef Collaboration Dinner.
Hosted in the exotic upstairs dining room at Byblos, the evening will consist of a five-course dinner. Chef Veulens and Chef Ramos will bring together Byblos' bold Mediterranean flavors with Osteria Morini's soulful cuisine and convivial spirit of Northern Italy's Emilia-Romagna region, to guide guests through an intimate culinary experience. The menu will include Duck Confit Arancini, Steak Tartar with mascarpone, preserved truffle, cured egg yolk, crispy mushroom, espelette lavash, Braised Lamb Agnolotti with English pea, cherry tomato, pecorino, rosemary bread crumb,Roasted Branzino with p.e.i mussels, vongole clams, zucchini, tomato and a Chocolate Sesame Cake with dolce de leche gelato.
Prix fix Chef Collaboration Dinner is priced at $109 per person, inclusive of tax and gratuity, with the option to add on a wine pairing from Byblos' in-house sommelier for $45. Price includes one (1) welcome cocktail per guest and canapes that will be passed at reception from 7:00PM – 8:00PM. Seating will start at 8:00 PM.
For tickets and more information, click here.
New Promotions at Latin Café
Miami is all about the BBL this summer and by B.B.L we mean… Boats, Beaches and Lounging with Latin Cafe! Get the season started with two packages created to take on the go while you have fun in the sun from all three Latin Cafe locations.
The Sandwichito Package is the ultimate sandwich sampler pack that includes Mini Medianoches and Mini Cuban Sandwiches, served with Mariquitas. The Para Picar Package is perfect for snacking on the best Cuban essentials and includes 8 Croquetas, 4 Empanadas, and 4 Tequenos.
Each location will offer half and quarter gallon add ons of its Signature Sangrias and Fresh Non-Alcoholic Juices. Latin Café 2000's Brickell location will also have the option of a few special half and quarter gallon cocktails like Bacardi Mojitos in Original, Watermelon, or Passion Fruit Flavors.
The Doral Yard Is Expanding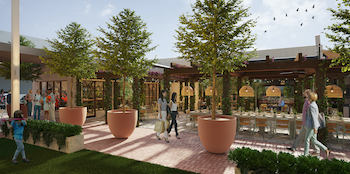 The Doral Yard, a community gathering concept created by Della Heiman of Yard Hospitality and Joseph Furst, founder of Place Projects, is thrilled to announce this summer's opening of The Backyard, an addition to The Doral Yard's existing indoor food hall and events space, The Hub, that opened in October 2020.
After July 5, 2021, The Doral Yard will pause its live music, fitness classes, table reservations and some outdoor seating in preparation for the move to The Backyard.
In just a few weeks, live music, fitness classes, expanded outdoor seating and a bigger, better outdoor bar will return when The Backyard partially opens!
Later this summer, the full Backyard will open, including innovative culinary vendors Santo Dulce! Churros, Paletas Morelia and Pokekai.
Barbakoa by Finka, the full service restaurant by Chef Eileen Andrade of Finka Table & Tap and featuring a fusion menu revolving around coal-fired fresh ingredients, opens in the fall.
At The Backyard, you'll enjoy a larger live music stage, covered turf and outdoor seating area, casual self-serve seating, indoor and outdoor events, an outdoor bar, a garden by Little River Cooperative, private events space, large screen for showing movies and sporting events, and more.
The Doral Yard is working with hospitality and restaurant design and architecture studio, Saladino Design, for The Backyard. Saladino was also responsible for the design of Ball & Chain and Red Rooster Overtown.
Swizzle Launches New Cocktail Menu
Swizzle Rum Bar & Drinkery, the intimate New York-meets-Miami speakeasy and craft cocktail bar, launches its Rare and Forgotten Spirits menu. Created by Swizzle managing partner, Danilo Bozovic, the menu will highlight unique spirits and forgotten cocktails made with rare spirits like Slivovitz, an Eastern European plum brandy, and Aquavit, the national spirit of Scandinavia.
The Miami Beach hotspot significantly focuses on classic and contemporary cocktails and a mix of spirit-forward cocktails. The Slivovitz Cocktail is made with plum infused wine, Dolin Genepy des Alpes, lemon juice, simple syrup 5Angostura bitters, absinthe bitters, and egg white; this cocktail is a unique Serbian spirit. The Besame Mucho features Clairin and Mezcal with a hint of tart hibiscus, citrus, and the perfect amount of habanero tincture accompanied by a mild takin rim.
With dulce de leche rum wash, fernet Branca, and five dash Angostura bitters, the Old Gaucho is inspired by Danilo's love for Latin America and Argentina. Aquavit Daisy, with Svol Aquavit, Dolin dry vermouth, luxardo maraschino, and lemon juice, presents the classical approach with a very old cocktail family, accompanied by a modern mixology approach, a Mastiha Basil Pineapple foam. While presenting the history in the best possible way, the cocktail is crafted to give a contemporary outlook and approach.
Vale Food Co. Launches 3-Day Meal Plans
Since the beginning, Vale Food Co's mission has been focused on healthy food that is delicious, convenient, affordable with variety. In 2014, Founder/CEO Sunny Ilyas started Vale as a meal delivery service and quickly pivoted the brand into a fast casual restaurant when he opened the first location in Tallahassee Collegetown in 2016. Today, Vale Food Co has launched new 3-day meal plans in Fort Lauderdale.
Meal plans are limited to 3 days to ensure maximum freshness and nutritional quality of food and it includes a lean protein, fresh vegetable and a carbohydrate. Vale Food Co's 3-day meal plans come with two types: a weight loss or maintain meal plan. Guests can choose six bowls and three snacks to complete their plan.
Meal plan bowl options include: the Out of This World Bowl; Up North Bowl; Sweet Earth Bowl; CaliFlorida Bowl; Keto Bowl; Guac Around the Globe; Earth Matters Bowl; Vegan Love Comfort Bowl; So Flame Bowl; Earthsgiving Bowl; and the Spicy Tuna Poke Bowl. Snack options include: Lemon Garlic Kale; Kale Caesar; Seasonal Fruit Medley; Pineapple; Strawberries; Blueberries; Kiwi; Banana with Almond Butter; and Chia Pudding with Strawberries.
Plans are priced at $65 for in-store pickup and $75 for delivery online and directly via UberEats. Add-ons are available including $15 for double protein on bowls or Pressed Juicery juices/shots and Celsius at an extra charge.