July 9, 2021
Each Friday, we compile South Florida food-related news and events that we couldn't fit on the site earlier in the week, as well as other local news that piques our interest. Want to be included in our next roundup? Shoot us an email at bark@miamifoodpug.com
National Caviar Day Speicals
Now (Re)Open: g.l.o.w.
Tasting Event at Unit B Eatery + Spirits
The Lazy Oyster Pops Up at 1-800-Lucky
New Distillery Coming to Miami
National Caviar Day Specials
On National Caviar Day (Sunday, July 18), guests can indulge in Uchi Miami's Kaluga Hybrid Caviar ($150) from the specials section, the Toro Tartare Gunkan ($20) made with fatty tuna and topped with truffle caviar, or the Golden Osetra Caviar ($32), sturgeon roe. Enjoy the restaurants Omakase To-Go's Premium ten-course option which includes a 1 oz. tin of Golden Osetra Caviar served with arepas, labneh, and yucca furikake. The omakase also features complimentary szechuan biscuits and a bottle of wine.
Caviar lovers can go to Kosushi's Miami and try the popular Toro/Salmon Belly Tartare ($42/$26); prepared with a hint of citrus and served with osetra caviar and taro chips, this dish is perfect for commemorating the foodie holiday.
Now (Re)Open: g.l.ow.
G.l.o.w., the one-of-a-kind fast casual 'superfood and super fro yo' shop with a menu by award-winning local Chef Todd Erickson (GLAM Vegan, Haven Kitchen + Lounge, Huahua's Taqueria) has reopened with a new summer menu featuring organic, locally inspired frozen yogurt flavors and gourmet dishes.
An acronym for 'girls leading our world', g.l.o.w. has a unique business model with a simple yet bold idea: 100% of net profits are donated to charities that support girls' empowerment, specifically in underserved communities. The shop initially opened in summer 2019 but closed for several months due to Covid.
The frozen yogurt menu features a wide variety of super-food enhanced, super fro yo flavors using the highest-quality organic ingredients and offers both plant-based and grass-fed dairy fro yo products containing beneficial probiotics in every bite. New summer flavors include Watermelon, Piña Colada, and Strawberry Daiquiri, joining innovative mainstays like Guava Cheese, Hibiscus Lemonade, Earl Grey White Peach, and cult-favorite Black Sesame Charcoal (pricing starts at $3.50 for a cup).
Additional made-to-order specialties include the Fro-Rito, a crepe with fruit and frozen yogurt inside ($8); Super Food Sundae, frozen yogurt topped with superfoods ($10); the Instagram-friendly Fro-Conut, a whole, fresh coconut filled with frozen yogurt ($10), and Fro Yo Float, frozen yogurt with house-made soda or kombucha ($7). Other cooling summer treats include the Superfood Cone, Fro Yo Pop, Fro Yo Sandwich, heart-shaped, chocolate-covered Fro Yo Bites, and Fro Yo Cups to go.
The perfect pit stop for a quick and casual lunch, esteemed Chef Todd Erickson's menu features chef-driven gourmet dishes, each organic, sustainably farmed, and locally sourced with several plant-based options. 'Super Eats' signature items include Kung Pao Cauliflower with chilies and cashews ($9); Impossible Meatball Sliders with almond ricotta and basil ($13), and Falafel Cone with herbed chickpea fritters, kale, cucumber, tomato, and red onions with spicy garlic tahini ($9).
Tasting Event at Unit B Eatery + Spirits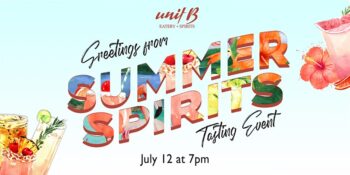 Unit B Eatery + Spirits, Pembroke Pines newest cocktail driven, fine dining experience. The restaurant will be kicking off the season with a ticketed Summer Spirits Tasting Event on Monday, July 12 at 7PM featuring four indulgent courses paired with new cocktails.
Located in The Shops at Pembroke Gardens, this lowkey gastronomic nook is the perfect lounge for those looking to kick back to lo-fi beats, imbibe in quality libations, and enjoy delicious bites. Carefully curated by Executive Chef Yasemis Gomez, the restaurant's menu fuses international flavors and techniques, while focusing on unique culinary experiences. On July 12, guests can purchase a ticket to attend the Summer Spirits Tasting Event ($90++/per person) for a 4-course tasting menu experience and be the first to try four new specialty cocktails paired with each course and all hand-crafted by Unit B Eatery + Spirits' professional mixologists.
Attendees will begin their meal with a Tomato Broth Spherification, served with parmesan foam, olive oil, and basil; followed by the first-course with the choice of White Asparagus in a pistachio herb pesto and hollandaise sauce with toasted hazelnuts and mixed herbs; or Sizzle Shrimp with chili oil, crispy garlic and lemon. The second course features the option of an Oxtail Risotto with sautéed kale, shaved parmesan, and natural jus; or Truffle Ricotta Ravioli in a lobster infused cream sauce and herb butter with poached lobster pieces, topped with fried leeks, and shallots. This delicious tasting dinner will wrap up perfectly with a decadent Brown Butter Plum Tart made with cherry jubilee flambé and cème anglaise.
Get your tickets here.
The Lazy Oyster Pops Up at 1-800-Lucky
Just in time for summer, Miami's favorite oyster pop-up, The Lazy Oyster will be popping up at 1-800-Lucky (once per month). The first pop-up will be held this Saturday, July 10th (12-6 PM) and we would love to invite you to get shuckin' lucky with us. Oyster selections will rotate every month but guests can expect only the freshest quality (prices start at $2.50 per oyster). The Lazy Oyster will also offer an exclusive dressed oyster inspired by Asian ingredients. For the perfect pairing, sake buckets featuring 5 cans of Tozai "Night Swim" ($50) will be available from 12-4 PM.
Tropical Distillers to Open Miami's 1st Distillery
Tropical Distillers which was briefly mentioned during the happy hour. They are thrilled to announce they are opening the only distillery in the City of Miami towards the latter part of the year which will produce their J.F. Haden's Craft Liqueurs.
Located in the heart of the up-and-coming, Allapattah neighborhood at 2141 NW 10th Avenue, the distillery will offer guests a one-of-a-kind premium liqueur brand experience just steps away from the famous Wynwood Arts District.
The distillery will feature J.F. Haden's Mango Liqueur, the first spirit to market from the Tropical Distillers brand portfolio launched a little over a year ago, a first-of-its-kind, small batch liqueur made from all-natural home-grown Florida mangoes without preservatives, artificial colors or flavors as well as the newest flavor J.F. Haden's Citrus Liqueur.
The 8,000 square foot space will include a fully automated craft distillery complete with an in-house cannery, a beautiful bar and tasting room decked out in colorful vintage wallpaper with old school Florida tropical touches throughout the space. In addition, the distillery will feature a retail and gift shop with branded merchandise and exclusive distillery only product from Tropical Distillers and J.F. Haden's Craft Liqueurs.
The distillery will be open daily offering premium tastings and behind the scenes tours of the company's meticulous small batching production process. Following the tour, guests can indulge at the bar which will be serving up signature J.F. Haden's craft liqueurs cocktails while kicking back and enjoying live music from local musicians on certain nights. Guests will also have the option to grab a bite from various featured food trucks.