October 1, 2021
Each Friday, we compile South Florida food-related news and events that we couldn't fit on the site earlier in the week, as well as other local news that piques our interest. Want to be included in our next roundup? Shoot us an email at bark@miamifoodpug.com.
Harry's Pizzeria Opens on Miami Beach
Coming Soon: Botánico Gin & Cookhouse
Día De Los Muertos at Toro Toro
Red Sauce Sunday at Macchialina
Harry's Pizzeria Opens on Miami Beach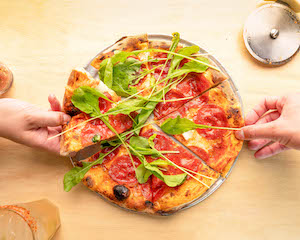 James Beard Award-winning Chef and Restaurateur Michael Schwartz is launching the first Miami Beach outpost of his locally loved and widely lauded eatery, Harry's Pizzeria, just steps away from iconic Lincoln Road on today, October 1, 2021. The restaurant will be joining the Design District and Coconut Grove locations and will uniquely feature a horseshoe shaped bar and beverage program.
Harry's Pizzeria Miami Beach is set to offer a lighter fare in addition to all of Harry's classic dishes. New menu items include:
– Crudite
– Hearth Roasted Vegetables
– Endive Salad
– Chickpea Salad
Harry's Pizzeria Miami Beach is the first Harry's location to offer a curated cocktail program to be enjoyed at the venue's full bar. Beverage options include:
– Cabarete with Aperol, elderflower, watermelon, sparkling wine and orange bitters
– Nude Beach with tequila blanco, blood orange, grapefruit, lime and habanero
– Golden Hour with mezcal, poppy apricot, lime and agave
Guests can also expect to enjoy Harry's Pizzeria Miami Beach's Cello Program which offers guests a rotating lineup of limoncello-style beverages infused with mandarin, kumquats, Meyer lemons, herbs and more.
Coming Soon: Botánico Gin & Cookhouse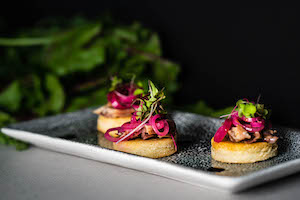 Botánico Gin & Cookhouse (Botánico) – Miami's chic new gin-centric restaurant & bar — is opening its doors to the public on Wednesday, October 6, 2021. A convivial gathering place where contemporary cuisine and neighborhood gin bar converge, Botánico is the brainchild of Co-owner Ricardo Ordoñez and Chef/Co-owner Gerardo B. De Negri; featuring an inspired, globe-trotting menu and an airy indoor-outdoor setting the restaurant is located in the recently redesigned CocoWalk complex in the heart of Coconut Grove.
For the food at Botánico, Chef Gerry is employing his classic French training with inspirations from his culinary sojourns abroad to create an upscale yet approachable dining experience. Born and raised in Mexico, Gerry has decades of experience in the culinary industry, including owning/operating several concepts in Mexico, and helming the kitchen at Dominique Bistro and Mexicana Cantina in Miami.
Botánico's menu works both ways, approachable for those looking to share as well as for diners seeking a more traditional experience. Selections are divided among the following categories: Starters; Ceviches; Tartares; Salads; Sandwiches and Entrées. Among the standouts on the opening menu are goat cheese dip; octopus carpaccio; the arpeas triology – topped with duck confit, short rib, and pulled pork; Ecuadorian shrimp ceviche – a family recipe passed down to Ricardo from his mom – made with fresh shrimp marinated in flavorful a tomato-lime base with red onions and cilantro.
Desserts include house-made traditional and signature Botánico style Key lime pie from none other than Coconut Grove's own Fookem's Fabulous as well as churros and hazelnut beignets.
As the name suggests, Botánico will offer an extensive gin-focused cocktail menu in addition to a well-stocked full bar menu. Derived from juniper, the chief botanical, gin is a versatile spirit which can be delicate or aggressive. That flavor can be modified by adding other botanicals such as citrus, herbs and fruits to create different flavor combinations.
At Botánico, guests can choose from fifteen Gin & Tonic variations including cucumber jelly & lime twist; cubeb pepper; dried pineapple & star anise and fig jelly.
Photo credit: Maria Lucia Venegas
Día De Los Muertos at Toro Toro
Toro Toro, celebrated chef/restaurateur Richard Sandoval's Pan-Latin steakhouse, is honoring Día De Los Muertos, or "Day of the Dead," a festival originating from Mexico that unfolds in an explosion of color and life-affirming joy aimed at demonstrating love and respect for the past while setting intentions for the future.
As part of Richard Sandoval Hospitality's first-ever immersive global campaign honoring the Day of the Dead, guests will have the opportunity to partake in the multi-sensory celebration at Toro Toro highlighting elements of taste, through marigold-inspired food and drink specials; sound, with a Spotify Latin-music playlist curated by Paco Rozas and Christophe Bourlon; smell, with a marigold-infused custom candle; and sight, with visuals and a grand Altar de Muertos or "Altar of the Dead" on display at the restaurant.
As part of the month long campaign, Toro Toro will be featuring an exclusive a la carte menu inspired by Altar de Muertos and marigold notes including Chile Ancho Confit, pork belly stew served with star anise, sweet plantain, almonds and mole rosa ($20); Braised Short Rib served with orange blossom purée, espadin-mezcal sauce, baby patipan and sun-dried chili ash ($48); and Pumpkin Bread Cake with caramel "tacha" pumpkin, orange blossom milk, spiced pepitas and cinnamon ice cream for dessert ($16).
The flavorful menu will be accompanied by specialty cocktails, sponsored by Patrón, including El Ojo (The Eye) – Patrón Reposado, pumpkin, lemon, Fernet Vallet, egg white and marigold flowers ($18); and the Flor de Muertos Margarita – Patrón Reposado, tonic, fresh marigold simple syrup and lime ($18).
Red Sauce Sunday at Macchialina
Macchialina, is rolling out Red Sauce Sundays for the month of October! Begins October 3rd. A favorite among in-the-know foodies who yearn for Mike Pirolo's decadent Sunday feast.
The meal starts with Gentile Gragnano Rigatoni, one of the oldest and best, family-owned pasta makers in Naples. The pasta is laden with a rich, Sunday sauce, slowly cooked with sausage, meatballs, pork ribs & oxtail, with whipped ricotta. This is the homestyle supper the Pirolo family grew up on, imaginatively recreated with a nod to tradition and wink to Nonnina.