November 19, 2021
Each Friday, we compile South Florida food-related news and events that we couldn't fit on the site earlier in the week, as well as other local news that piques our interest. Want to be included in our next roundup? Shoot us an email at bark@miamifoodpug.com.
Tacos 'El Porky' Opens in Downtown
Chef Timon Balloo Opens The Katherine
New Promo at Burgerfi: Ultimate Bacon Bash
La Ventanita Pops Up at Nautilus Hotel
COTE Launches Lunch Service
Tacos 'El Porky' Opens in Downtown
Tacos "El Porky", a taqueria specializing in Tacos Al Pastor and the latest restaurant concept by Baja Restaurant Group, opens in Downtown Miami dishing the best tacos in town. Beginning Friday, Nov. 19, 2021, the taco shop proudly serves its guests the King of Tacos and a nod to all the things that create a real taqueria experience.
Located within walking distance from sister restaurants El Primo Red Tacos and PEZ, Tacos "El Porky" celebrates its launch with $2 tacos on opening night and weekend from 5 p.m. – 12 a.m. EST for dine-in guests until Sunday, Nov. 21, 2021.
Tacos Al Pastor are the most popular tacos worldwide and their beginnings are rooted in Lebanese culture. This casual food is comforting, convenient, and cooked following the traditional method of using El Trompo, a spinning grill with a vertical broiler used to cook the tender pork meat seasoned with chiles and spices. Thin slices of pork meat are trimmed and served in a warm corn tortilla topped with onion, cilantro, pineapple, Salsa Porky, and housemade hot sauce.
At Tacos "El Porky" you get the real interaction with the taquero, ordering food directly with him. Your Tacos Al Pastor will be ready by the time the order is rung up, and ordering is as simple as 'un 2 x 3' #IYKYK.
Tacos "El Porky" is destined to become a new popular taco shop among locals and is regularly open Tuesday – Sunday beginning at 5 p.m. EST, located at 16 W Flagler Street, Miami, FL 33130.
Chef Timon Balloo Opens The Katherine
Best known for his vibrant, global-inspired dishes, Chef Timon Balloo will add to his flavor-forward lineup of restaurants with the opening of The Katherine (723 E. Broward Boulevard) this December in Fort Lauderdale. The Katherine marks the third in Balloo's expanding restaurant portfolio, where he is literally and figuratively the patriarch to a group of growing familial-concepted brands. Other concepts include Mrs. Balloo, which pays homage to his wife with a fun-and-flavor food truck permanently parked at The Wharf Fort Lauderdale, and Balloo Wallah, a fast-casual, to-go-only concept that honors his West Indian roots.
The announcement of The Katherine comes just weeks after Balloo's menu took residence at Miami International Airport's American Airlines Flagship® Lounge. "It's an exciting time to try new things," says Chef Timon Balloo, about his recent growth. "I've always been intentional in my food, but now more than ever living in this pandemic era, I try to be equally as intentional in my business practice. Above all I'm guided by what feels authentic – and that has allowed me to expand into concepts that I historically might have shied away from.
The Katherine is an intimate 1,350-square-feet corner restaurant that Balloo and his family have modestly refreshed to reflect the new energy of the space and a statement of change, while respecting the history of the area and community.
The menu is easy to navigate with straight forward selections, honoring chef's sentiment that a good meal is a gateway to creating memories. There is a common thread-focus given to seafood and vegetables.
Guests can select from local raw seafood dishes like a Yellowtail Hamachi with charred and pickled mushrooms, sesame and shiso as well as garden selections like Harissa Roasted Carrots with tahini and hazelnut granola and an English Cucumber "Wedge"topped with bleu cheese-ranch dressing, crumbled bacon and egg yolk.
Starters begin to narrow in on those comfort food favorites Balloo prizes with lick-your-fingers-good Clam Chowder Fries with clams, bacon and salsa verde, Lamb Meatballs with whipped chickpeas, fennel and sumac and a Calabaza Squash Panzanella with burrata and citrus vinaigrette.
Balloo has long been an advocate of Florida cookery, taking home two outstanding nominations for "The People's Choice Best New Chef" by Food & Wine, and "Best Chef: South" by the respected James Beard Foundation. His main plate offerings advocate for his hometown pride with a Creamy Florida Corn Risotto and Crispy Florida Snapper with nuoc nam dressing and green papaya salad.
Balloo's ability to perfect the quintessential homecooked dinner, a roast chicken, is what catapulted his career and the Jerk Chicken Thighs with roasted bread fruit and coconut milk braised kale pay perfect homage to his past and present success. And of course, what is a neighborhood spot without an All-Day Burger ($18) with smashed-style double beef patties, American cheese and a sweet pickle remoulade.
To end the meal, The Katherine menu features three desserts: Chocolate Death with dark chocolate cremeux, cake crumble and mint-chip ice cream, Burnt Caramel French Toast "Torrejas" with maple-bourbon apples and vanilla ice cream, and a special Daily Sundae showcasing Balloo's whim of delicious things piled high for "big kids."
Photo by Michael Pisarri
New Promo at BurgerFi: Ultimate Bacon Bash
BurgerFi has launched its first-ever Ultimate Bacon Bash with three crave-worthy and better-with-bacon premium options including a new, limited-time milkshake ahead of National Bacon Day. To celebrate, the BurgerFi app will be offering free delivery at participating locations from November 8 through November 21.
The first-ever Ultimate Bacon Bash promotion from BurgerFi features a classic spin on the one ingredient foodies can't enough of – more bacon – and from its award-winning, chef-inspired menu of all-natural burgers and sides:
Limited-Time Maple Bacon Shake: This creamy vanilla custard shake has bacon crumbles mixed in and atop whipped cream and maple syrup drizzle for the perfect balance of sweet and savory.
Ultimate Bacon Cheeseburger: Double-up on 100% all-natural Beef patties, American cheese and loads of premium, thick-cut bacon in this sizable and juicy sandwich made with BurgerFi's classic A-Grade Angus beef.
Bacon Cheese Fries: Gooey, American cheese sauce and hot, crispy bacon sprinkled over fresh, fresh-cut fries come together as the perfect side dish.
La Ventanita Pops Up at Nautilus Hotel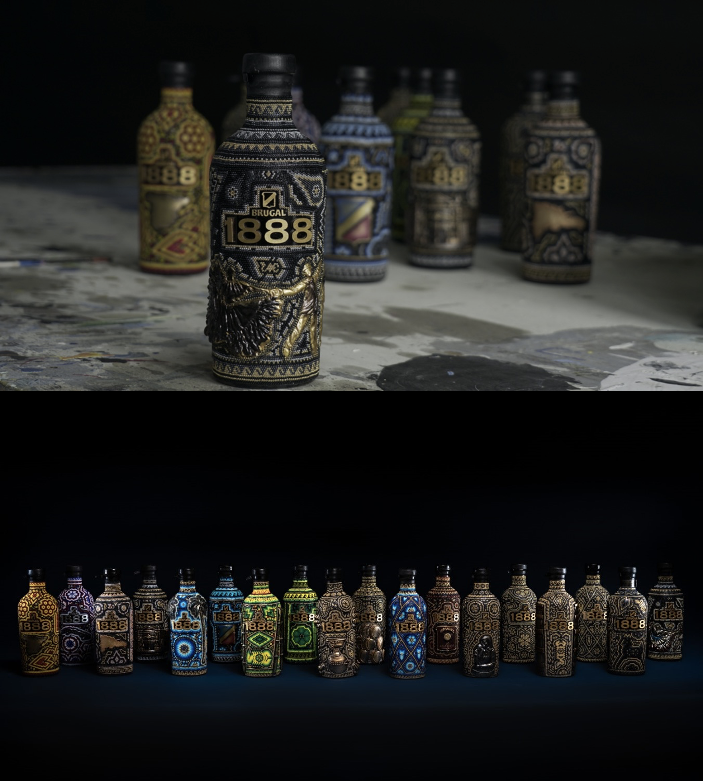 Limited edition Brugal 1888 bottles colorfully adorned with Huichol art – a traditional Mexican craft – blend rum mastery from the Dominican Republic with stunning Mexican artistry. On display through the 10-day pop-up, La Ventanita guests can peruse the installation while sipping on freshly brewed cafecitos or handcrafted Brugal 1888 cocktails.
On Wednesday, December 1, we are hosting an intimate tasting event in collaboration with Cesar Menchaca between 6:30 – 8:30pm. We'd love for you and a guest to join us and sip on craft serves prepared by local guest bartenders and chat with Cesar about the high-design bottle collection. There will also be a gorgeous floral installation for Instagrammable moments, and guests can explore inner artistry by designing custom Brugal 1888 coasters.
COTE Launches Lunch Service
America's first KOREAN STEAKHOUSE™, COTE Miami, is pleased to announce its lunch service, debuting Nov. 18 in their Miami Design District location at the corner of 39th Street and 2ndAvenue. Lunch at COTE Miami will honor the brand's commitment to serving up exceptional service, the very best procurement of quality meats, a distinct and intentional wine list and kitsch cocktails – no matter the meal period.
COTE Miami is the first to roll out lunch service, even before its Michelin-starred sister location in New York City. Widely held as one of Miami's most coveted reservations and recently recognized by OpenTable as one of the most beautiful restaurants in the U.S. and Canada, lunch will be available weekdays from 12 to 3 p.m. A collection of easy-to-navigate sandwiches, salads and bowls satisfy the quick lunch craving with other lunch-only specials providing good reason for those who skip lunch to reconsider.
After a day of shopping the Miami Design District, indulge in something simple yet decadent, a warm and flaky croissant served with 10 grams of Regiis Ova Kaluga Royal Hybrid caviar and cultured Vermont butter ($52); and the Optimus Prime ($48), prepared daily with limited availability – for good reason.
The sandwich is COTE's version of the classic roast beef sandwich, with eight ounces of perfectly cooked, thinly sliced USDA Prime Rib served with horseradish cream and a house made Galbicue™ sauce on a Sullivan Street Bakery baguette. An option to add Swiss cheese and a side of fries is available.
The menu also includes three new salads. A classic Waldorf Salad ($24) provides a special COTE twist that balances the pleasant bitterness of radicchio and celery with sweet Asian pear, kabocha squash and candied hazelnuts then topped with Parmesan cheese and drizzled with a complex honey-dwenjang dressing.
More dishes include a Korean Crudo "Salad" ($32) with a colorful collage of fresh crudos –sea bream, yellowtail, tuna and poached Maine lobster – served over a bed of crisp red leaf and romaine lettuce with seasoned rice and chojang, and a plant-forward Monk's Delight Rice Bowl ($28) showcasing ultra-fresh produce with five kinds of mountain vegetables, red leaf and romaine lettuce served over warm rice with gochujang vinaigrette and the option to add a fried egg.
An Original Crispy "Shicken"™ Sandwich ($28), is also available, made with thinly pounded organic chicken and minced shrimp formed into a patty and served on a La Provence Bakery bun with American cheese and tartar sauce.
For lovers of COTE Miami's dinner, several menu selects will provide a familiar experience including notable favorites such as Steak & Eggs, Korean "Bacon," Tuna Tartare and the Grand Plateau; as well as the Butcher's Lunch ($38), a lunch-sized version of the Butcher's Feast®. Guests will choose from a Dry Aged Rib Eye, American Wagyu Flatiron and COTE Galbi steak; complemented by an array of pickled seasonal vegetables and salads, fresh red leaf lettuce with Ssaam-jang, and a fluffy savory egg soufflé. To ensure all meals are as fun as they are serious, all lunch-goers will be treated to housemade Soft Serve ice cream served in branded paper cup and topped with soy sauce caramel.
Photo by Gary He