May 13, 2022
Each Friday, we compile South Florida food-related news and events that we couldn't fit on the site earlier in the week, as well as other local news that piques our interest. Want to be included in our next roundup? Shoot us an email at bark@miamifoodpug.com.
National BBQ Day at 4 Rivers Smokehouse
Battle of the Bartenders at Veza Sur
Cocktail Hour at No Man's Land
Swizzle Expands With New Tiki Bar Concept
National BBQ Day at 4 Rivers Smokehouse
4 Rivers Smokehouse is set to celebrate National BBQ Month with heaping platefuls of their standout dishes, as well as new limited-time menus highlighting flavorful options at special prices. The popular restaurant chain — recognized as the "South's Best BBQ Joint" by Southern Living — will be offering hungry guests Pulled Pork or Pulled Chicken Sandwiches for $5 at all Smokehouse locations on National BBQ Day on May 16, 2022.
Battle of the Bartenders at Veza Sur
It's officially mango season in Miami (although it's always mango season with MANGOLANDIA), and Veza Sur is celebrating by hosting "Battle of the Bartenders," a MANGOLANDIA bartender showdown!
Taking place Wednesday, May 25, from 6 – 9 p.m. at Veza Sur's Wynwood pub, some of Miami's favorite bartenders will battle it out to see who can make the tastiest MANGOLANDIA-infused beer cocktail, for a chance to win a $500 cash prize, their cocktail featured at the pub for one month, AND hella bragging rights – and YOU get to decide the winner!
Hosted by widely known Miami mixologist/foodie Gio Gutierrez, otherwise known as @ChatChowTV, Battle of the Bartenders will give the floor to 6 local mixologists at Veza Sur as they are put to the test of creating a custom beer cocktail using MANGOLANDIA as their main ingredient. Guests will then have the opportunity to get in on the fun by tasting each cocktail creation and voting for their favorite.
Veza Sur will provide las buenas vibras and hella good cerveza with late night beer and shot specials*, so the fun continues long after the showdown.
Cocktail Hour at No Man's Land
o Man's Land, Memphis Garrett's vibey cocktail parlor, lounge, and eatery in Fort Lauderdale, is known for its exquisitely-crafted cocktails, inventive small plates, and polished service in a sexy and sophisticated space. Now guests can enjoy a multitude of cocktail and food specials at Cocktail Hour, available Monday through Friday from 5PM – 7PM.
The cocktail program at No Man's Land takes center stage and redefines Fort Lauderdale's cocktail culture. Under the direction of Beverage Director Chevy Farrell, libations are elevated yet approachable. Imbibers will rejoice with $10 specialty cocktails including Let it Linger – vodka, lemon juice, agave, cranberries, sage and sparkling wine; Casks Overboard – bourbon, yellow chartreuse, Coco Lopez and passionfruit; Bad Moon Rising – blanco tequila, strawberry syrup and lime juice; Baijiu Tea – rum, baijiu, sake poached pear, jasmine tea syrup, Lillet Rose and fresh lemon; Pineapple Daiquiri – rum, lime and pineapple—cinnamon syrup; and No Man's Old Fashioned – select bourbon, toasted coconut syrup, banana liqueur and brŭlée'd banana.
Guests can pair cocktails with a selection of savory specials created by Executive Chef Austin Blake including $2 Oysters on the Half Shell, served with mezcal cocktail sauce and green apple jalapeño mignonette. Other Cocktail Hour offerings are just $10 and include Local Smoked Fish Dip with caper berry, cilantro and salt & vinegar potato chips; Deviled Eggs and Caviar with crème fraiche fine herbs, ikura and brown butter crumble; and Edamame Hummus served with shiso chimichurri and aonoriko wontons.
Swizzle Expands With New Tiki Bar Concept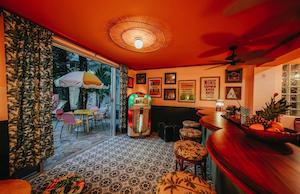 Swizzle Rum Bar and Drinkery – Miami Beach's favorite intimate cocktail bar and speakeasy is pleased to announce its expansion with Delirio Tiki Pool Bar by Swizzle, opening on June 2nd! Delirio will be the only tiki bar on South Beach that embodies Miami's true spirit for Latin America and the Caribbean.
Located next door to Swizzle and open daily from 1 pm-10 pm, the menu at Delirio will highlight new creations made by owner Danilo Bozovic and the Swizzle team. Additionally, Delirio Tiki Pool Bar will feature a $9 daily happy hour from 1-6 pm, which includes the Fresh Backpacker Michelada and Watermelon Mint Daiquiri.
The cocktail menu features fresh and innovative libations for $14 which includes the DDL Old Fashioned; dulce de leche washed Santa Teresa, Evan Williams 100 proof bourbon, demerara sugar, angostura bitters, Hisbiscus Mezcal Paloma; Ojo de Tigre mezcal, hibiscus water, jalapeno agave, lime juice, club soda, Miami Vice; Delirio dark rum house blend, strawberry puree, pineapple juice, angostura bitters, white cacao coconut cartel foam, French Tiki Bananas; Armagnac Hennessy v.s. Blend, banana orgeat, swizzle Armagnac orange cordial, lime juice, dark overproof rum, angostura, Clarified Pisco Mascarpone Punch; caravedo torontel pisco, anise marzipan cream, IPA syrup, black team, lime juice, and Pretty Mama Swizzle; wodka Vodka, blackberry puree, elderflower mastiha, lemon juice, angostura bitters. The drink menu also includes a beer selection starting at $5, white wine, red wine, champagne, and prosecco.
Delirio will also offer savory bar bites that start at $16 and includes the coconut shrimp, served with spicy mayo, ceviche, shrimp fish, passion fruit, Leche de Tigre, onions, and peppers, wings, honey hot, bbq and Jamaican jerk, Greek salad, served with tomatoes, cucumbers, feta chees and Greek dressing, burrata salad, served with tomatoes, basil, and olive oil, cheese quesadilla, with choice of chicken, steak, or shrimp, classic burger, American cheese, lettuce, tomatoes and onions, impossible burger, American cheese, lettuce, tomatoes and onions, grilled skirt steak, served with caramelized onions, rice and beans, side salad and chimichurri sauce., and fries. Dessert options are available as well.