May 6, 2022
Each Friday, we compile South Florida food-related news and events that we couldn't fit on the site earlier in the week, as well as other local news that piques our interest. Want to be included in our next roundup? Shoot us an email at bark@miamifoodpug.com.
Peacock Garden Offers Live Entertainment
National Burger Month Special at Vinya
Well Fed Launches Saturday Brunch
Vale Food Co Opens Miami Location
Peacock Garden Offers Live Entertainment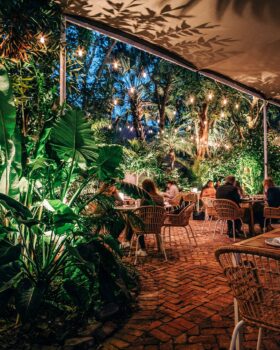 Peacock Garden is serving guests dinner and a show, thanks to its new weekly, one-of-a-kind performances from electric violinist, Maggi V.
Every Wednesday, the secret garden will light up from 6:00 to 9:00 p.m. with electrifying, interactive performances of today's most popular hits played only on the violin. Offering a new spin on live music, Maggi Vi supercharges the evening, dancing and performing from table to table.
National Burger Month Special at Vinya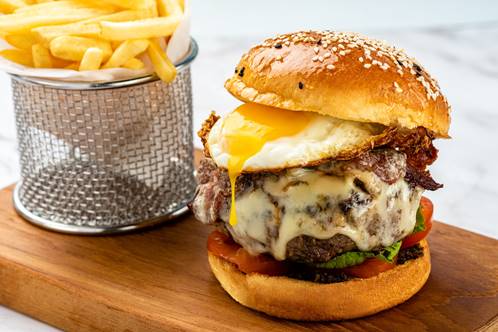 May is National Burger Month and what makes a burger even more crave-able? A bottle of Burgundy to go with it! Vinya Wine & Market in Key Biscayne is offering guests their famous Vinya Burger complimentary with the purchase of their sommelier-approved Burgundy: Château de la Greffière Bourgogne Rouge ($45).
The Vinya Burger is crafted with quality Wagyu Beef from South Florida's premier butcher shop Meat N' Bone and features Aged Gouda Cheese, Bacon, caramelized onion, truffle aioli, fried egg, all in between two delicious Brioche Buns. Guests can choose either fries or salad as a side option.
The special is available through the end of the month.
Well Fed Launches Saturday Brunch
Well Fed is introducing Saturday brunch starting Saturday, May 7th and taking place every Saturday thereafter from 11AM to 3:30PM. Well Fed's new prix-fixe brunch menu is available at $65 per guest, including a selection of either coffee or hot tea and kicking off with a "Pan de la Casa" bread basket featuring a variety of homemade breads such as andean wheat arepas, pastel de choclo, and more.
Main dishes include a selection of Homemade Quiche in a variety of flavors including cazón and pecorino cheese, chicken and chorizo, or spinach, cheese and raisins, served with a side of green salad and Dijon Vinaigrette; Fainá topped with cherry tomato and green asparagus confit served with green salad and Dijon Vinaigrette; Wellfed Avocado Toast made with sourdough bread covered with creamy smashed avocado, and topped with baby radishes, pickled red onions and confit cherry tomatoes with several other toppings to choose from such as smoked fish, shredded chicken, or roasted vegetables; Toasted Arepa served with yucca hash browns, grilled white cheese, eggs cooked to order and a side of homemade stew; and Multigrain and Sweet Potato Bowl with orange hummus and smoky Baba Ganoush.
Lastly, guests can choose from three different desserts: Stuffed Pancakes, Banana and Oat Pancakes, and "Torta de la Casa" made with whipped cream and fruits. For an additional $20, guests can also indulge in Bottomless Mimosas.
Photo by Ricardo Mejia.
Vale Food Co Opens Miami Location
After five years looking for a home in Miami and by popular demand, Vale Food Co is set to debut the seventh location of its Florida-grown restaurant brand in Miami's financial district, Brickell. Helmed by CEO and Founder Sunny Ilyas, Vale Food Co attracts locals and visitors alike with its vast array of healthy and high-quality protein, açai and poke bowls accompanied by a full beverage and bakery selection.
Vale Food Co's menu is divided into a cold "superfood" station and a hot food station along with a selection of grab-and-go snacks and bakery items, popular freshly baked whole grain chocolate chip cookies and a full beverage program including matcha, smoothies and coffee.
Superfood menu highlights include: Smashed Avocado Toast; Chia Pudding; Spicy Tuna Poke Bowl; Açai Smoothie and the Dragonfruit Lemonade. New to the menu is the matcha line with KombuMatcha; Vale Matcha Blast; Vale Matcha Latte and Dirty Matcha Latte. The fresh and healthy-forward menu offers a variety of items perfect for year-round weather in Florida.
The hot food station consists of build-your-own protein bowls where guests can customize the bases and add on veggies, proteins, boosts and sauces. Classic and fan-favorite proteins include Vale's signature turkey spinach feta meatballs, southwest braised beef, ancho pulled chicken among others.
Signature hot bowls include the Sweet Earth Bowl made with sweet potato noodles, roasted broccoli, teriyaki chicken and curry honey mustard; Out of This World Bowl with cilantro lime brown rice, roasted broccoli, ancho pulled chicken topped with chipotle ranch; and the Great South Bowl with chipotle mac and cheese, roasted broccoli and braised beef. All ingredients are sourced from local farms and menu items rotate seasonally with a selection of vegan and gluten-free options.
Vale Food Co is located at 900 S Miami Avenue #125 Miami, FL 33130.