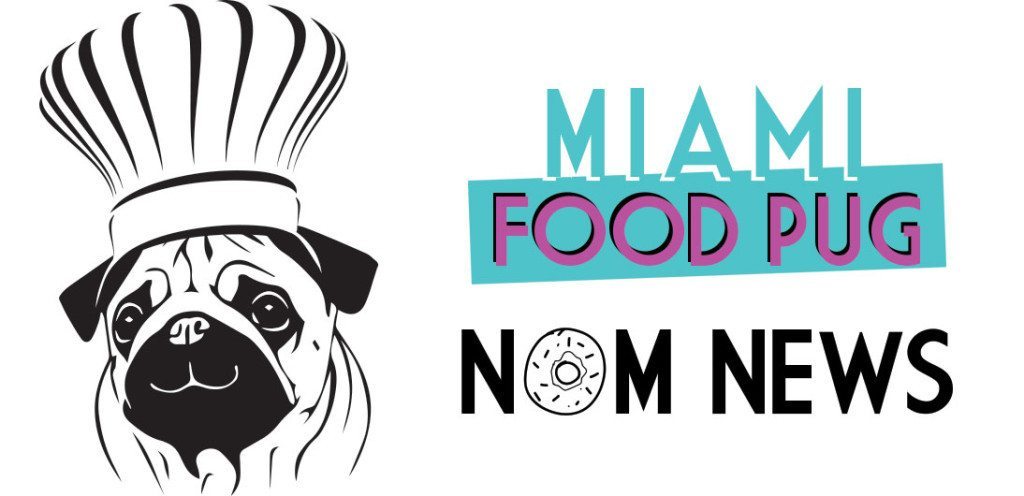 November 4, 2022
Each Friday, we compile South Florida food-related news and events that we couldn't fit on the site earlier in the week, as well as other local news that piques our interest. Want to be included in our next roundup? Shoot us an email at bark@miamifoodpug.com.
Smorgasburg Miami Expands Hours
Fiola Miami Opens La Terrazza
Orno Launches Brunch Service
ATLA Pops Up at B-Side
Smorgasburg Miami Expands Hours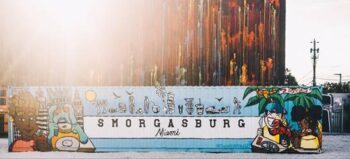 Smorgasburg, the largest open-air food market in America with locations in New York and Los Angeles, launched in Miami in March 2022. Now, the "Disneyland for Food", which regularly draws thousands of visitors every Saturday in search of a great afternoon of eating, drinking, and meeting up with friends, will officially introduce Sundays at Smorg.
Beginning on Sunday, November 13, the market will now be open on Sundays in addition to Saturdays. The weekend market provides guests with a unique gastronomic experience from a diverse group of vendors; most of that represents the Miami community at its core including Los Dos Amigos Tacos and Burger Bar by La Traila to small businesses from all over the nation like New York City's D'Abruzzo NYC, and Malibu, California's Broad Street Oyster Co..
To help celebrate the big day, some of Miami's top culinary talent will pop up at the market, offering a one-day-only chance to sample their signature items. Visitors can look forward to special guest appearances from Viet-Latin trendsetters Phuc Yea and Little Haiti's Michelin Star restaurant Boia De – which will bring their famed La Pollita fried chicken sandwich out of retirement for the event. Key Biscayne's Flour & Weirdoughs bakery will also be in attendance.
And as a reflection of its commitment to community, Smorgasburg Miami will be partnering with the Miami chapter of Common Threads — a national nonprofit that provides children and families with cooking and nutrition education to encourage healthy habits that contribute to wellness. Smorgasburg Miami will be donating the day's merchandise sales to the organization. Smorgasburg also partners with their own food rescue initiative on a regular basis, Buddy System MIA.
Guests are invited to stop by for great food and vibes that the entire family will enjoy as we kick off Sundays at Smorg. Dance to groovy beats courtesy of a live DJ from 12PM-7PM. Join us at Smorgasburg Miami, where everyone from everywhere is welcome!
Fiola Miami Opens La Terrazza
Fiola Miami is pleased to announce the opening of its rooftop restaurant and lounge, La Terrazza, on Wednesday, November 2, 2022. The open-air space is located on the penthouse level of the 1515 Sunset Building accessible through a private entrance with its own valet. It boasts expansive panoramic views of the verdant Coral Gables and South Miami landscapes, perfect for instaworthy pictures of South Florida's spectacular sunsets.
An idyllic location to also host private events, the venue accommodates 80 people seated and 150 standing with multiple seating areas, a new state-of-the-art retractable roof, sound system, chic outdoor décor, and a full-service bar. Previously a membership-only experience, La Terrazza will remain a private membership club but will now be open to guests on a limited basis with advance reservations required.
La Terrazza guests can enjoy the views while sipping on their favorite cocktails and indulging in an exciting, bespoke menu created by Executive Chef Danny Ganem. Like its sister restaurant below, La Terrazza's menu features an Amalfi Coast-inspired raw bar, crudos, salads, caviar service, fresh-caught seafood, as well as an array of Italian antipasti, prime meats, and mouthwatering desserts.
Indulgences include a Tuna Tartare—pine nuts, lemon, Calabrian chili, and mint; Cuscino Panino with porchetta, prosciutto, cacciocavallo, pickled cucumbers, mustard, aioli; Whole Wheat Rigatoni—ragu bolognese, foraged mushrooms, and Parmigiano Reggiano; and Champagne Zabaglione with seasonal fresh fruit, and mint.
Featured cocktail menu highlights include Basil Smash—Bombay Dry Gin, basil cordial, cucumber, and club soda; Bitter Beauty—Bacardi 8 Rum, Cynar, Saint Germain, orgeat, and lime; Las Hojas De Otoño—Volcan Tequila Blanco, fiery ginger, all-spice dram, Citrus, and Club Soda; When Pigs Can Fly—Prosciutto fat-washed Angel's Envy Bourbon, and Vermont maple bitters; and El Clarito made with Havana Club Blanco Rum, mint cordial, and club soda.
In addition to the elevated dining experience, thoughtfully orchestrated programming for La Terrazza is scheduled with regular weekly events, as well as one-night-only experiences that will take place throughout the season. On Thursdays La Terrazza will host Cigar Nights from 6 to 11 p.m., where aficionados can engage with a different spirit ambassador profiling a unique selection of libations, enjoying two-for-one cocktails made with those brands all evening long along with music by Luis Bofill and his band.
Additional ongoing programming will include Friday Sunset Happy Hour from 5 p.m. to 7 p.m. featuring $10 cocktails and live music by local musician Carlos Andrade; a DJ spinning from 8 p.m. to 11 p.m. on Saturdays; and Sunday Family Night, where children's movies and exciting Sunday night football games can be enjoyed along with a menu highlighting family-friendly comfort food options like lasagna and meatballs beginning at 5 p.m.
La Terrazza will be launching a Jazz Brunch in January 2023.
Guests interested in the perks of La Terrazza membership, including complimentary valet for both La Terrazza and Fiola Miami; member's only seating; priority seating at peak times at both at La Terrazza and Fiola Miami, and much more, are encouraged to reach out to: vip@laterrazzamiami.com.
Orno Launches Brunch Service
Orno, the ingredient-focused restaurant at THesis Hotel Miami in Coral Gables, has announced that starting Sunday, November 6, it will officially be open for Sunday brunch. With this launch comes the introduction of a brand-new menu of brunch-inspired dishes specially curated by Orno's Executive Chef Niven Patel, a four-time James Beard Award nominee and Food & Wine's "Best New Chef of 2020."
Launched in October 2021, Orno is a true farm-to-table restaurant concept heavily focused on fresh, quality ingredients sourced directly from Chef Patel's backyard farm, Rancho Patel, in nearby Homestead; many of the 35-plus varieties of seasonal greens, fruits and vegetables that Patel grows on his farm are found on his menus. The modern neighborhood restaurant features an open-kitchen concept that provides guests with an elevated, inviting, interactive experience that pairs wood-fired dishes with handcrafted cocktails.
The new brunch menu will take guests on a gastronomic journey with innovative twists on traditional fare, including the Belgian Waffle ($14), served with Honeycrisp apple and maple crème fraîche, the Ricotta Pancake ($13), topped with Nutella and hazelnut praline; Grilled Wagyu Steak ($26), served with wood-roasted farm eggs, heirloom tomato and chimichurri; Maine Lobster Toast ($30), topped with avocado, farm egg, everything spice and chili oil; and Housemade Pastrami Benedict ($20), served with hollandaise, poached farm egg and latkes.
Other brunch options include Chilaquiles ($17), a traditional Mexican breakfast dish with salsa verde, queso fresco, avocado and farm egg; Duck Confit Hash ($38), served with beluga caviar and crème fraîche (with the option to add foie gras for $15); Grilled Maple Sausage ($17), with cheddar, polenta and sage; Smoked Salmon ($24), topped with sheep's milk feta, pistachios and lemon vinaigrette; and Rosemary Potatoes ($13), served with Parmigiano and aioli.
Sandwich options include the Crispy Bacon Sandwich ($15), containing folded egg and cheddar on a house-made biscuit; Crispy Grouper Sandwich ($19), with kimchi and jade aioli; and Grilled Wagyu Burger ($22), topped with bacon, aged cheddar and special sauce.
Diners who have been to Orno for dinner will recognize dishes like the Green Chickpea Hummus ($16), served with pickled beets and zaatar pita; Spicy Tuna Tartare ($22), with Calabrian peppers, preserved lemon and guanciale; Grilled Octopus ($20), with confit potato, pimento aioli, celery and aged sherry; Buffalo Mozzarella ($22), with Jersey tomatoes, arugula pesto, pine nuts and smoked sea salt; Beef Tartare ($22), with brown-butter hollandaise and pickled shallots; and Margherita Pizza ($19), topped with buffalo mozzarella, basil and tomato. A new House-Smoked Bacon Pizza ($22) topped with fontina, roasted tomato and scallions has also been introduced.
For more classic breakfast pastries or a sweet dessert, guests can order the Mocha Cinnamon Roll ($8) with espresso glaze; Banana Bread ($9) with honey butter; or an assortment of Donuts ($6). Coconut Yogurt ($12), with orange granola, berries and mint, and a special Sundae ($6) will also be available.
Guests can indulge in a boozy Sunday as bottomless Moet Brut and Rose champagne will be available ($75/person) for up to two hours and fresh orange juice and peach puree will be provided to make your own Mimosas and Bellinis.
Orno will also be offering a full brunch cocktail menu including their seasonal cocktail La Roma ($18), mixed with Ilegal Mezcal, Hazelnut Orgeat, Mr. Black and Espresso; 75 Apples ($16), with Wheatley Vodka, St. Germaine, Apples, Rosemary and Cava; Strawberry Rhubarb Spritz ($16), a blend of Strawberry Infused Aperol, Rhubarb Bitters and Cava; Bloody Mary ($16), with Wheatley Vodka and Housemade Bloody Mary Mix; Sangria ($16), a refreshing cocktail made with Red Wine, Macerated Fruit and Mint, Spices; Pink DeLorean ($17), mixed with Atian Gin, Manzanilla Sherry, Watermelon, Lime and Mint; Cool as a Cucumber ($17), a revitalizing cocktail made with Espolon Blanco, Lemon, Cucumber, Jalapeno Syrup and Sea Salt; The Mo'garita ($18), made with Maestro Dobel, Spicy Tincture, orange, Lime, Spicy Salt Rim; or you can go traditional and order a glass of their Belini ($16) with Bouvet Signature, Peach Puree, Basil and Vanilla or Mimosa ($16) with Bouvet Signature and Fresh Orange Juice by the glass.
Guests can also try non-alcoholic mocktails like the Cucumber Cooler ($10), a blend of cucumber juice, jalapeño syrup, lemon and sea salt, and Rosemary & Company ($10), with fresh grapefruit, rosemary, honey and lemon. A selection of local and international beer and red, white and sparkling wine are also available.
ATLA Pops Up at B-Side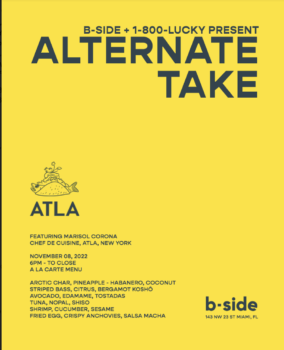 On November 8 from 6 p.m. to close, Valerie Chang, chef/co-owner of B-Side at 1-800 Lucky and James Beard semifinalist, will host a special one-night-only pop-up and collaborative 'a-la-carte' menu with NYC-based ATLA Chef de Cuisine Marisol Corona. ATLA is a contemporary Mexican restaurant helmed by world-renowned Chef Enrique Olvera (chef/owner of Mexico City-based Pujol, ranked 5th + Cosme in New York, ranked 69 in the world according to the 2022 World's 50 Best Restaurants). The Nikkei – Mexican menu will feature a curated selection of delectable dishes including Striped Bass w/ Bergamot Koshō, Tuna w/ Nopal and Fried Egg w/ Crispy Anchovies and Salsa Matcha