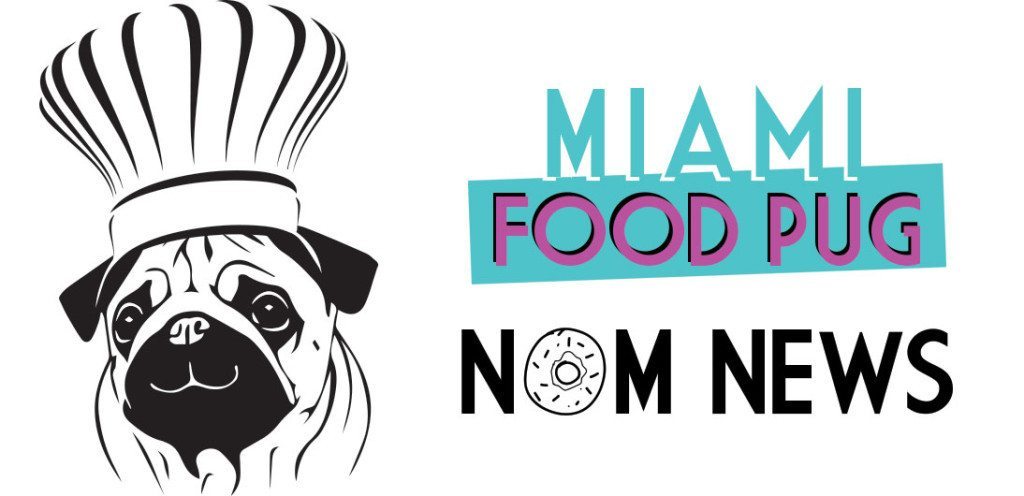 May 5, 2023
Each Friday, we compile South Florida food-related news and events that we couldn't fit on the site earlier in the week, as well as other local news that piques our interest. Want to be included in our next roundup? Shoot us an email at bark@miamifoodpug.com.
KAO Bar & Grill Comes to Hallandale
Novikov Revamps Brunch Service
New Spring Dishes at North Italia
Now Open: El Vecino
KAO Bar & Grill Comes to Hallandale
Experienced restaurateur Matias Pagano and The KAO Group – the minds behind South America's renowned Sushi Club concepts, as well as KAO Sushi & Grill in Coral Gables and J&J Fresh Kitchen in Boca Raton – are set to open the first KAO Bar & Grill concept in the heart of Hallandale Beach this May. The two-story restaurant will be the area's first container project, adding a contemporary and vibrant spin to the neighborhood with colorful hand-painted murals by artist Falopapas and flavorful Argentine grill-inspired cuisine.
Guests are encouraged to dive into the KAO experience with a selection of shareable tablitas (grilled platters), which include Tablita Parilla ($24), Argentine chorizo, blood sausage, churrasco, grilled peppers and toasted slices of bread with chimichurri; Tablita de Picada ($28), prosciutto, soppressata salami, coppa meat, roasted red peppers and olives with homemade berry jelly, glazed pecans and bread; Tablita de Chorizo ($12), Argentine chorizo with chimichurri and toasted bread; and Tablita de Empanadas ($16), choice of beef, ham and cheese, or spinach (vegan) empanadas with a side of criolla sauce. All of the tablitas are freshly prepared in-house and cooked to desired temperature.
A unique selection of Argentine-style pizzas is also available, including the Special Pizza ($15), with mozzarella, ham, olives, roasted red peppers and oregano; or Prosciutto Pizza ($19), with arugula, mozzarella, creamy burrata and Parmesan cheese topped with a drizzle of olive oil and balsamic reduction.
Other standout appetizers include Roca Chicken ($14), popcorn chicken and potato wedges with a side of spicy mayo; Tango Sliders ($15), Angus mini burgers with cheddar cheese and homemade aioli on a brioche bun with a side of chimichurri; Provoleta ($13), melted provolone cheese with chimichurri; Barbecue Pork or Chicken Lettuce Tacos ($12), three tacos served with pickled onions, avocado and micro-cilantro on lettuce leaves; and Citrus Walnut Salad ($12), green mix with chopped strawberries, candied walnuts, feta cheese and tangerine with sriracha balsamic dressing.
The star of the show are the fired-up grilled meats ranging from meat, chicken or fish dishes served with a variety of sides and KAO's signature chimichurri sauce, including Skirt Steak ($33), NY Strip Loin ($35), Rib-Eye ($65), T-Bone ($69), Patagonian Lamb Ribs ($42), Tomahawk ($160), Grilled Branzino ($42) and Grilled Chicken ($17). Side dishes include grilled veggies, green salad, mashed or gourmet potatoes, broccoli and potato wedges.
Novikov Revamps Brunch Service
Swanky Downtown hotspot Novikov Miami has revamped its vibrant Sunday Brunch. Reflecting the restaurant's Asian-inspired fare, the Downtown Miami's mid-day extravaganza now features buffet elements in addition to its tableside services: a sushi bar, a seafood station, and dim sum and nigiri carts of premium options are also included in the restaurant's feast of food and beverage selections. The brunch is served every Sunday from noon to 4 p.m. in the restaurant's sleek indoor dining room and airy outdoor terrace overlooking Biscayne Bay.
Novikov Miami's brunch offers one of the best values in town. Guests can choose from two brunch tiers: the first, a $99-per-person "Signature" menu, features unlimited serving of appetizers like Cucumber Tataki and beef fried rice, followed by entree choices including Sweet and Sour Mango Chicken and Robata Grilled Branzino. Then there's all-you-can-drink choices of Nicolas Feuillate Champagne, Bloody Mary, and Yuzu mimosa, along with sake and red and white wine options.
The second option, a $199-per-person "Premium" feast, encompasses unlimited starters such as Wagyu A5 Nigiri torched tableside, Duck Fried Rice and a special dim sum cart selection of Spicy Prawn Moneybags and Duck and Foie Gras Siu Mai. For a main course, choices include Yuzu Miso Black Cod, Wagyu Ribeye, Roasted Peking Duck and Honey Truffle King Crab Leg. The free-flow beverage package's frontrunner is Laurent Perrier Rosè, but guests can also alternate between wine and specialty cocktails like Oaxacan Sun, Wasabi Martini and Agave Picante.
Both brunch tiers grant access to a centrals seafood station of lobster, shrimp and other delicacies, as well as a sushi counter made of salmon, hamachi and tuna akami nigiri, which sit alongside offerings of spicy salmon and spicy tuna maki choices, Thai pork and toasted cashews, and dim sum options filled combination of chicken and morel siu mai, wild mushrooms, or shrimp and cilantro topped with black truffle. All meals end with an indulgent chef's platter of desserts.
Approaching its fifth year and widely regarded as an upscale destination for local tastemakers and savvy travelers, Novikov Miami is situated in the ground floor of the Met 1 building over almost 10,000 square feet. The restaurant's bright dining room is anchored by a colorful seafood and vegetable market display, where guests can pick the daily catch they want and then opt for how they'd like it prepared. Open daily, Novikov Miami showcases a high-end a la carte menu of Chinese-Japanese items, a $30 Lunch Special, and weekday Social Hours at the bar from 5 to 7 p.m. featuring cocktails and wine, along with dim sum and other bites.
New Spring Dishes at North Italia
With blossoming flowers in full swing and warmer weather on the way, North Italia welcomes a taste of spring with three new dishes, seasonal updates to beloved menu staples and three new cocktails on April 26. Just in time for the season's top celebrations such as Mother's Day, Father's Day and graduations, North Italia's latest seasonal menu showcases the best of spring's ingredients in an elevated, yet welcoming atmosphere ideal for any occasion!
New dinner dishes and desserts include:
– (Small Plate) Crispy Bocconcini – fresh mozzarella, provolone, fennel pollen, spicy vodka sauce
– (Side) Glazed Chioggia Beets
– (Dessert) Chocolate Torta Caprese – dark chocolate, almond, vanilla mascarpone, amarena cherry
New drink selections include:
– White Lotus – vulcanica sicilian vodka, elderflower, luxardo bianco, fresh lemon
– Golden Fig Old Fashion – fig infused piggyback rye, strega, brown sugar, angostura, brandied figs
– Negroni Rosa – hendrick's gin, starlino rose, italicus, bitter bianco, grapefruit essence
Now Open: El Vecino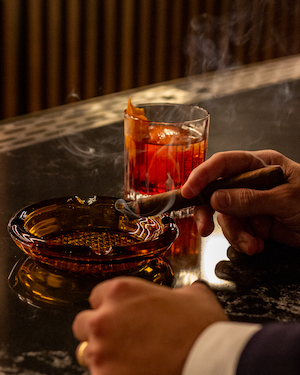 The new opening of El Vecino ("the neighbor") marks the third opening by Miami's Michelin-recognized Ariete Hospitality Group (AHG) at Miami Worldcenter. EL Vecino's opening has been preceded by the namesake Ariete, Brasserie Laurel, the group's modern French brasserie, and Chug's Express, a quick-service ventanita-style incarnation of AHG's beloved Cuban diner concept in Coconut Grove. Owned/operated and created by Chef Michael Beltran, AHG is the Miami-based restaurant hospitality group defining dining and proper cocktailing in Miami circa 2023.
Located at 698 NE 1st Avenue, Suite G-172A at the base of Miami Worldcenter's Caoba residential tower, next door to Brasserie Laurel, El Vecino will be a must-try for cigar devotees and neophytes, cocktail enthusiasts and downtown denizens looking for a chic, sophisticated spot for a fabulous cocktail or wine (by the glass or bottle).
Featuring a state-of-the-art air purification and humidification system, El Vecino will be as welcoming to aficionados as it is abstainers. The 1,600-square-foot, upscale space will feature a comfortable ambiance that encourages lounging. Think vintage décor, rich woods, velvet and leather set against the warm glow of amber-hued lighting; the cigar bar of your dreams in The 305.
Speaking of libations, El Vecino will also serve as a spot for those seeking a proper pour of any kind. Like all AHG concepts, the cocktail menu (still being tweaked in the days leading up to the May 5 opening) will be thoughtful and provocative with a wine list carefully calibrated to complement the cigar offerings.
In addition, El Vecino will offer highly curated corporate and individual memberships with appealing perks such as private lockers, exclusive invitations to members-only events, and concierge service offering preferential access to AHG's locations.