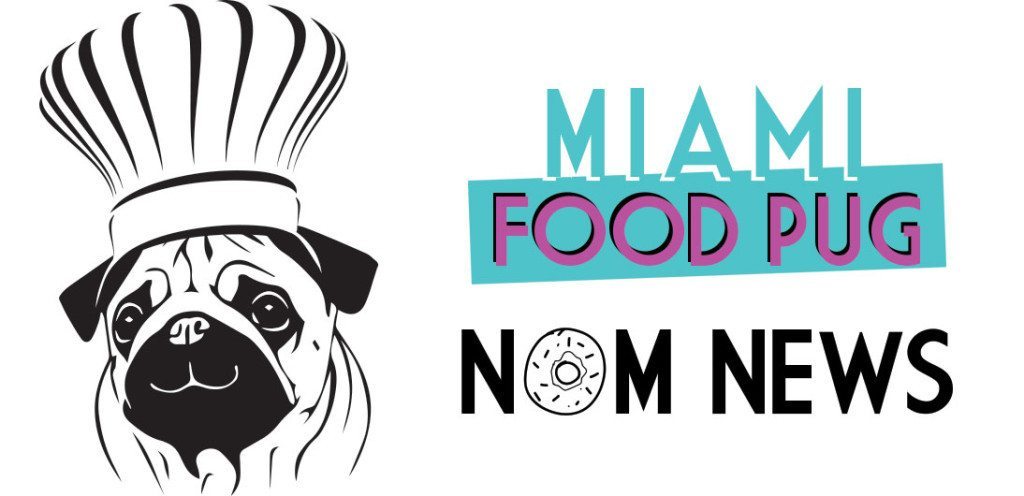 November 10, 2023
Each Friday, we compile South Florida food-related news and events that we couldn't fit on the site earlier in the week, as well as other local news that piques our interest. Want to be included in our next roundup? Shoot us an email at bark@miamifoodpug.com.
New Fall Menu at Orno
Noma Beach Debuts Lunch Service
MKT Kitchen Revamps Brunch Menu
New Programming at Adrift Mare
New Fall Menu at Orno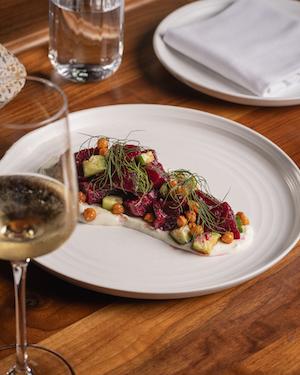 Orno, the ingredient-focused restaurant at THesis Hotel Miami led by five-time James Beard Award finalist and Food & Wine's "Best New Chef of 2020" Niven Patel, has launched a new seasonal ingredient-inspired fall menu. The modern neighborhood eatery features an open-kitchen concept that provides guests with an elevated, interactive experience pairing wood-fired dishes with handcrafted cocktails.
Orno's seasonal farm-to-table menus heavily focus on fresh, quality ingredients sourced from Rancho Patel, Chef Niven's backyard farm in nearby Homestead, Florida. The multi-acre property boasts an expansive selection of organically grown fruit, vegetables and herbs, including ones curated from the chef's extensive collection of seeds and saplings brought back from his travels around the world. As he harvests and walks the farm, the chef finds inspiration for original recipes. Orno is part of Chef Niven's evolving Alpareno Restaurant Group umbrella, which includes Mamey (also located at THesis Hotel), Ghee Indian Kitchen and Erba, which recently opened.
"When I crafted our new fall menu, my goal was to celebrate the flavors that make this season special," explained Chef Niven. "We've introduced some delicious Fall staples, like apples, squash, and other root vegetables from Rancho Patel. These additions completely change the dining experience, giving it a delightful blend of luxury and simplicity."
Although Orno's menu changes daily, some of the dishes guests can expect to enjoy this fall include salads such as the Roasted Beet Salad ($17), featuring sheep's milk feta, chickpeas and sumac, and the Belgian Endive Salad ($18), with smoked maple, pears and sunflower seeds. Veggie-rich appetizers include the Wood-Roasted Delicata Squash ($17), served with walnuts, shallots and parsley, and Butternut Squash Pizza ($24), topped with brown butter, prosciutto and sage. Rounding out the starters is the Pork & Apple Sausage ($21), served with apple relish and jalapeño.
For the main course, guests can expect seafood dishes such as Whole Grilled Branzino ($49), served with cured lemon, Fresno chiles and mint, and Turmeric-Spiced Halibut ($49), featuring preserved orange, red peppers and Marcona almonds. Meat dishes include Crispy Pork Tenderloin ($47), with mango, apple and fennel, and Pan-Roasted Amish Chicken ($43), served with lemon thyme jus. Meatless main courses include Spicy Rigatoni ($25), topped with harissa, buffalo mozzarella and basil, and Crunchy Mushroom Steak ($17), with sour cream, onion and lemon. Seasonal side dishes include Crispy Fingerling Potatoes ($16), served with tallow hollandaise, scallions and pickled red onions.
Orno is located at THesis Hotel Miami at 1350 S. Dixie Highway in Coral Gables. It is open for dinner Sunday through Thursday from 5:30-10 p.m. and Friday and Saturday from 5:30-11 p.m. and Sunday brunch from 11 a.m. to 2:30 p.m.
Photo Credit: Alpareno Restaurant Group
Noma Beach Debuts Lunch Service
Noma is now open at noon on Wednesdays, Thursdays, and Fridays! Indulge in their delightful lunch menu, offering various culinary delights to satisfy your midday cravings. From fresh market oysters and jumbo shrimp cocktails to hot appetizers like calamari fritti and winning meatballs, we have starters that will tantalize your taste buds. For a lighter option, savor our fresh insalatas, featuring the Noma Salad and our house Caesar.
Pizza enthusiasts can revel in classics like Margherita or Pepperoni Feast. If you're in the mood for heartier fare, our entrees, including whole-fried snapper and Donatella's diver scallops, are prepared to perfection. Don't forget to check out their Kids Menu, with options like chicken tenders, kids' steak and fries, and spaghetti and meatballs, making it a family-friendly destination.
Lunch is available Wednesday through Friday starting at 12p.
MKT Kitchen Revamps Brunch Menu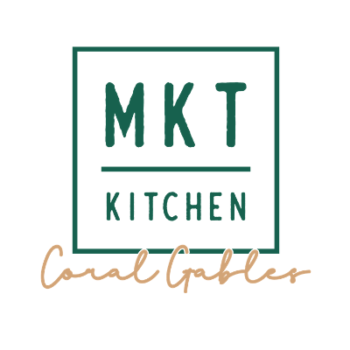 MKT Kitchen is now offering a new brunch menu on Saturdays and Sundays from 10 a.m. to 3 p.m. in Coral Gables. The a la carte menu features entrees like Croque Madame, Sourdough Avocado Toast, Green Papaya Shrimp Salad, Chimichurri Steak & Eggs, MKT Pancakes and Fried Chicken Sandwich. A la carte sides include Street Corn, Sauteed Spinach, Potato Hash, Vegetable Tian, all wonderful complements to fresh stone crab claws which are available in all sizes. $25 bottomless Mimosas and Sangria are also available.
New Programming at Adrift Mare
In sync with the arrival of Fall, ADRIFT Mare located at Hotel AKA Brickell has unveiled exciting programming with the launch of Power Lunch, where guests can partake in a three-course culinary jaunt for $39 per person (exclusive of tax & gratuity), and Sunset Lounge Aperitivo Social which features an enticing lineup of food and beverage specials. ADRIFT Mare's elegant and chic setting provides an ideal venue as suited for business professionals, friends or family to enjoy a high-quality, expeditious midday meal, as it is for imbibing with exquisite cocktails while taking in dynamic views of the city skyline and Biscayne Bay.
Power Lunch, available every day from 12PM to 4PM, offers a myriad of dishes from ADRIFT Mare's spectacular menu starting with Hummus served with fermented honey flatbread; Heirloom Tomatoes, made with burrata, smoked olive oil and toasted quinoa, and Falafel & Kale Salad, prepared with hummus, pomegranate and mixed grains. For the main course, diners can enjoy a choice of Arugula Pesto, served with aged parmesan cheese, stracciatella and bucatini pasta; MARE Burger, accompanied by gruyere cheese, tomato salsa and fries or Half Roasted Chicken, seasoned with brown butter sauce.
Lunch will conclude with a Maritozzi Bun, a decadent delight with butterscotch and vanilla bean cream. Power Lunch attendees can choose to pair these delicious dishes with a tipple from the extensive list of artfully crafted cocktails made with elevated Mediterranean ingredients that embrace elegant minimalism aesthetically yet deliver refined, bold flavors.
In addition, Tuesday through Saturday from 5PM on 8PM, guests have the opportunity to bask in Miami's stunning sunsets and unwind at Sunset Lounge Aperitivo Social. Imbibe with an array of beverage specials including specially priced beer and wine by the glass and bottle, and a selection of $12 cocktails. Artfully crafted concoctions include the classic Negroni, Americano and Aperol Spritz, as well as several of the restaurant's signature cocktails such as the Mare 50/50 Martini – Ford's Gin, vermouth blend, Pear au di Vie and balsamic Blanc; Strawberry Kush – Tito's Vodka, strawberries, shisho, Sichuan and sparking water; and Naked and Shameless – mezcal, yellow chartreuse, Aperol, faux lime and absinthe. Also on offer, several delicious snacks including a Mortadella & Rosemary Focaccia, toasted Truffle Cheese Sandwich, Grilled King Prawns with Espelette pepper oil, and a Mezze Plate offering olives, hummus, fava spread, grissini and aged cheese ($4 – $10).
In July 2023, David Myers, a renowned restaurateur known as the "Gypsy Chef," opened ADRIFT Mare as his first-ever East Coast restaurant and blissfully he chose Miami. Drawing inspiration from the diverse cultures and cuisines he has encountered, during his global exploration, the restaurant provides an enchanting gastronomic journey that brings to life the vibrant essence of the Mediterranean coast.
Photo Credit: Michael Pisarri