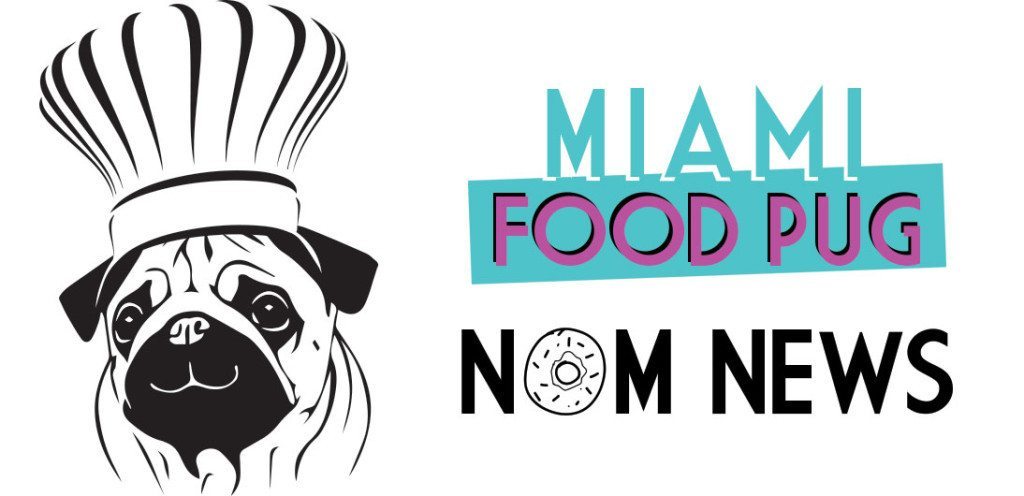 November 3, 2023
Each Friday, we compile South Florida food-related news and events that we couldn't fit on the site earlier in the week, as well as other local news that piques our interest. Want to be included in our next roundup? Shoot us an email at bark@miamifoodpug.com.
Coming to CocoWalk: El Bagel
Wine Down Wednesdays at Ocean Social
Upper Buena Vista Welcomes New Vendors
CAO Bakery to Open in North Bay Village
Salsa Mondays at Biscayne Bay Brewing
Coming to CocoWalk: El Bagel
El Bagel, Miami's favorite bagel shop, is excited to announce the highly anticipated opening of its second brick and mortar location. Set to open December 1 in Coconut Grove's CocoWalk, the shop will bring El Bagel's signature hand-rolled bagels, sandwiches and schmears to the Grove's growing culinary community.
Founded by Matteson Koche, El Bagel started as a weekend food truck pop-up in the parking lot of Wynwood's Box Elder in 2016, quickly gaining a cult following with its baked-fresh-daily bagels and piled-high sandwiches. During this time, Koche was working as an Urban Planner for the Coconut Grove Business Improvement District as a liaison between restaurants and the city. In this role, he met Simon Caicedo, now Managing Partner of El Bagel, who was working at a local restaurant and began helping him in the food truck on the weekends, while both worked full time jobs during the week.
In 2020, El Bagel opened its first brick and mortar in Miami's MiMo district just days before the pandemic shut down restaurants, forcing the team to quickly transition to an online ordering system for pickup only. Bagel connoisseurs continued to support the new spot and despite the pandemic's challenges, El Bagel persisted and continued to grow. Today, the Biscayne Boulevard "bageleria" has become a local hotspot with national praise, being named one of the "very best bagels in the US" by Bon Appetit in 2023. The new 500 square-foot CocoWalk location marks an exciting chapter in El Bagel's journey, bringing its delicious offerings to the heart of Coconut Grove.
"The opening of the Coconut Grove location is kind of a full circle moment in the story of El Bagel," says Koche. "We would roll bagels at 5am in the basement of Ariete, then stroll into the Mayfair for work. I got a first look at what owning a restaurant looked like, and it's where Simon and I got connected. We cannot wait to bring El Bagel to the neighborhood. The once-Chinese-takeout-spot is a quaint 500sqft, which provides some tough, but fun challenges for the volume we plan to do."
The menu in the new shop will stay true to the brand's commitment to quality and flavor, offering an array of bagels, signature sandwiches and rotating drinks. Menu staples include the traditional Bacon, Egg, and Cheese; and the classic Lox Supreme with locally-smoked lox. Inventive creations include the EB Original with scallion cream cheese, roasted jalapeños and thick-cut bacon; and the Pastrami Egg & Cheese with 18-hr smoked pastrami.
Those who want a taste of Miami can opt for the King Guava with guava marmalade, cream cheese, papitas and a local fried egg. Latkes and other new items will be on offer exclusively in the Grove. Vegan options are available to accommodate dietary restrictions, and uncut bagels, schmears, salads and fish will also be available for purchase. Beverage offerings will include locally-roasted coffee from Great Circle Coffee.
El Bagel CocoWalk will be located at 3015 Grand Avenue #122, open daily from 8am until 2pm for online and walk-up orders. The shop will be the brand's second brick and mortar location, with a third storefront planned to open December 2023 in the new Fontainebleau Las Vegas.
Wine Down Wednesdays at Ocean Social
On Wednesdays, from Noon to close at Ocean Social, anyone ordering a bottle of wine will receive a 50% discount off of that bottle. If that weren't reason enough to head on over, Chef Tristen Epps has put together a tempting selection of delicious pizzas that will also be offered at 50% off and available at the restaurant's bar or lounge with the purchase of a bottle of wine.
Pizzas on offer for the promotion range from the classic Cause the OG is Good Too – house made tomato sauce, mozzarella, salty parmesan, fresh tomato and basil; and The Three Pigs – crispy Applewood smoked bacon bits, spice pork sausage, ham, tomato sauce and mozzarella, to creative concoctions such as The Havanese, a taste of two Cuban classics, topped with savory ropa vieja, shredded brisket, spiced ground beef picadillo and buttery Castelvetrano olives over tomato sauce and mozzarella, among others.
Upper Buena Vista Welcomes New Vendors
Upper Buena Vista, Miami's idyllic, open-air retail and culinary destination, welcomes Archetti's Boutique Bakery and Punta Lara. Archetti Boutique Bakery specializes in healthy, gluten-free dessert creations that are handmade daily, while Punta Lara offers an array of empanadas, Argentinian desserts, and a curated Argentinian-Italian market.
The two concepts join Upper Buena Vista's collection of mindful micro-boutiques and indie artisan shops, restaurants and cafes for eclectic eats and cocktails, and unique wellness experiences.
Owner of Archetti Boutique Bakery, seasoned pastry chef Susana Archetti is originally from Venezuela and embarked on her culinary journey in 2010. After relocating to the vibrant culinary scene of Miami, she founded Archetti's LLC, a company dedicated to teaching pastry techniques and providing delectable desserts for catering businesses and restaurants. Archetti Boutique Bakery offers healthy desserts, with cakes, cookies, brownies, cupcakes, and more, that are keto, vegan, or paleo, and are all made without gluten and refined sugar to adapt to the special needs of customers.
Punta Lara owner and manager Federico Llauró, brings his Casa de ("house of") Empanadas to Upper Buena Vista. The premium deli and a casual wine bar offer guests authentic Argentinian eats and unique wines. Llauró, originally from Buenos Aires, Argentina, brings more than 20 years of restaurant industry experience to the retail sanctuary with Punta Lara, inspired by the coastal city on the Río de la Plata, the widest river in the world. Punta Lara also features a retail store where guests can purchase a variety of Argentinian alfajores, mate, dulce de leche, wines, Italian pastas, sauces, specialty olive oils, and more, bringing a unique mix of Latin and Italian influence to Upper Buena Vista.
CAO Bakery to Open in North Bay Village
CAO Bakery, the beloved Cuban bakery and cafe, is delighted to announce the grand opening of its newest location in North Bay Village, marking the expansion of the iconic bakery chain into its 13th location. The festivities are set to take place at 12 pm on November 16th at 1700 John F Kennedy Causeway, North Bay Village, FL 33141.
The highly anticipated grand opening promises to be a celebration like no other, featuring a ribbon-cutting ceremony and a range of delectable treats for attendees. Guests can indulge in complimentary bites, including cafecito, sandwiches, pastelitos, and croqueticas, showcasing the diverse and authentic flavors that CAO Bakery is known for.
Designed with an island chic ambiance, the newest CAO Bakery presents a welcoming and stylish blend of tradition and tropics. Boasting a vast variety of desserts, sandwiches, and pastries baked fresh throughout the day, the North Bay Village location is set to be a haven for both loyal customers and those discovering CAO Bakery for the first time.
The franchisees behind this venture, Alonzo Castillo and Jesse Garcia, share a long-standing connection with CAO Bakery's CEO, Tony Cao. Alonzo's journey with CAO Bakery began when he worked in Tony's father's bakery in Hialeah as a teenager, creating a bond that has lasted through the years.
This milestone location is particularly special as it marks CAO Bakery's expansion into North Bay Village following three years of unwavering commitment and hard work. Initially launched in early 2020, the franchise location faced a slow start due to the challenges posed by COVID-19. After overcoming an array of obstacles, CAO Bakery is thrilled to finally bring the authentic essence of a Cuban bakery to the heart of the neighborhood.
CEO Tony Cao envisions continued growth beyond South Florida, with North Bay Village being the latest step in CAO Bakery's expansion plan. The bakery is dedicated to delivering the highest quality Cuban pastries and culinary delights, staying true to its roots while reaching new communities.
Discover the edible authenticity of CAO Bakery & Cafe at the grand opening of the North Bay Village store on November 16 at 12 pm, located at 1700 John F Kennedy Causeway, North Bay Village, FL 33141. Embrace the inviting ambiance of our new island-chic cafe, indulge in complimentary bites, and join us for this celebratory occasion you won't want to miss!
Salsa Mondays at Biscayne Bay Brewing
Get ready to move and groove because Biscayne Bay Brewing Company is launching Salsa Mondays! Starting at 7pm, join us for an evening of salsa dancing led by a professional instructor. Whether you're a seasoned dancer or a beginner, there's something for everyone. Reserve your spot through Eventbrite and enjoy a complimentary beer on us! As the dance floor heats up, cool down with our irresistible selection of cocktails and craft brews. Indulge in mouthwatering savory bites as you mingle with fellow dancers and savor the vibrant atmosphere. At Biscayne Bay Brewing Company, we're not just a brewery; we're a destination where the love for salsa, great drinks, and delectable bites converge.
Reserve through eventbrite for a complimentary beer.