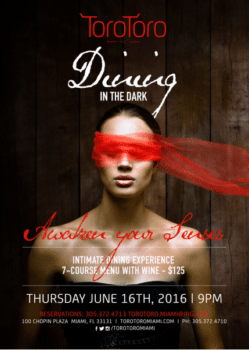 The concept of "dark dining" has intrigued us since first hearing about it at Chef Adrianne's in West Kendall. The idea behind it is simple: By eating blindfolded, your other senses are heightened (specifically, taste). So when the opportunity arose to check out Dining in the Dark at Toro Toro and NOT have to drive across town, we had to do it.
Our dark dining experience began in the Intercontinental Hotel's lobby, where we were each blindfolded and led through the restaurant to the famous Table 40, the chef's table inside the Toro Toro kitchen. Upon sitting down, Executive Chef Eric Do came out to introduce himself and readied us for our 6-course tasting. Each of the six courses, which ran the gamut from hot and cold appetizers to fish and meat, was paired with an exemplary wine to maximize flavor.
To say this dinner was fun would be an understatement. Because we were blindfolded, we had to rely on our other senses to make out each dish. And after each course, Chef Do came out to quiz us on what we ate. We identified maybe 2 out of the 6 dishes. #fail
Anyway, we really did feel like our senses were heightened. Biting into the Nantucket Bay scallop (chicharron crust, togarashi buerre monte, hoisin pork belly), for example, was super intense. Each ingredient really stood out because we were so focused on the food — the textures, the scents, the temperatures and the flavors.
Here's a look at the evening's full menu:
Amuse
Miyazaki Beef Tartar
crostini / sundried tomato / pickled mustard seed
Cold Appetizer
Ceviche Nikkei
sweet potato/ avocado / ahi tuna / crispy quinoa / ponzu / leche de tigre
Hot Appetizer
Nantucket Bay Scallop
chicarron crust / togarashi buerre monte / hoisin pork belly
Fish
Chipotle Miso Chilean Seabass
baby heirloom carrots / seared sesame rice / kabayaki
Meat 
30-day Dry Aged Ribeye
fondant potato / morel demi
Dessert 
La Bomba
almond cookie crumble/ cream cheese mousse / berries / dulce de leche ice cream / strawberry ice cream
Done drooling? If you thought you savored every bite of your food before, this meal will really make you appreciate it. The next Dining in the Dark installment is in the works, so check out Toro Toro on social media to stay updated.
Photos courtesy of Toro Toro.