If you were to ask us where to go for brunch on a Sunday, La Mar by Gastón Acurio at the Mandarin Oriental would be one of our first recommendations. The Brickell Key restaurant's brunch, which we tried last year, was — and continues to be — one of the best weekend deals in town. An extensive buffet spread and unlimited pisco sours? Yes, please.
But it wasn't until a few weeks ago that we finally stopped in for dinner. Chef Diego Oka has been traveling the globe lately, and he's come back and put all that worldly inspiration onto the plate. We were fortunate enough to take part in a 12-course affair that highlighted classic La Mar dishes as well as some new additions (shout out to Chef Oka for the hand-written menu).
Twelve courses is a lot, so we'll keep this short and sweet. Cue the food porn.
Mini Express Lunch Box – Cebiche mixto, hummus salad and jaleita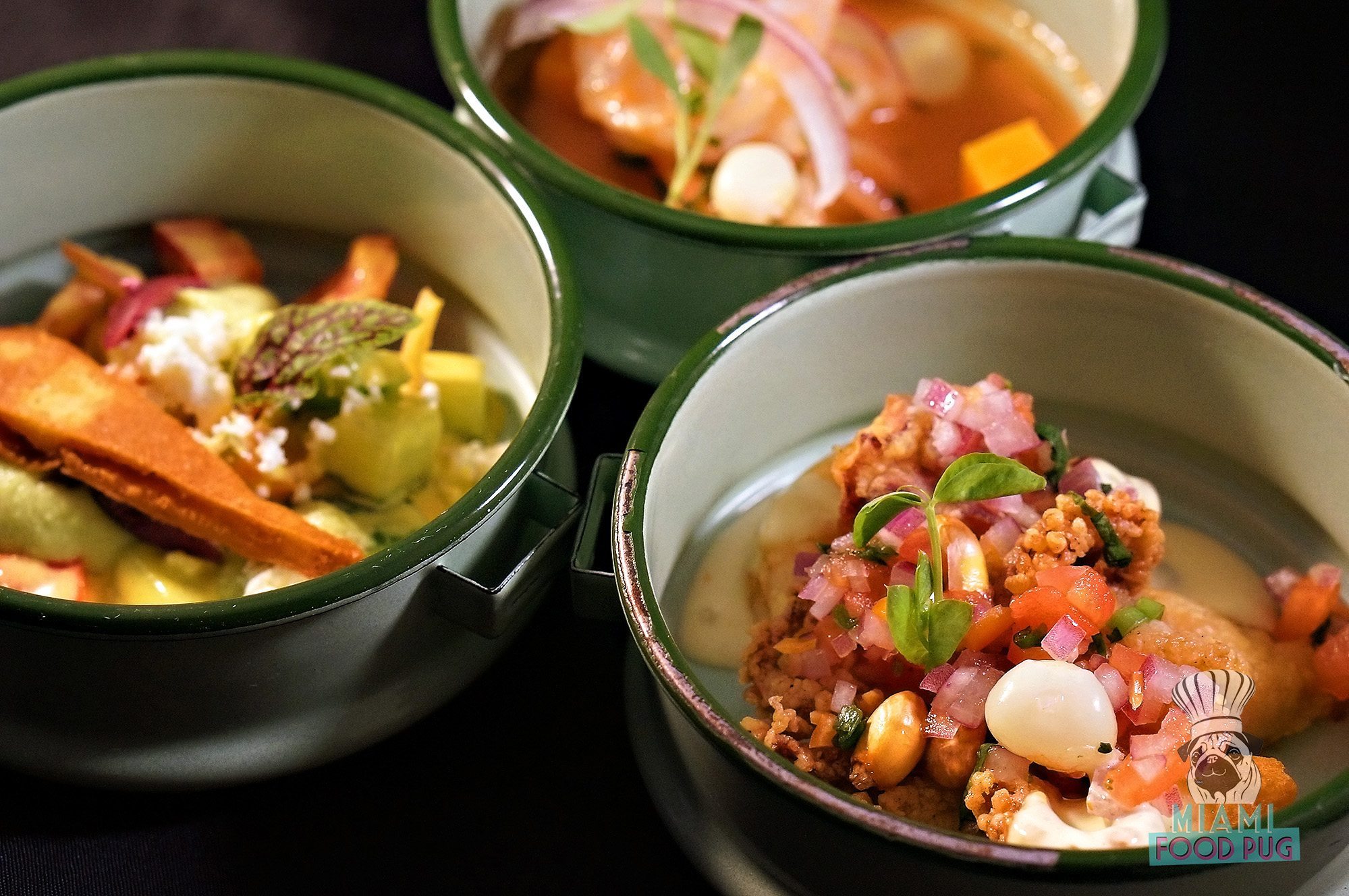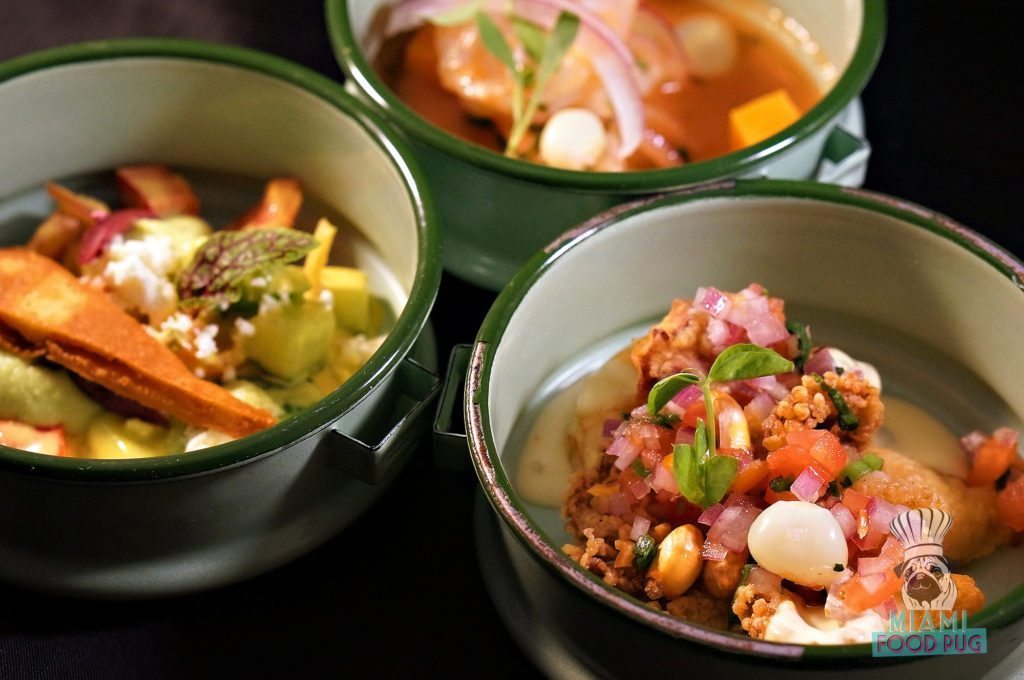 Fuente Cebichera – Fish of the day, seafood, chicharron de calamar, yucca, sweet potato and cancha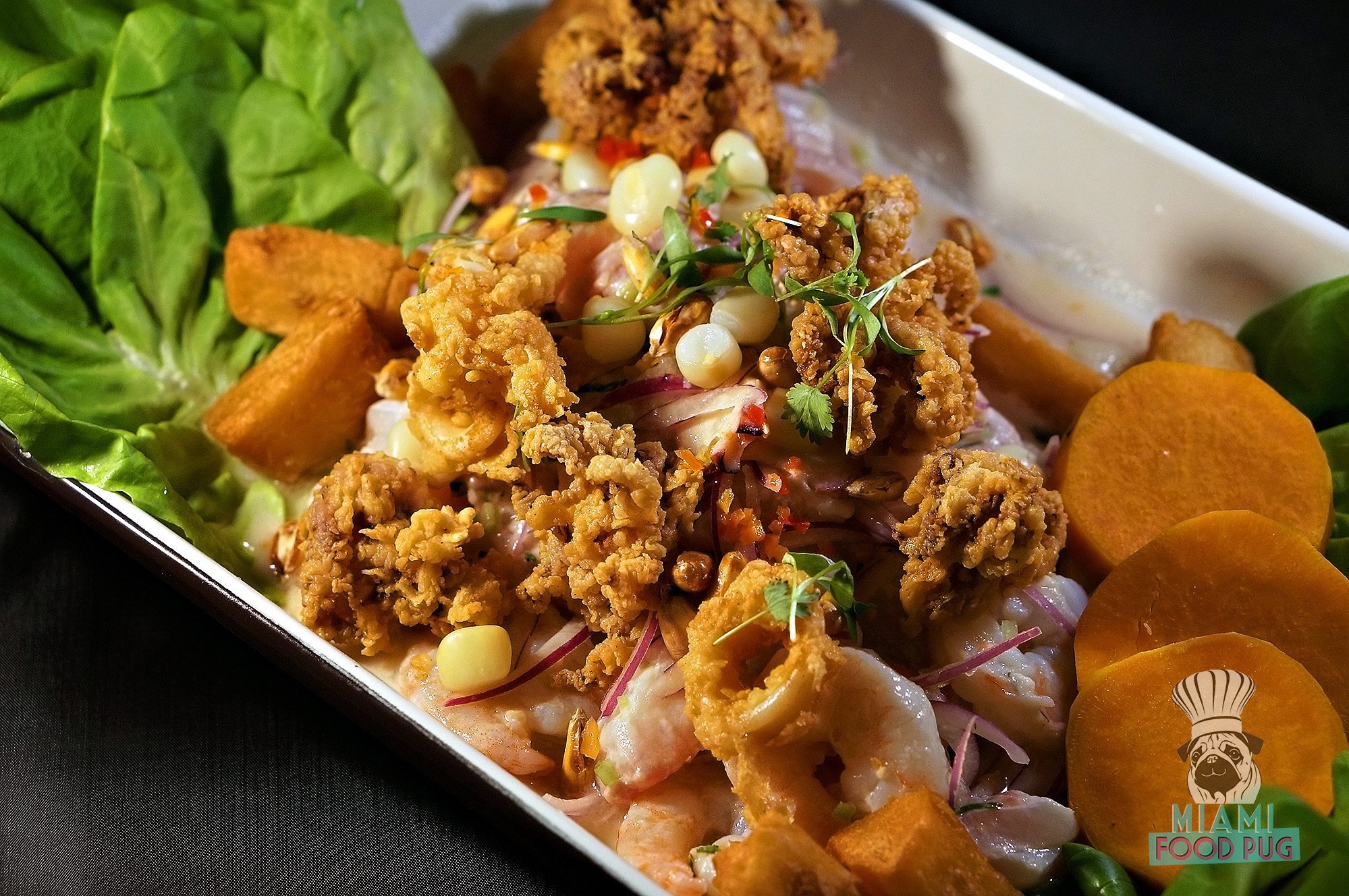 Tiradito Bachiche – Flounder Usuzukuri, 22-month-aged Parmesan cheese, colatura, fake fish skin and garlic chips
Candy Tuna – Rice paper wraps, tataki tuna, homemade toasted tahini, pickles, veggies, mint, chestnut oil, hierba buena and leche de tigre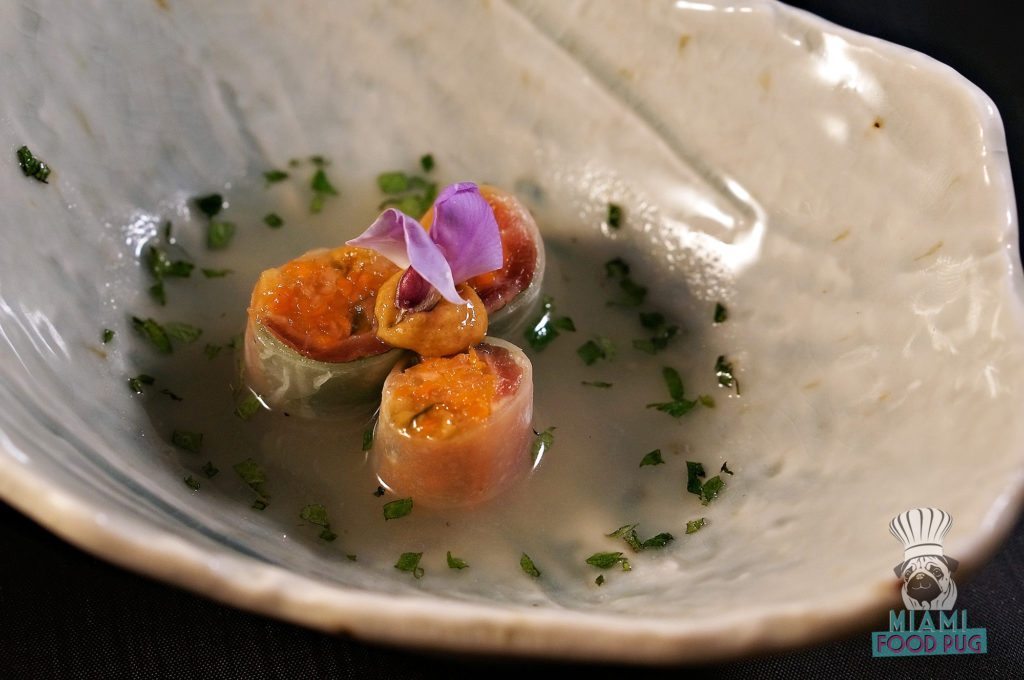 Soft Shell Crab Taco – Blue corn tortilla, crab chicharron, creamy chorrillana sauce with smoked chipotle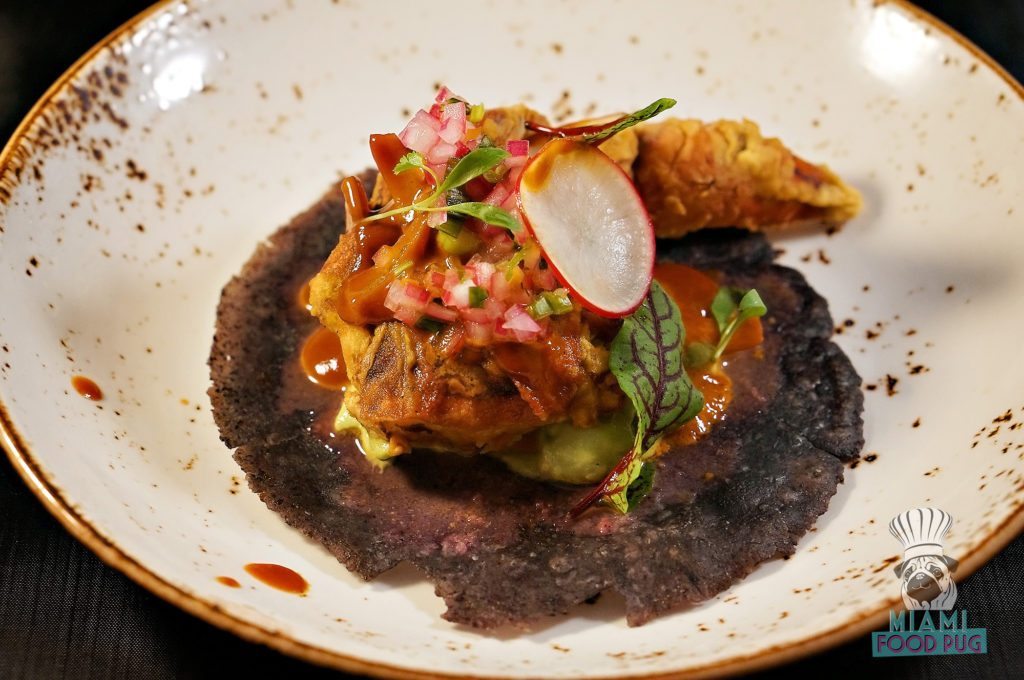 Pork Omochi – Crispy Japanese rice cakes, nori, aji panca-glazed pork belly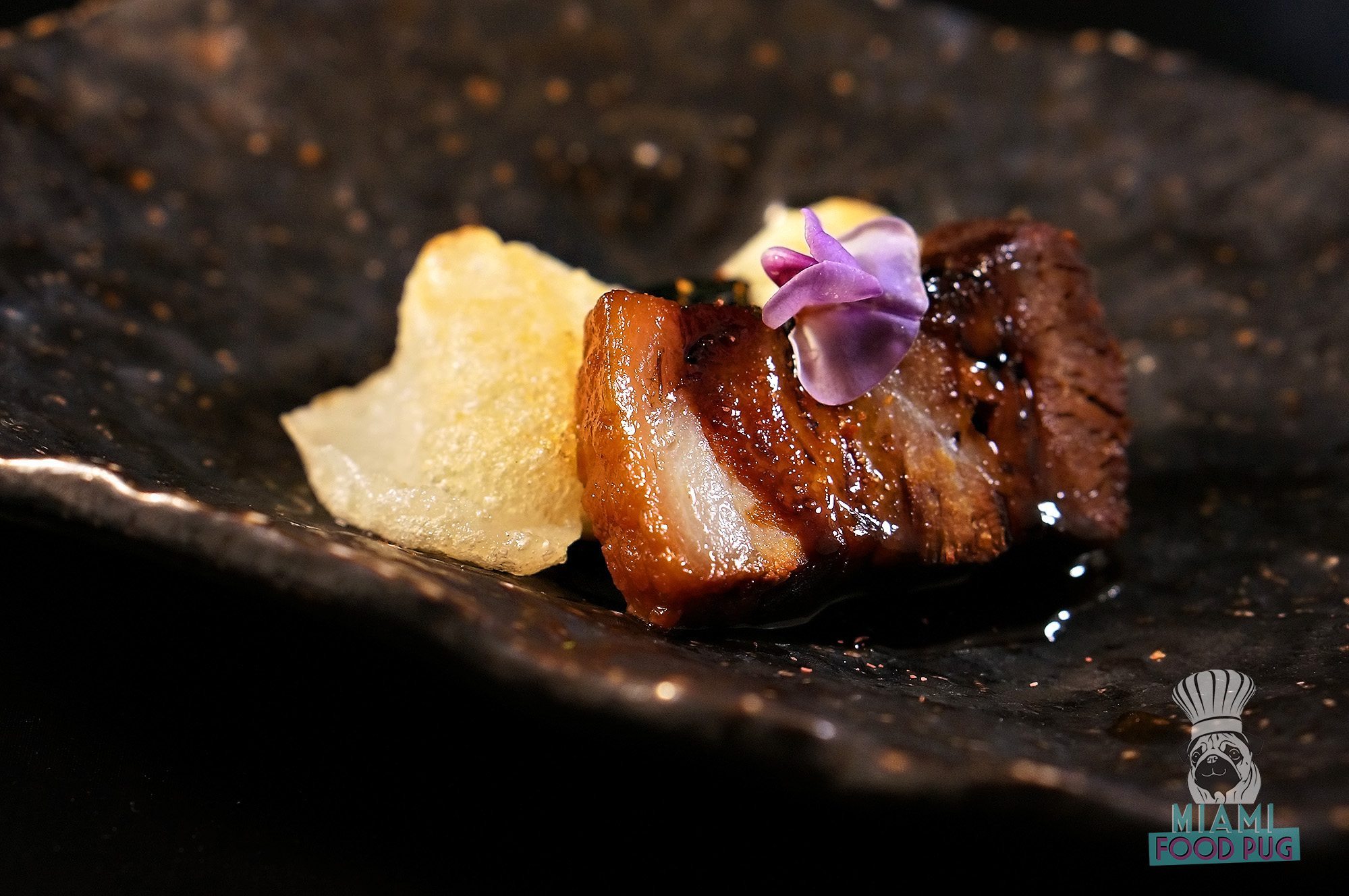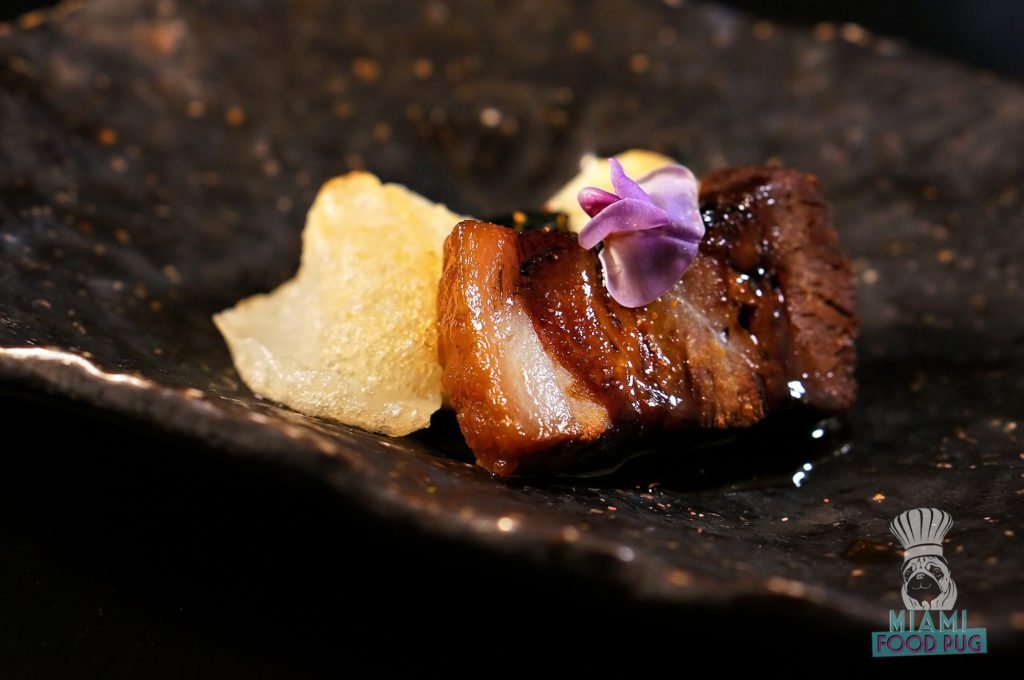 Veal Cheeks with Pallares – Slow braised with aji panca and chicha morada, lima beans, stew-roasted carrots and mushrooms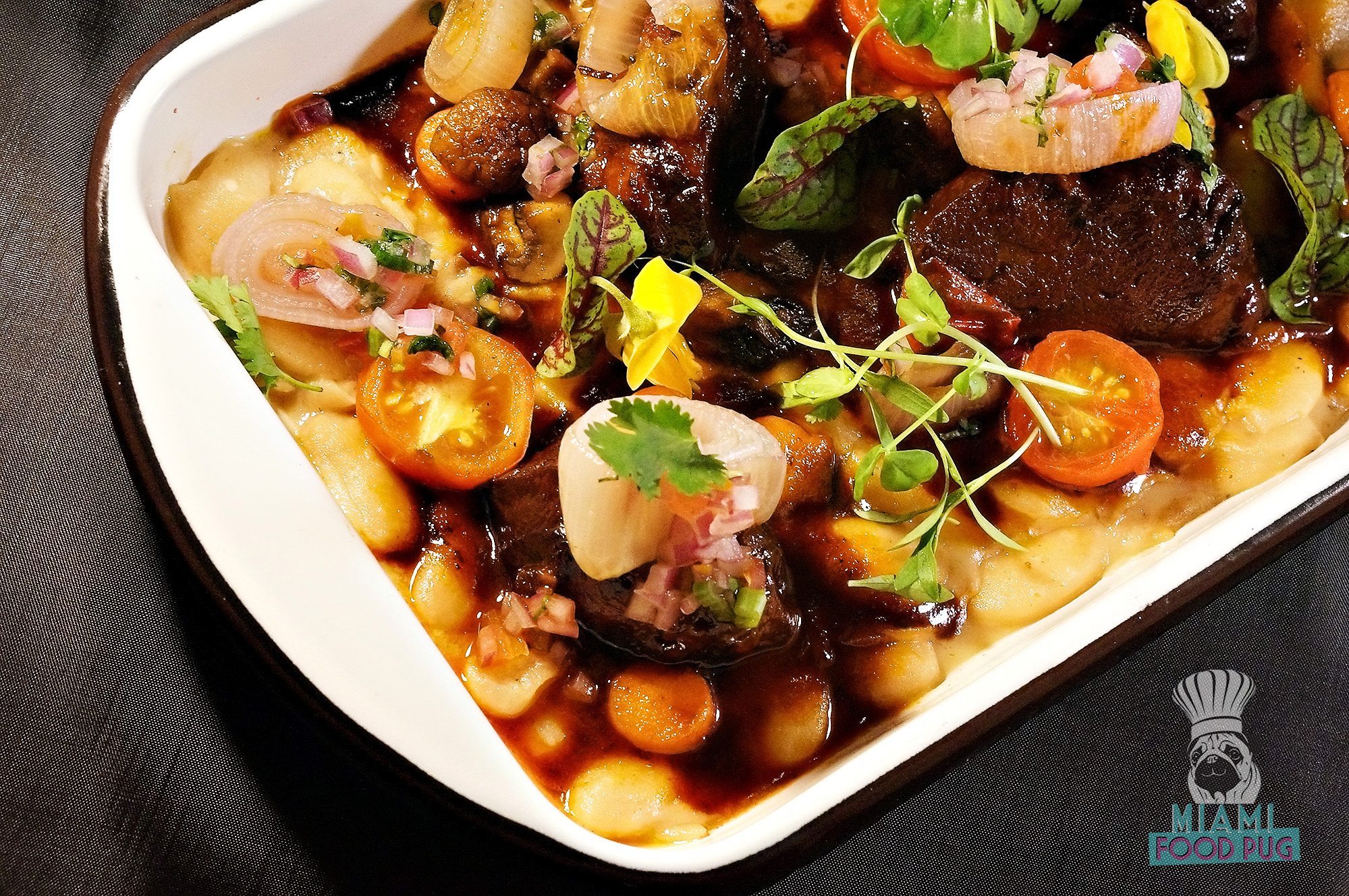 Big Whole Fish – Florida yellowtail snapper drizzled with Nikkei sauce and bok choy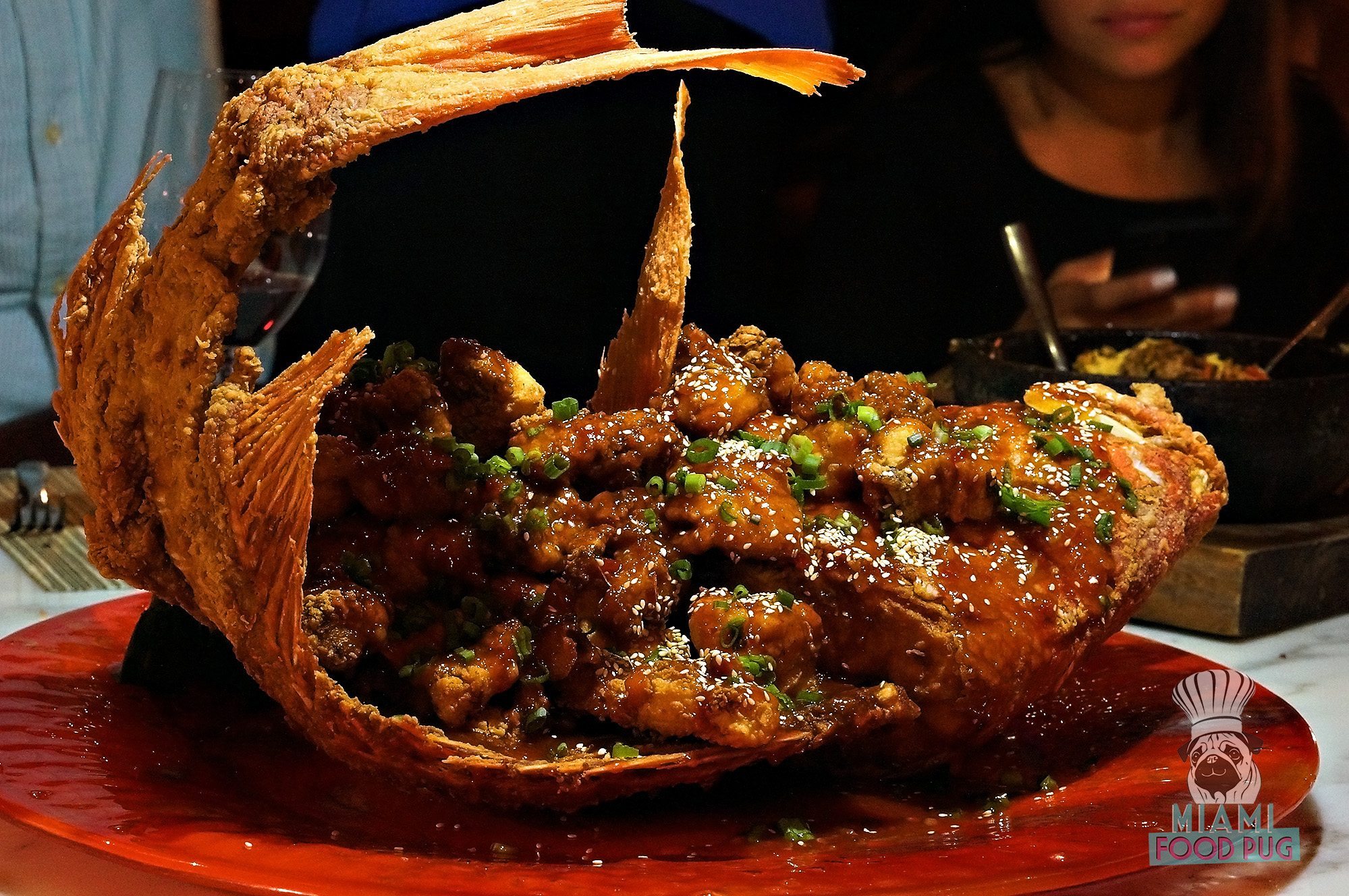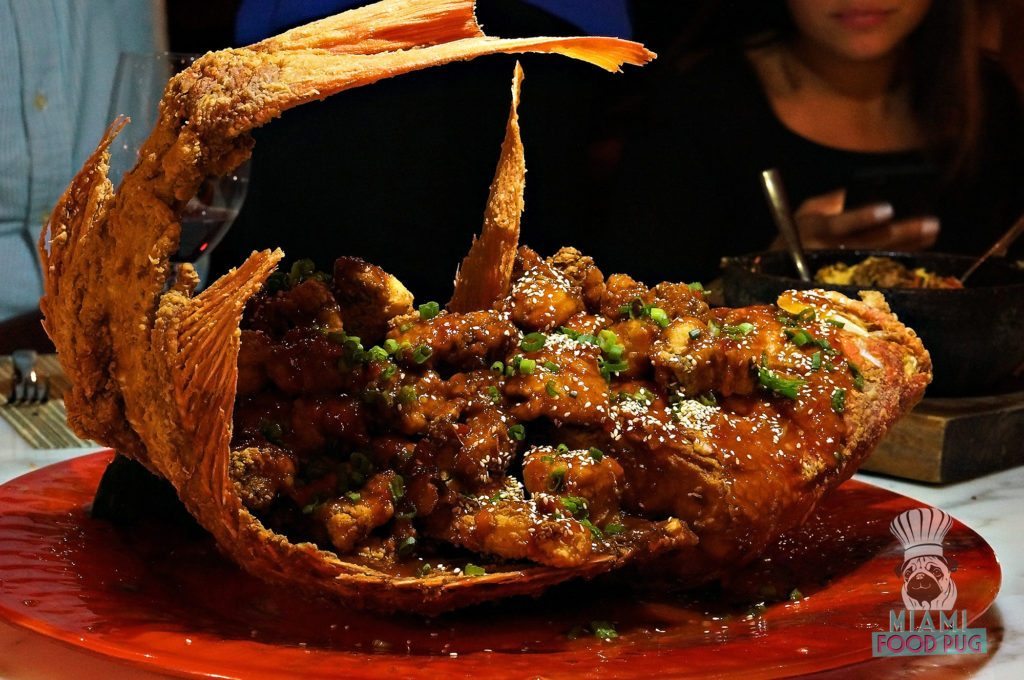 Chaufa Aeropuerto – Roasted pork, Chinese sausage, pan-fried rice, shrimp omelet, quinoa, bean sprouts and spicy Nikkei sauce
Salmon Fusion – Bok choy, kale, broccolini, coconut milk, Peruvian pepper curry and white chaufa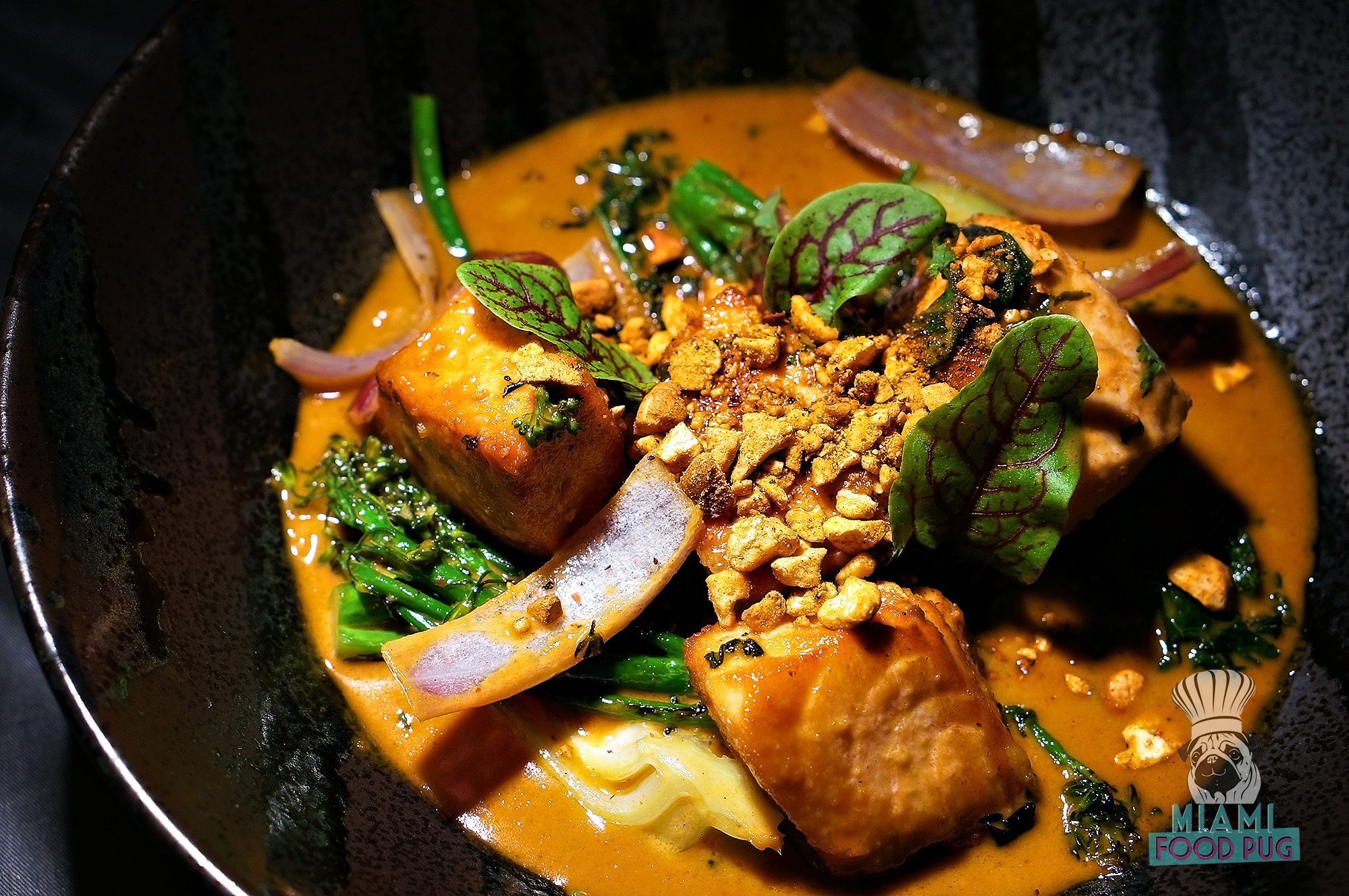 Quinoa Tamal – Pork jowl, quinoa tamale, grilled fish, seco sauce and mint chalaca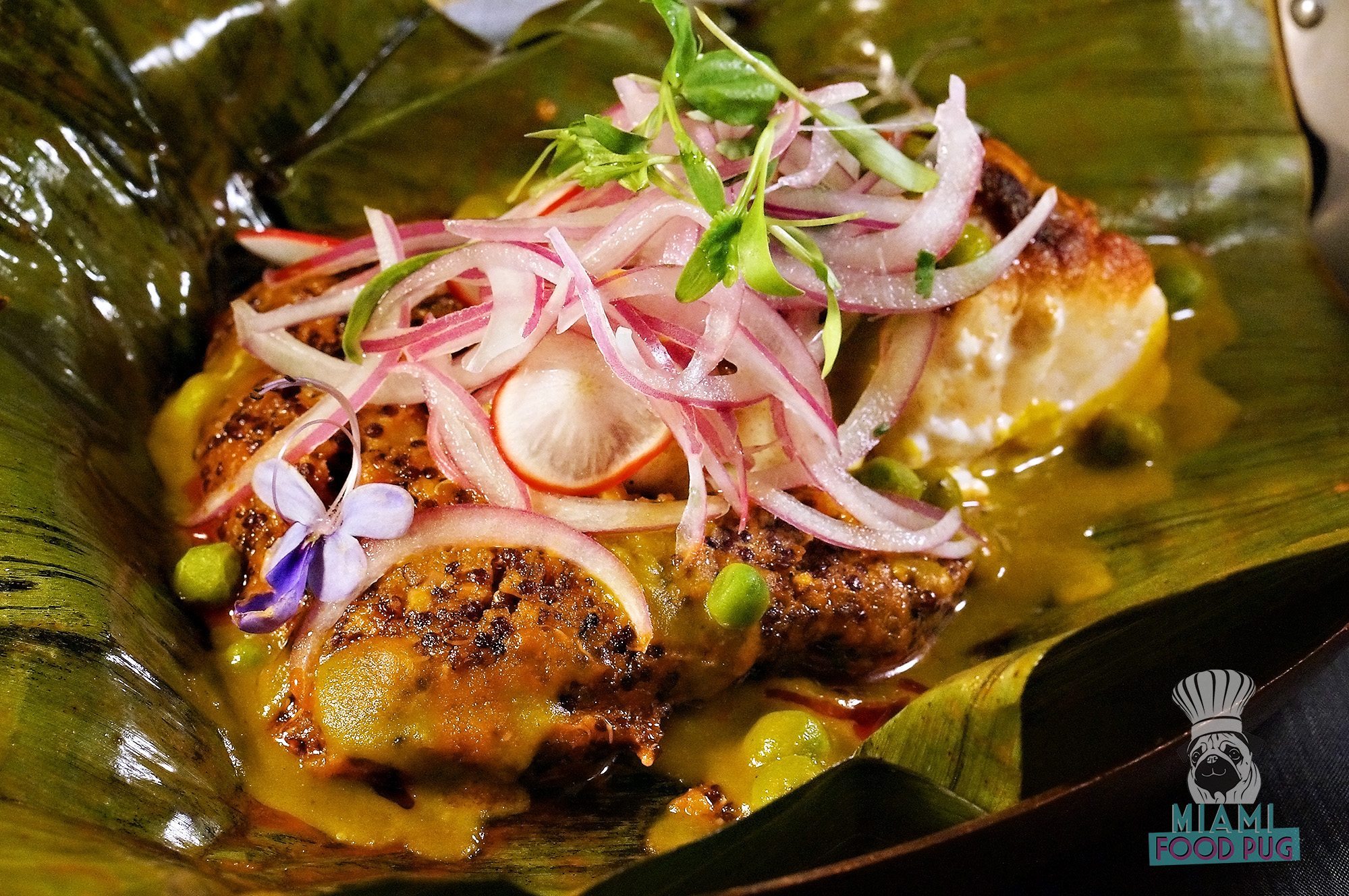 Arroz Verde – Creamy arboreo rice, burrata cheese water, green peas, crostini, chupe sauce, smoked cauliflower puree, shrimp and scallops
Somehow, we survived eating all this food. Not sure how — the food coma kicked in after the whole fish — but we managed. Instead of writing about each item individually, here's a quick one-sentence review of the meal: It's all good.
Seriously, just choose whatever sticks out to you — the candy tuna and chaufa were our faves — and rest easy knowing that you're in good hands with Chef Oka … and that holds true whether you're coming in for lunch, dinner or brunch.
La Mar is located inside the Mandarin Oriental at 500 Brickell Key Dr. in Brickell. For hours of operation and more information, please visit their official website or call 305-913-8358.