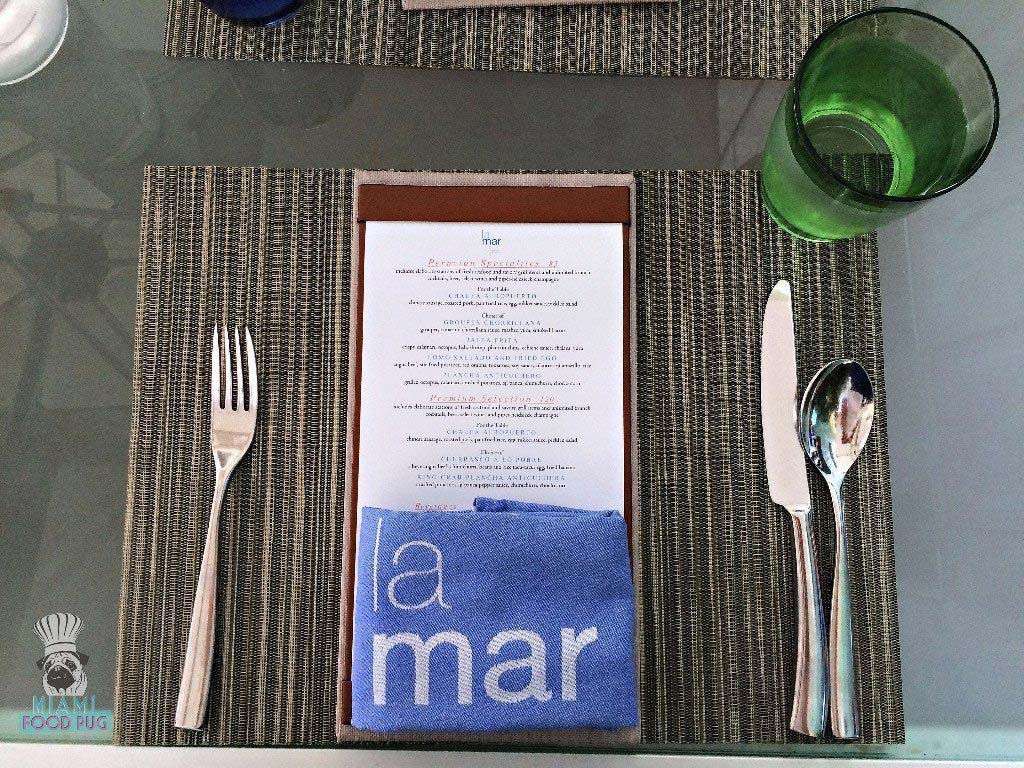 Brunch: It's one of our favorite meals. And in Miami, there's no shortage of brunch options. Whether you're in Coral Gables, Wynwood, Miami Beach or even Doral, you're bound to find eggs benedict, mimosas and the traditional Sunday fare around every corner.
La Mar isn't your ordinary Sunday brunch venue, though. Gaston Acurio's Peruvian outpost in the 305 elevates the mid-day meal to a whole different level. We haven't come across anything quite like this feast in the city. In other words, it's the brunch to beat.
The brunch at La Mar is offered in two tiers: $85 and $120. Yes, it is pricey. Yes, it is worth every penny. The individual entrees are one of the key differences between the two tiers:
$85 Peruvian Specialties Tier
Grouper Chorillana
Jalea Frita
Lomo Saltado and Fried Egg
Plancha Anticuchero
$120 Premium Selections Tier
Churrasco a lo Pobre
King Crab Plancha Anticuchera
Dessert also changes depending on which entrees you select (more on that later). Otherwise, both options provide the same experience: access to elaborate stations of food, unlimited brunch cocktails and chaufa aeropuerto for the table. If there's one piece of advice we can give you, it's this: Bring your appetite.
The kitchen, led by Executive Chef Diego Oka, has put together an epic selection of cold and hot brunch bites including ceviches, causas, skewers and other Peruvian cuisine. The two stations line two sides of La Mar's dining room, and the displays are refilled regularly; you won't have to worry about waiting too long for your favorite items to reappear.
The items at the hot and cold stations were delectable, especially the crab causa, lobster chupe, pastel de choclo and pretty much every anticucho. What impressed us even more than the flavor was the plating. Not only was this one of the tastiest brunches we've had, it's also one of the prettiest.
For instance: the causas. Each one of them stood atop a white platform all dolled up and waiting to be picked off the display. The pastel de choclo came in its own little cauldron that we just had to photograph. We ate with our eyes as much as we ate with our stomachs.
Although you'll be tempted to waste all your stomach space at the brunch stations, don't. Why? The chaufa aeropuerto. As we mentioned earlier, the entire table splits the chaufa. It's a damn shame because it's so good that you'll want the whole thing to yourself.
The chaufa – comprised of Chinese sausage, roasted pork, shrimp omelet and other goodness – is mixed tableside, and we were lucky enough to have Sous Chef Fiorela Cornejo mix ours for us (special shoutout to her). By the time we finished off the chaufa, we were licking our plates. We're huge fans of fried rice, and this Peruvian take on it left our taste buds pretty happy.
As for the entrees, we obviously had to order the lomo saltado; you can't visit a Peruvian restaurant without trying this classic. La Mar's version has a fried egg on top and thick-cut fries … oooof what a combo.
The grouper with its tamarind chorillana sauce had a nice, tangy taste. While we enjoyed the sauce, the fish could have easily stood on its own and still had a similar impact on our palette; it was that fresh and flavorful.
Dessert at La Mar is an event in itself. Depending on which tier you order, you'll either get a dessert tower OR A FREAKING HOUSE (see photo/Geoff's excited face). According to Chef Fiorela, these decorative houses are actually made in Peru, so you won't be able to find them at your local market; we were hoping to take it home — not gonna lie.
We watched the house spin multiple times to reveal sweets on sweets on sweets. The roof lifted to highlight four desserts – the chocolate mousse is fire – while the doors of the house showcased various other treats including macarons and alfajores. It's something you have to see in person.
The best part of this whole meal: endless cocktails. Skip the usual mimosas and opt for either the pisco sour or the maracuya sour – a few of these will hold you over for the entire brunch experience (which lasted about two hours for us). The drinks alone justify the price point of this spectacular menu.
La Mar has ruined us. No other brunch has come close to what we experienced that faithful Sunday afternoon. While the price may deter some people from making it a regular brunch spot, La Mar makes it worth every single dollar with quality food, delicious drinks and a breathtaking view. Save up and head over – it's one of the best decisions you'll make.
La Mar is located inside the Mandarin Oriental at 500 Brickell Key Drive in Brickell Key. For hour of operations and other information, visit their website or call 305-913-8358.