2017 is almost here, and it can't come soon enough. It's been a crazy year in our country and abroad: an insane election, notable celebrity deaths and a ton of other events that are memorable for all the wrong reasons. Odds are that you need a drink (or five).
Where are you celebrating the end of 2016? If you still need plans to ring in the New Year, check out our extensive lineup of local events below. Details are subject to change, so make sure to contact the venue beforehand. Happy New Year!
PINCH Kitchen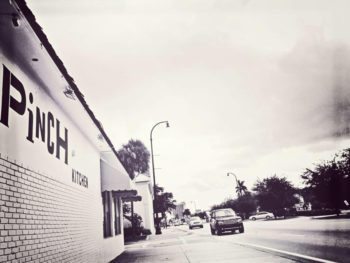 Pinch will be open all day on Saturday, December 31st and host a special New Year's Eve Party Pinch-style at night in an intimate dinner setting! The Upper Eastside restaurant will have three dinner seatings on December 31st, offering a prix fixe three-course menu with a champagne toast.
The seating times and pricing are as follows: 
New Year's Eve Early Dinner at

6pm

– $135.00
New Year's Eve Dinner at

8pm

– $135.00
Ringing in the New Year Dinner at

10pm

– $145.00 (includes party favors)
The special menu will include the following offerings for all three seatings along with a glass of champagne: 
Pinch Bites: Salmon Tartare, Beef Carpaccio, and Crispy Fried Oysters

Mid Course: Pheasant Ravioli

Entree: Choice of Lobster a la Meuniere or Lamb Picanha
The cost for the three-course menu for New Year's Eve is per person. The a la carte menu will also be available on New Year's Eve from 5:00 p.m. to 11:00 p.m. Reservations for the New Year's Eve dinner are highly suggested and may be made by calling 305.631.2018 or visiting www.pinchmiami.com.

To help with the New Year's Eve hangover, Pinch will also be offering a special New Year's Day Brunch on January 1st. Pinch will be open for brunch on Sunday, January 1st from 10:30 a.m. to 4:30 p.m. and for dinner from 5:00 p.m. to 9:00 p.m. 
Fooq's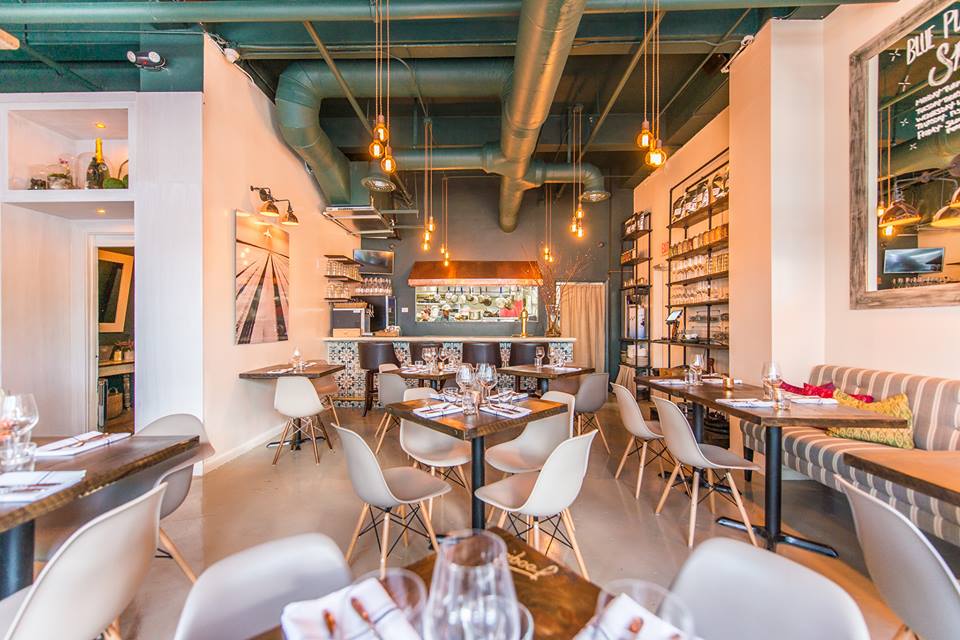 Fooq's Miami welcomes 2017 with a celebratory selection of special menu items, available for one night only. Downtown Miami's eclectic eatery invites guests to ring in the new year in its cozy, yet lively atmosphere, with a proper feast in true Fooq's fashion.
Special menu items include a whole or half goose, priced at $300 or $175, served with goose fat potatoes, confit tomatoes, brussels, leaks and Foie Gras Terrine. Fooq's will also offer one of its signature dishes in extravagant form, with a whole leg of lamb priced at $275, with half sizes available for $150, accompanied by garlic, rosemary, mushrooms, calabaza and crème fraiche. Keeping the feast fresh and celebratory guests, expect a variety of east and west coast oysters, priced at $36 per dozen, with home made mignonettes, to pair with the extensive Fooq's Champagne list.
Champagne specials on several top notch Growers Champagnes, such as Paul Bara Rose and Deutz Brut Classic will be featured to ring in the New Year. Plenty of Foie Gras Terrine, Black Truffle infusions and other specialties, curated by one of Miami's hottest up-and-coming chefs, Bryan Rojas, will complete the New Year's Eve celebration.
Fooq's is located at 1035 N. Miami Avenue, Miami, FL 33136. For reservations or inquiries, please call 786.536.2749.
PB Station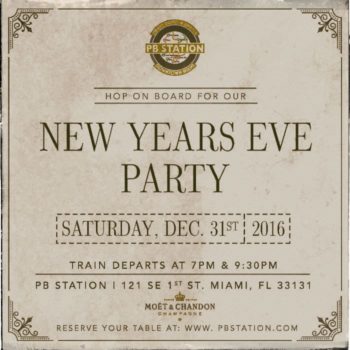 PB Station's exclusive NYE menu has been carefully crafted by one of the greatest talents in South Florida, Chef Jose Mendin. Featuring the finest ingredients and flavors from the Americas, the Miami chef has worked closely with Executive Chef Guillermo Concha to produce an extensive NYE menu that will have you welcoming in 2017 with a bang.  The first of two sittings will commence at 7 p.m. and will be accompanied with bottle of Moët & Chandon Imperial champagne between two. The later sitting, at 9:30 p.m. will treat you to a wine pairing and a celebratory bottle of Vintage Moët & Chandon champagne between two. For reservations, please call 305.420.2205.
7:00 p.m.:  $175 per person with bottle of Moët & Chandon Imperial Champagne (per two people)
9:30 p.m.:  $225 per person with wine pairing and bottle of Vintage Moët & Chandon (per two people) VIP access to Pawn Broker.
Pawn Broker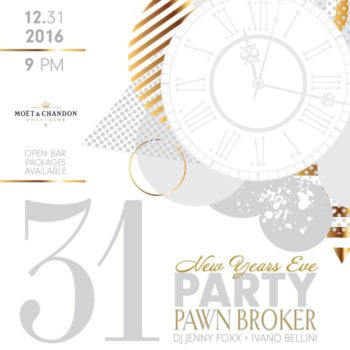 Get ready for Pawn Broker's NYE White Party at the Miami Rooftop. Reputed for their lively parties, guest DJs and craft cocktails, Pawn Broker without a doubt is lined up to be the greatest party the Downtown bar has hosted so far.
A first ever for the venue, this New Year's is going to be a big one, you can already feel the buzz and excitement in the air.  The evening's attire is all white, and of course Miamians are known to dress to the nines, so suited and booted will be the way to go (after a glass or two, an order of red wine will be a drink for the bold & the brave!).
While the clock ticks towards midnight, lose your inhibitions and indulge in the night's fantastic open bar deals: $125 will treat you to 3 hours, $90 for 2 hours and $50 for 1 hour, starting at 10 p.m. Dance the night away and say a fond farewell to 2016 and a very big hello to 2017 with all of us here at Pawn Broker!  Bar packages range from $50-$125.  For reservations, please visit www.pawnrbrokermiami.com.
Bazaar Mar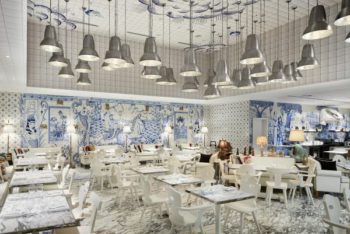 Ready to ring in 2017? No better place to do it than with Chef José Andrés' brand new culinary gem, Bazaar Mar at SLS Brickell. The already-acclaimed restaurant will be offering two seating packages to ring in the new year, with the first seating, available from 6pm-7pm including a 10-course preset tasting menu at $150 per person + tax and 18% gratuity.
Highlights include Hokkaido Sea Urchin Cone nori cone, kewpie-yuzukosho mayo; Oyster Ceviche leche de tigre, corn nuts; Maine Cold Lobster Florida citrus, hearts of palm, tobiko and Key Lime Pie "Our Way" key lime ice cream, graham cracker crumble, lime air for dessert. **Guests of the first seating are required to complete by 9pm.
For the second seating, ticketed at $250 per person plus tax +18% gratuity, from 9pm-10pm, guests will receive the same menu plus a celebratory glass of champagne, NYE party favors and a 50% entry discount to SAAMS Lounge (normally $100), with one drink included with entry.
For reservations, please contact bazaarmarreservations@slshotels.com or 305.239.1320.
Byblos Miami
Miami Beach's Mediterranean hotspot, Byblos Miami, is hosting a New Year's Eve celebration to remember, offering a special dinner and after party. From 6:00-7:30pm, guests may dine a la carte. From 8:00-10:00pm, elevate your New Year's dining experience with a four-course prix-fixe menu ($225 per person).
Offerings include: HAMACHI Jalapeño Labneh + Sweet Red Onion + Cucumber + Lime, JAPANESE A4 WAGYU,Chemen Marinade + Truffle Yogurt + Dukkah + Shaved Truffle, LOBSTER MANTI DUMPLINGS, Nigella + Brown Butter + Chives, DRY AGED BONE-IN PRIME RIBEYE, 40 Day Dry Aged + Za'atar Butter + Creamed Moutabel, CHRAIME SNAPPER, Persian Lime + Fennel Cress + Vine Leaf, STRAWBERRY CHEESECAKE QATAYEF, Sumac Strawberries + Honey Syrup + Pistachio AND MORE!
What's more, the party doesn't end there: diners can extend their experience for some late night revelry by purchasing a $100 wristband bringing open bar from 10pm-2am at The Lounge at Byblos. Wristband includes an arrangement of liquors, beer, wine, and champagne. For those not interested in purchasing a wristband, fear not, the lounge will be open to the public for anyone interested in toasting the New Year a la carte.
Sweet Liberty
Acclaimed neighborhood bar, Sweet Liberty Drinks & Supply Co. will be hosting an epic New Year's Eve bash with live music by Patrick and the Swayzees and DJ Mr. Gray. With the purchase of a  $100 ticket, guests can ring in the New Year with a full open bar and complimentary food from 9pm-midnight. Only 100 tickets are available! Tables will also be available for purchase at $1,200, comfortably seating a party of 8, which will include 2 bottles of premium spirits and 2 bottles of champagne to pop off as the clock strikes 12.
And for those searching for a hotspot after the ball drops, Sweet Liberty will be offering free admission after midnight to celebrate 2017. Join the party everyone will be talking about and and revel in the New Year at Sweet Liberty!
Naples Grande Beach Resort
New Year's Eve Dinner at The Catch of the Pelican – Enjoy a delectable four-course meal with tasty menu items, such as Truffle Cauliflower Soup, Iceberg Wedge, Black Trumpet Encrusted Filet Mignon and Butter Poached Lobster Tails and Hummingbird Cake for dessert.   Full New Year's Eve Dinner Menu available HERE.
Reservations: can be made via OpenTable HERE, $109 per person ++ 
Grande Style New Year's Eve Party at the Royal Palm Ballroom – Event in partnership with Beasley Media Group, will include passed hors d'oeuvres, a midnight Champagne toast, and feature sounds from Lovestruck Robot, a young, fresh, explosive band from Orlando.  Lovestruck Robot has been featured on national television including the The Voice and The TODAY Show, and has played at popular venues, such as the World-Famous House of Blues and the Ritz Theater in historic Ybor City Tampa.
Reservations: can be made on EventBrite HERE, $94.49 including taxes and gratuity.
KYU
It's been less than a year since opening and Wynwood favorite KYU is toasting to an extraordinary 2016 and looking forward to a fabulous 2017. For their New Year's celebration, KYU will feature an 8 – 10 course tasting menu of Chef Michael Lewis' favorites including wood fired specialties, new sashimi style dishes and showstopping veggies. Guests can choose from several options:
1st seating (Bookings before 8 p.m.) – Chef's New Year's Eve Tasting Menu, one glass of Taittinger Brut Champagne, $125 per person
2nd seating (dining at or after 8 p.m.) – Chef's New Year's Eve Tasting Menu, one bottle of Taittinger Brut Champagne and one 300 mL bottle of Soto Junmai Daiginjo sake per every two guests at $175 per person
Additional champagne options available.
Guests can look forward to Party Favors, a Taittinger Brut toast at midnight, as well as a SOTO Sake toast to given by chef himself and partner and general manager Steven Haigh as they break the barrel. Cheers!
For reservations, please call 786.577.0150.
La Moderna
Located in Sunset Harbour's burgeoning food scene, La Moderna invites guests to say farewell to 2016 Italian style. Guests can ring in the new year watching the ball drop on the restaurant's large flat screen TVs conveniently placed behind their oversized bar. Beginning at 8pm, guests will savor over a special NYE prix-fixe menu priced at $80 featuring various selections of La Moderna's authentic Italian dishes. Guests who purchase the prix fixe menu will be delighted in complimentary Prosecco.
For table reservations and more information, please call (786) 717-7274.

Quattro Gastronomia Italiana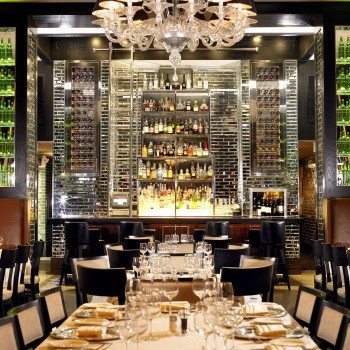 Quattro Gastronomia Italiana is offering a variety of New Year's Eve specials, in addition to the regular menu. Antipasti options include Antipasto Misto Di Pesce con Salsa Rosa – steamed selection of marinated seafood served with chef pink sauce ($35) and Tartare Di Filetto All'Albese Al Tartufo Bianco – tartar of filet mignon, artichoke salad and crispy Parmigiano Reggiano with white truffle ($45). Primi Piatti includes Tagliolini Delle Langhe Al Burro Montato con Tartufo Bianco – "langhe" tagliolini in italian butter sauce with white truffle ($85); Risotto con Toma Ossolana con Tartufo Bianco – risotto with Piemontese Toma cheese and white truffle ($85); and Gnochetti con Astice e Caviale – gnocchi with Maine Lobster topped with caviar and creamy brandy sauce ($55).
Secondi Piatti features Robespierre Di Filetto con Porcini con Tartufo Bianco – sliced beef tenderloin with sautéed porcini mushrooms and white truffle ($95); Filetto di Rombo con Carciofi e Patate – filet of Mediterranean turbot with artichokes and fingerling potatoes ($52); and Cotechino con Lenticchie – traditional NYE Italian sausage with lentils ($30).
Dolci is a traditional Panettone con Salsa Allo Zabaione ($12). Quattro is located at 1014 Lincoln Road. New Year's Eve menu is available from Noon to 11:45PM on December 31st. For reservations, please call (305) 531-4833 or visit www.quattromiami.com.
Beaker & Gray
Beaker & Gray will ring in the New Year with a four-course menu offered at $80 per person, or $125 complete with wine pairings. The restaurant will host two seatings at 6PM and 9PM,  which will include first-course option of Chilled Maine Lobster with pancetta, Marcona almond and English pea; followed by Pappardelle with braised rabbit, artichoke and caraway; and for the third course a juicy Domestic Lamb with carrot, char Siu and baby root vegetable.  Diners can end 2016 on a sweet note with decadent Chocolate Cracklin' with Bartlett pear, caramel and chocolate angel food cake.
Guests who dine at 9PM will receive a complimentary glass of champagne to toast at midnight. Beaker & Gray is located at 2637 North Miami Avenue in Wynwood. Telephone: (305) 699-2637.
Kuro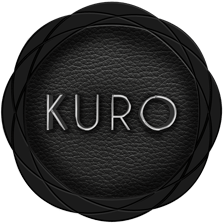 Kuro at the Seminole Hard Rock Hotel and Casino Hollywood is closing out 2016 with an Omakase New Year's Eve menu. In addition to the regular menu, Kuro is offering a $150 per person tasting menu that includes Salmon with caviar, uni and root vegetables; Toro with smoked tofu and wasabi; Soba with King crab and black truffle; Monkfish with Wagyu "lardo" and tomato broth; Wagyu with white truffle and sesame kimizu; chef's choice Sushi; and end with Mont Blanc – chestnut mousse, kinako cake and red bean.
In addition, guests can pair dinner with a specialty New Year's cocktail – Jū Nana ($14) with champagne, cognac, cranberry and ginger. Kuro is located at One Seminole Way in Hollywood, Florida. Telephone: (800) 585-0010.
Meat Market Miami Beach
Meat Market Miami Beach, the contemporary Lincoln Road steakhouse, is inviting guests to celebrate the New Year with a multi course dinner and live DJ entertainment on December 31st.  Guests can choose between two decadent packages featuring four-course dinner menus expertly crafted by Executive Chef Sean Brasel. New Year's Eve Early Package features four courses from 6PM to 8PM for $150 per person (excluding tax & gratuity); Second Package features four courses from 9PM to 1AM for $250 per person (excluding tax & gratuity) and a midnight toast with party favors.
Meat Market Miami Beach is located on 915 Lincoln Road. The restaurant will be open from Noon to 1AM on New Year's Eve, and Noon to 12AM New Year's Day. Seating is limited; Reservations are required in advance by calling (305) 532-0088.
La FERIA by Mercado de San Miguel
Ring in the new year at La FERIA by Mercado de San Miguel! For New Year's Eve, La Feria will be offering a Spanish tradition; 12 grapes at midnight with a complimentary glass of champagne, along with a very festive atmosphere; New Year's Eve props, dancers, live entertainment and 12 chimes at midnight. La Feria will offer no coverage charge and no reservations are needed – what better way to celebrate? They open at 12 p.m. on Saturday, Dec. 31 and it is first come, first serve. For larger parties, please call Giorgio at 917.743.1221.
SUGARCANE raw bar grill
SUGARCANE raw bar grill will be offering an a la carte menu with added New Year's Eve specials by Chef Timon Balloo and live DJ entertainment from 9:00 p.m. to 1:00 a.m. First seating will have a two-hour limit and reservations can be made up to 8:00 p.m. The second seating will begin at 10:00 p.m. to close with a required $85 minimum spend per person; credit card required for reservation.
Menu highlights include King Crab Tiradito with picked apple, red onions & aji amarillo ($21); Grilled Maine Lobster with melting fennel leek fondue & herb citrus butter ($39); Wagyu Short Rib "Kakuni" with grilled wild mushrooms & kabocha squash ($42); and a Panettone Sundae with macerated fruit & rum ice cream ($12).
Azul
Contemporary in design and with a prominent waterfront location, the triple Five-Star Mandarin Oriental, Miami offers a dramatic view of the bay and the Miami skyline, and is home to signature Azul restaurant, La Mar by Gaston Acurio restaurant, and the waterfront MO Bar + Lounge.
AZUL FIRST SEATING – Guests can enjoy a 3-course menu featuring items such as Yellowfin Tuna and Escolar Carpaccio; Wagyu Beef; and Yuzu Custard Bar priced at $125 per person (not including tax and gratuity)
AZUL SECOND SEATING – Guests can enjoy a 7-course menu featuring items such as Oysters; Truffle Chawanmushi; Warm Alaskan King Crab; Wagyu Beef and more. Priced at $125 per person (not including tax and gratuity).

Bird & Bone
Enjoy Chef Richard Hales' famous Nashville Hot Chicken paired with champagne to ring in the New Year for $85 per person.
Opt for the upgraded Denim & Diamonds package to follow your dinner with entry to the exclusive party at Nina's House. Entry includes open-bar access for $155 per person.
Fi'lia
Welcome 2017 Miami-style with the city's culinary darling, Chef Michael Schwartz's recently opened Fi'lia at SLS Brickell. Ticket options include a 1st seating at 6:30pm for $85 including a 3-course menu with highlights such as Beet Carpacccio Castelfranco, charred and pickled onions, pistachio, ricotta salata; Wood Grilled Short Rib Castelvatrano olives, red onions, horseradish, porcini bread sauce, parsley; and Mezzelune Artichoke, Braised Greens, Ricotta, Cured Egg Yolk, Pecorino Toscano, Black Pepper as well as add ons.
Dessert options include Prosecco Sorbet with toasted brioche and candied lemonor Warm Chocolate Cake with Florentine Cookie and Hazelnut Gelato. The second seating at 9pm is available for $120 and includes additional menu offerings such as Stracciatella Smoked Trout Roe, Chives, Crispy Roasted Garlic Focaccia and Grilled Rack of Lamb Wild Mushrooms, Crispy Lentils, Herbs and Lemon Zest as well as a glass of champagne (included).
For reservations, call 305-239-1330.
La Mar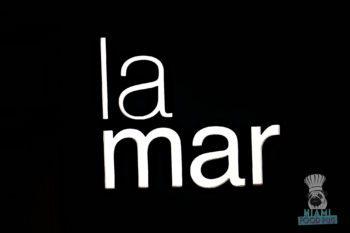 On New Year's Eve, Executive Chef Diego Oka of La Mar by Gaston Acurio will offer a Peruvian Buffet with 4 live stations featuring oysters, chilled lobster and more; one choice of entree including dishes such as Octopus Anticuchero; Branzino; Fideos Machos; or Churrasco A Lo Pobre; and Chaufa Aeropuerto for the table.  Pricing ranges from $240 (including unlimited cocktails and prosecco) to $300 (including unlimited cocktails and champagne).r.
On January 1, begin your new year with La Mar by Gaston Acurio's infamous 'brunch.  Pricing varies between $85 pp (not including tax & gratuity) for their Peruvian Specialties option, and $120 pp (not including tax & gratuity) for their Premium Selection.
Their Peruvian Specialties option includes dishes such as Lomo Saltado and Fried Egg with Angus beef, stir fried red potatoes, red onions, tomatoes, soy sauce, cilantro, rice; along with elaborate stations of fresh seafood and savory grill items, chaufa aeropuerto for the table and unlimited brunch cocktails, select wines and Piper-Heidsieck champagne.
Their Premium Selection includes dishes such as King Crab Plancha Anticuchera with crushed potatoes, aji panca pepper sauce, chimichurri, choclo corn; along with elaborate stations of fresh seafood and savory grill items, chaufa aeropuerto for the table and unlimited brunch cocktails, select wines and Charles Heidsieck champagne.
The Marker Waterfront Resort
From noon to 4 p.m. on January 1, The Marker's New Year's Day Recovery Pool Party will include a live DJ, brunch specials, and vitamin B12 shots provided by Hangover Hospital to help guests recover from their New Year's hangovers. Hangover packages will start at $100 with add-ons available for purchase. Also, patrons who make a purchase at Cero Bodega during happy hour on December 30 and 31 will get a free B12 shot.
Tickets: Hangover packages start at $100.
Izzy's Fish & Oyster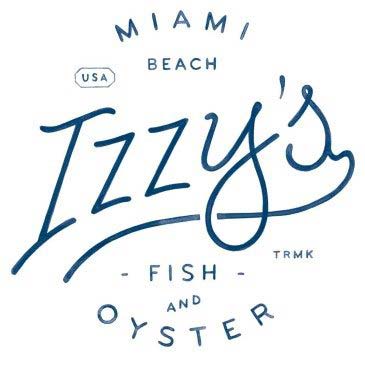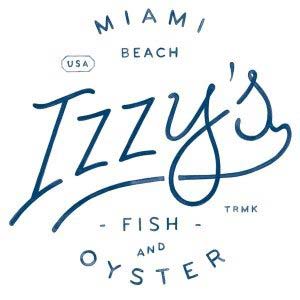 From 12 p.m. until close, enjoy New Year's Eve Specials including Maryland Crab Stuffed Lobster; Florida Stone Crab Claws; and Foie Gras Stuffies; while sipping on Nicolas Feuitllatte champagne offerings. Izzy's will also be offering a New Year's Day Brunch from 12 pm – 4 pm and includes the regular a la carte menu with $25 bottomless Rosé and brunch specials. For reservations, please call 305.397.8843.
Mina's Mediterraneo
Ring in the New Year with a jazz brunch at Mina's Mediterraneo featuring award winning jazz vocalist, Zoe Fromer! Come with family and friends to enjoy delicious food and the spirited sounds of live jazz, complete with bottomless mimosas and sangria!
Menu highlights include a Croque Madame with French ham, gruyere, béchamel on brioche toast topped with a fried egg served with greens ($12); Shakshuka Moroccan Brunch with 2 eggs baked with tomato, onion, pepper, spices served with toast ($12); Merguez Benedict with harissa hollandaise and pesto roasted potatoes ($16); and Mascarpone Pancakes  with mascarpone cream and homemade strawberry compote ($10).
Seaspice
Champagne bottles will pop, fireworks will light up the sky and exclusive live performances will make your body want to dance.
On Saturday, December 31st, let's celebrate and welcome the new year at Seaspice with the most exquisite cuisine, festive atmosphere, and chic crowd in town. Live music performance by Grammy Award Winner, Motiff & Friends. Catch the Saturday Night Fever,  and experience electrifying dance shows, with exhilarating music ranging from the best of the 70s to today's favorites.
A special NYE menu is avaiable. as well as an à la carte menu. There is a $250 minimum spend per person starting at 8:30 pm. For reservations, call (305) 440-4200 or nye@seaspicemiami.com.
Bitter Truth
Midtown's new bar, Bitter Truth, is open just in time for New Year's Eve and is ready to celebrate their way into 2017 with their friendly neighbors. At 8 p.m., Bitter Truth will open their doors to party goers offering live music, late night bites, and a toast at midnight. Those who RSVP will enjoy an open bar all night for $75. Bottles of Moet will also be available for $60. Join Miami's finest bartenders on December 31st while they host a celebration you won't want to miss.
Call (305) 461-2700 for more information.
The St. Regis Bal Harbour
The St. Regis Bar & Sushi Lounge is offering a fabulous 3-course Asian-inspired menu on NYE from 8:00pm – 2:00am, including Torched King Salmon with Caviar, Marinated Japanese Short Rib, Miso Black Cod, and Wagyu Sirloin Steak. Live music and DJ create a festive atmosphere all night long. Includes a bottle of Laurent Perrier Champagne per couple. $350 per person or reserve the Private Wine Vault for up to 12 guests for $4,500
A Traditional Greek Celebration at Atlantikós will offer guests the opportunity to go on a journey of exceptional flavors this New Year's Eve with a Santorini-inspired menu. Indulge in classic Greek dishes like Country Style Lamb, Kavourosalata (Crab Salad), Patates Me Avga, and Lobster Giouvetsi. A celebratory plate-breaking ritual, live music and DJ are sure to create a festive evening to remember.
6:00pm 3-course menu with live entertainment – Adults $200, Children $75; 8:30pm 4-course menu with welcome cocktail and a live band & DJ – Adults $350, Children $150
Call 305-993-0614 for reservations.
Il Mulino New York (Sunny Isles)
Il Mulino New York at Acqualina Resort & Spa will host a New Year's Eve dinner party for those looking to indulge in a more sophisticated and relaxing evening. The prix fixe menu will include a four-course dinner and unlimited premium bar tab for $495/person. Standout menu items include Ravioli ai Porcini, Risotto Champagne, Rack of Lamb and Dolci Assortiti.
The Wynwood Yard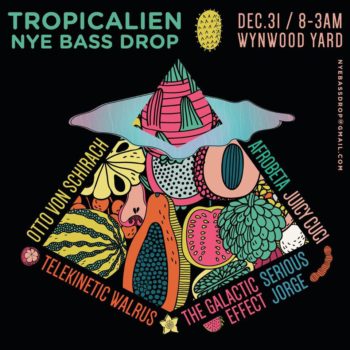 The Wynwood Yard and Telekinetic Walrus host an epic New Year's Eve party to celebrate an amazing first year and burst into 2017 with the most phenomenal display of ultra-magic BASS wizards and atmospheric sensory stimulation including the talented Afrobeta, Telekinetic Walrus, Otto von Schirach, The Galactic Effect, Serious Jorge and Juicy Cuci. We look forward to starting a fresh year with you!
Limited $100 VIP tickets include entrance to the show, a welcome drink, private VIP seating in the garden and tableside service for special New Year's Eve offerings from The Bar at The Yard and culinary concepts including della test kitchen, Mr. Bing, Kuenko and Shnitz n' Fritz.
Get more info and purchase general admission tickets available here. Purchase VIP tickets here.
The YVE Hotel
YVE Hotel is located right across from the Pitbull performance in the heart of downtown Miami, so it's a great location for diners to kick off their evening to be in the middle of all of the action.
Expect a three-course menu with course options, as follows:
1st Course · Smoked Tomato Soup with crème fraiche & crispy brioche crouton or Goat Cheese & Walnut Salad with pomegranate vinaigrette
2nd Course · Roast Salmon with chickpea & tomato stew or Slow Braised Short rib served with a creamy parsnip puree & roasted root vegetables or Creamy Chicken Risotto with corn, carrots, parmesan & herbs
3rd Course · Passion Fruit Mousse or Chocolate Lave Cake A La Mode or Sabayon & Berries
Dinner will be served from 9pm to 12am. Dinner will be $60 pp, with the option of an additional $60 pp open bar add-on.
Nikki Beach
Celebrate New Year's Eve 2017 at Nikki Beach Miami Beach for a "Magical Garden" under the stars in an enchanted garden setting of lush greenery, butterflies and blossoming flowers, life-sized antique bird cages and crystal-adorned oversized gazebos. Thrilling live entertainment includes multiple stages of theatrical dancers and performers, musicians, DJs and Miami Beach's private fireworks display at midnight.
A South Beach landmark since 1998, Nikki Beach continues to delight guests with South-of-France-style joie de vivre in its South of Fifth location. All guests will be treated to a complimentary midnight Champagne toast and celebratory New Year's Eve party favors. General admission tickets start at $100 and VIP tables start at $550.
A three-course dinner menu curated by celebrated Chef Frank Ferreiro is also available in Nikki Beach's romantic candlelit garden, featuring mouthwatering offerings like Lobster Ravioli and Beef Tenderloin, and a sweet finish of an edible garden of chef's confections including hand-dipped strawberries and truffles. Dinner for two starts at $650 and includes a bottle of Champagne or liquor of the guest's choice (up to $350).
Multiple celebration options are available including: VIP Table Packages, Dinner Packages and General Admission Tickets. Tickets & Reservations are available now at www.nikkibeachmiamievents.com. For other inquiries please contact reservations.miami@nikkibeach.com.
Essensia Restaurant & Lounge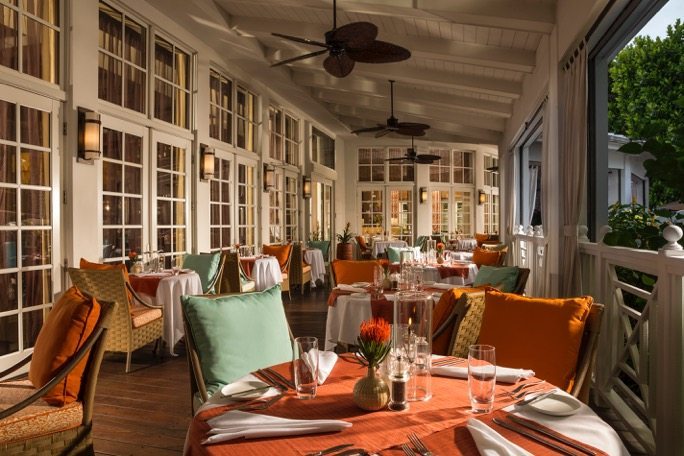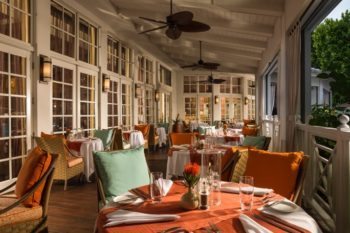 Get ready for an authentic, Florida-fresh feast this New Year's Eve at Essensia Restaurant & Lounge at The Palms Hotel & Spa, which will blend classic Old Florida cuisine with a playful twist on modern Miami flare. The New Year's menu is not to be missed, as it welcomes the exciting return of Julie Frans as Signature Chef, who is again responsible for Essensia's menu creation and the sourcing of local, seasonal ingredients.
The bright and vegetable-focused five-course menu unites Floridian, Caribbean and Latin American influences, starting with a hibiscus mojito welcome cocktail, followed by an appetizer selection of Florida stone crab claw or oyster mushroom ceviche. Next, enjoy conch chowder with crispy bacon, and a fresh hearts of palm salad with Florida avocado and heirloom cherry tomatoes.
Main course options will delight all palettes, from meat lovers to vegans — choose from coffee and wine braised beef short ribs, spice-dusted seared hog snapper with carmelized plaintains and Caribbean curry sauce, or jerk spiced grilled cauliflower "steak." Finally, treat yourself to gingered kaffir lime tart with coconut cream with mango caviar, and toast to 2017 with Mionetto Prosecco.
The Essensia New Year's Eve menu will be available for an early seating ($95 per person) and a late seating ($195 per person, including Mionetto Prosecco). During the late seating, premium open bar ($125) and well open bar ($95) will also be available, with champagne bottle service selection including Perrier Jouet and Bollinger.
For reservations, please call 305-908-5458 or visit www.essensiarestaurant.com for more information.
American Social
American Social Bar & Kitchen will host a no-pressure, no-cover New Year's Eve party at its Las Olas and Brickell locations. On New Year's Eve, one thing is for sure: a big ticket does not always equal a good time. If hand-crafted cocktails, beer, friends and music sound like the recipe for a great night, American Social's "No-Cover New Year's Eve Bash" is just the (free) ticket.
Eat, Drink, & Celebrate! Partygoers can fill up on American comfort food classics, choose from buzzworthy bottle specials and enjoy a complimentary champagne toast at midnight. Live DJs at both locations. Table reservations are available at both locations.
A Fish Called Avalon
An Ocean Drive legend and one of South Beach's longest standing restaurants is serving up superb cuisine, a dynamic buzzy setting and impeccable service with a five-course New Year's Eve menus for adults and three-course special for kids. At A Fish Called Avalon, Guests can indulge in a welcome delight of caviar pie, smoked salmon flatbread and succulent grilled octopus, followed by their signature "Pear-fect Salad" of crispy goat cheese and pear salad.
For dinner, a choice of either Chilean sea bass, 21-day dry-aged Black Angus filet or a baked whole Maine lobster topped with a champagne sauce (for an additional $30). The final touch includes a bottle of Duval Leroy champagne and caramelized apple and almond rum cake a la mode. The outdoor tables are perfect for a front row view of the oceanfront fireworks show while enjoying sea breezes and live music.
Kids ages 3-12 choose from shrimp cocktail or mixed greens and apple salad for an appetizer, grilled chicken with pasta or 5 oz. filet mignon with mashed potatoes for an entrée and a choice of ice cream or Chef Kai's signature vanilla cheesecake for dessert. Reservations begin at $210 per person for adults and $90 for children.
Red, The Steakhouse
Get in a good hearty meal at Red, the Steakhouse before you ring (drink) in the New Year – the restaurant is conveniently located within a short stroll of Miami's hottest nightclubs and bars so you can forget about driving. Consistently ranked one of the best steakhouses in Miami, Red is offering a 4-course, 5-star meal starting at $199 (reasonable price!) including Chef Peter Vauthy's classics ranging from Certified Angus Beef Prime Steaks and New Zealand Rack of Lamb to Lobster Fra Diavlo, Free Range Veal Chop and more.
Plus, champagne specials such as Ruinart Blanc de Blanc for $109, Ruinart Rose for $119 and Veuve Yellow Label for $99. The NYE 4-course meal will start after 7:30 PM. Red is also offering a full à la carte menu through the evening starting at 5pm when the restaurant opens. Visit www.redthesteakhouse.com for more information.
Zuma Miami
To ring in 2017, Zuma Miami brings you the golden age of japan – the edo era — remembered as a time of peace, growth and enjoyment of culture. The celebratory menu will include Signature Zuma dishes with festive additions perfect for sharing with friends and family. Prepared by the culinary team to tantalize the senses, the 2017 New Year's Eve tasting menu will embrace decadent and seasonal ingredients, from freshly shaved white truffle, o-toro tuna and robata grilled wagyu.
Guests will enjoy specially created dishes such as beef tartar with black truffle and caviar, squid ink seafood hotpot and lobster tempura in addition to beautiful sushi & sashimi platters and specialty maki rolls all accompanied by Krug champagne and Nanbubijin Daiginjo sake. Entertainment throughout the evening will be driven by the sounds a live DJ accompanied by a visual showcase of Japanese culture.
As midnight approaches guests will count down to the new year, as Zuma breaks the sake barrel and encourages harmony and good fortune for a new year. Cheers the beginning of the New Year whilst watching fireworks outside on their riverfront terrace, where the party continues well into 2017! Four select packages will be offered, all packages include after party admission. Pricing available upon request.
The Sarsaparilla Club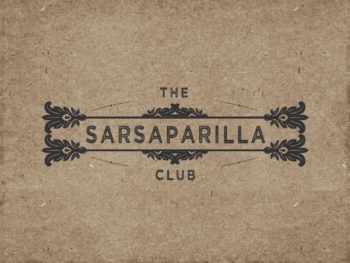 Top Chefs Jeff McInnis and Janine Booth have thoughtfully selected their top American Dim Sum and unique entree dishes to give guests a wide variety of their menu's diverse flavors. It's a culinary tour of the couple's greatest recipe hits. The 10-dish New Year's Eve tasting menu with two seatings. The early seating is priced at $49 and the late seating is priced at $75. Each menu includes an optional drink pairing priced at $29. Menu favorites include Carrot & Beet Tartare, Beet & Goat Cheese Dumplings & Soy Glazed Mushroom Steam Bun to name a few.
Bodega
Located in the heart of South Beach, Bodega will offer guests to enjoy watching the ball drop this New Year's Eve, on the big screens. Expect a special toast at midnight and music all night long. Guests may pre-purchase tables here.
Driftwood Room at Nautilus
Driftwood Room invites guests to a special New Year's Eve dinner feast with two seatings. The dinner is offering guests everything from seafood and appetizer displays to carving stations with prime rib and porchetta. The first seating (7pm) is $125 per person and the second seating (9pm) is $175 per person. Guests dining for dinner will also have the option to purchase a general admission ticket for $75 for dinner and a show (so $200 and $250 ++ respectively).
Bakehouse Brasserie
Celebrate the first day of the New Year at Bakehouse Brasserie, Menin Hospitality's newest venture. The cozy 87-seat quaint Parisian style café, offers a carefully curated brunch menu that will serve as the ultimate hangover cure. Sip on $25 bottomless mimosas while taking a bite into their famous Croissant French Toast. Bakehouse is located at 808 First Street adjacent to Radio Bar South Beach. The restaurant will offer brunch all day from 10 a.m to 3 p.m., Monday to Sunday.
 InterContinental Miami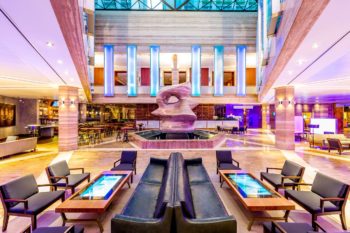 Toro Toro – Enjoy a NYE gastronomic experience with an array of our best pan-latin dishes specially chosen for our scrumptious pre-fixe menu. Inclusive of one bottle of champagne per couple. Early Seating is at 6 PM-8:30 PM with Second Seating at 9 PM-Midnight.
Olé – Join us in a culinary journey through the flavors of Miami. An abundance of seafood takes center stage at this modern buffet setting in Ole Restaurant. Seating starts at 8:30 PM. Inclusive of one bottle of champagne per couple.
Bluewater – Executive Chef Klaus Happel takes you on a global tour with a 6-course meal that is sure to delight all your senses and your wordly desires, while gazing over breathtaking views of Biscayne Bay. When the clock strikes midnight, enjoy the fireworks show from the comfort of your seat. Seating starts at 8:30 PM. Inclusive of one bottle of Taittinger champagne and one bottle of red or white wine per couple.
Table 40 – Explore the hidden table inside the heart of Toro Toro kitchen, downtown Miami's only Chef's Table. An exclusive experience for you and 13 of your closest friends along with the most exquisite eats and finest libations. Seating at 8:30 PM. Group of 14 people.
Rooftop Fireworks Toast – Say Goodbye to 2016 and ring in the New Year with a bottle of Taittinger champagne and a delicious raw seafood tower selection, while enjoying the Miami fireworks from the best seat in the house. Seating available from 11 PM – 1 AM. Inclusive of one bottle of Taittinger champagne per couple.
STK South Beach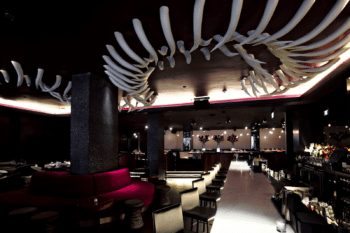 Ring in the new year in style at STK South Beach with a carnival themed night that you will be sure to remember all year, live music and entertainment provided all night. Enjoy a rich menu featuring lobster and white truffle risotto, foie gras torchon, braised pork chop with a bourbon glaze, demi-glace dry-aged prime rib, and a choice of mouthwatering desserts. Bottle and champagne specials available all night, second seating includes a bottle of bubbles per couple.
1st Seating | 6, 6:30, 7PM | $175 per person VIEW MENU
2nd Seating | 8:30, 9, 9:30, 10PM | $250 per person VIEW MENU
2nd Seating | Mezzanine | 8:30, 9, 9:30, 10PM | $200 per person VIEW MENU
Premium Open Bar | 9PM – 12AM | $100 per person
For reservations, call 305.604.6988.
STK Miami
Come for the delectable fare, stay for a glamour filled night. On New Year's Eve, indulge in any of STK Miami's renown a la carte menu items, and sip from our cocktail and champagne specials all night. STK Miami is the perfect location for a romantic dinner and a beautiful view of the Miami fireworks.
With a little something for everyone, STK Miami provides an unforgettable experience to ring in 2017. Bottle and champagne specials available all night; second seating includes midnight toast.
1st Seating | 6, 6:30, 7 & 7:30 PM VIEW MENU
2nd Seating | 9, 9:30, 10, 10:30PM | $150 Food & Beverage min. per person VIEW MENU
Premium Open Bar | 9PM – 12AM | $100 per person
The next day, skip the hangover and dive right in to a fabulous 2017 at STK Miami. Soak up last night's champagne and join us for the new year edition of our famous Sunday bottomless brunch. Enjoy our jalapeño and cheddar grits and perfectly grilled shrimp, or let our Nutella monkey bread ease you into the year. There will be a live DJ and entertainment for those who want to keep the party going and unbeatable cuisine for those who just want a great brunch!
Sunday, January 1 | 11AM – 4PM | $22 Bottomless Booze VIEW MENU
For reservations call 305.722.7888.
The Anderson
The Anderson will be hosting a New Year's Eve dance party with music by DJ Elle and ridiculous drink specials. The 80's inspired bar will offer $75 bottles of Perrier Jouet all night (yes, $75 bottles on NYE, you read that correctly), and also offer specials on Absolut cocktails.

The Local Craft Food & Drink
Locally revered Executive Chef/Owner Phil Bryant and his stellar team at Coral Gables favorite, The Local Craft Food & Drink, invite fans, regulars, friends, and new guests to ring in the New Year with them on Saturday, December 31, 2016 during dinner service. For the affair, Bryant has created a special menu of refined Southern dishes that can be enjoyed individually, or as a three-course prix fixe, priced at just $40 per person.
A cool locals' haunt, ideal for sipping rare microbrews and munching on expertly crafted, craveable pub grub, The Local Craft Food & Drink lives up to its namesake, boasting an ever-rotating menu of incredibly fresh, locally sourced, well-executed and housemade delights.  Cocktail experts Will Thompson and Michael Albuerne are at the helm of their lauded craft beverage program with a brand new winter menu, ensuring The Local Craft Food & Drink is better than ever.
The special New Year's Eve menu follows and will be offered during dinner service only, in addition to their regular menu. Telephone: (305) 648-5687.
OLLA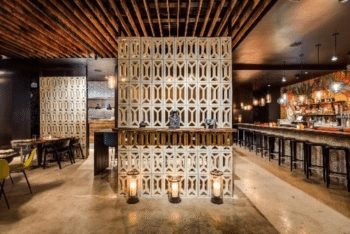 OLLA is ending 2016 with a party designed to charm and thrill ever kind of person.  In ode to the west end location which is also known as the "local end," we are throwing a bash for not only tourists but, more importantly the locals.  Instead of a price-fixe menu or exclusive seating's, OLLA will be serving their classic Mexican fare from the regular menu. Chef Scott Linquist also may have some tricks up his sleeve for additional celebratory specials.
Veuve Clicquot will be pouring for irresistible prices including $15/glass and $55 per bottle. Just in time for the strike of midnight, OLLA will pour complimentary champagne for all attendees to toast to the new year.  A DJ will encourage the partying fever from 10 PM until close.  The NYE bash will parade into the late hours of the night ending at 5 AM.
Pubbelly
Pubbelly will be ringing in the New Year with a special omakase menu by Chef Jose Mendin with desserts by Sergio Navarro and Maria Orantes. The menu will be priced at $125 per person; Highlights include Toro Sashimi Carpaccio with green curry risotto, osetra caviar; Diver Scallop Dumplings with scallop & white truffle butter, meyer lemon, leeks; White Truffle Pasta with truffle shaved table side for additional $25 per person; Maine Lobster "mofongo" Thermidor with curry criollo, blue crab, kaffir lime butter.
December 31st – Open 6:00 p.m. – 1:00 a.m.
Faena Hotel
Ring in 2017 at Faena Hotel Miami Beach with eight of your closest friends with the A New Year's Like No Other Penthouse five night package. Your stay begins with Mercedes-Benz transportation from the airport for up to 8 guests. Upon arrival you are whisked away to the top floor two-story Penthouse for a welcome glass of limited edition Dom Perignon P2 1998 on the oceanfront terrace.
As you settle into the 14,000 square foot residential-style suite featuring a world-class collection of curated art, six bedrooms, nine bathrooms, a private media room, capacious living areas for the long weekend you will enjoy access to your own private butler and a host of hotel amenities including the beach club, intimate Faena pool, relaxing bars and recalibrating at Tierra Santa Healing House spa.
On New Year's Eve, the festivities begin at Los Fuegos by Francis Mallmann or Pao by Paul Qui, where the award-winning chef's talented kitchen will prepare a decadent four course menu with wine pairings at your own private table. After dinner, a private table in the opulent Faena Theater for A Night In Havana New Year's Eve party awaits you for an evening of old-world Cuban glamour, romance and music, where a live band will revive the iconic city's glamorous past with electrifying performances well past the midnight hour.
Recover in style on New Year's Day at Tierra Santa Healing House for the spa's unique South American-inspired treatments, Wet Spa area, Ashtanga yoga classes, Biologique Rocherche products and Rossano Ferretti Salon using your complimentary spa credits. Your exciting weekend continues with dinners in Pao and Los Fuegos as well as a private dinner in your penthouse during your stay.
Terms and conditions apply. Price upon request. Contact reservations-miamibeach@faena.com for booking & more information.
 DÔA
Centrally located on South Beach, DÔA allows guests two seating choices to fit into their pre- or post- New Year's Eve celebration plans. Celebrants are welcome to choose between two seatings offering unique options of a four course pre-fixe New Year's Eve menu. After midnight, guests at DÔA can continue their celebration with live entertainment and bottle service until 5am. Party Hack: Order the highly acclaimed Pork Belly Buns.
Cantina La Veinte
Cantina la Veinte celebrates New Year's Eve with a $250 pre-fixe menu, which includes table and bottle service. Guests will celebrate with live music and performances all night long as they watch the last minutes of 2016 count down on the big screens and the ball drop. Guests can recover the next day with signature bites as the restaurant resumes regular business hours.
Komodo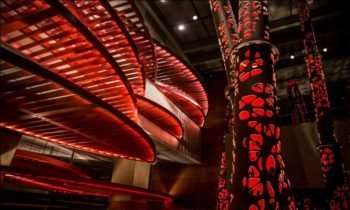 Enter the urban oasis of Komodo, located in the Brickell neighborhood. The three-story Southeast Asian inspired restaurant invites you to ring in the New Year with a special family style NYE Package. Komodo is offering two separate seating options:
From 6 p.m. to 7:30 p.m. for $95, guests will enjoy a fixed three course menu including sides and desserts.
From 9 p.m. to 10:30 p.m. for $195, enjoy a special curated menu with a variety of Komodo's best dishes.
Appreciate the 17,000 square-foot restaurant's indoor/outdoor seating with artistic décor that allows guests to feel as they are dining within a lush tropical garden. Komodo creates a playful tree-house feel among Downtown Miami's concrete jungle. A vegetarian menu can be provided at request.
​After you are done eating, head to Komodo Lounge in celebration of its first NYE. For only $100, guests​ can indulge in an open bar from 9 p.m. to midnight for an intimate party to ring in the New Year.
​Komodo Lounge, David Grutman's newest nightlife venue, is an intimate lounge located on the third level of his hit Pan-Asian restaurant Komodo Miami. The hip space is full of trendsetting art work, large plush couches and bold aesthetics. The bar has a giant gold fixture over it and the walls are lined with Mari Kim's work in large light boxes. T​able reservation packages are also available starting at $1,500.
Terraza at Shore Club
Keep the party going on New Year's Day with a special 'Ladies Who Brunch' New Year's edition at Terrazza at Shore Club! Priced at $55 per person, this buffet style brunch at Terrazza offers guest's unlimited mimosas, bellini's and a full bloody mary bar with an array of choices to munch on including an omelet station, brick oven pizza, fresh salads, antipasto, assorted cheeses, a raw bar and cured meats and more. Brunch starts at 11am and goes until 4pm. For table reservations, please book by calling 305.695.3100 or visit www.opentable.com.
National Hotel
The National Hotel, the cinematic Art Deco treasure in the heart of South Beach, is reviving the garish nightlife and entertainment scene in Miami Beach with dinner and a show on New Year's Eve. Guests can delight their palates with a bottomless buffet of Crab Stuffed Florida Lobster, Grilled NY Strip, Assorted Sushi, Smoked Scallops and more for $150/person. Dinner will be accompanied by live musical performances from Live! at the National, the hotel's unique talent of South Florida singers and piano players at their iconic Blues Bar, while sipping refreshing handcrafted cocktails.
Toscana Divino
Celebrate New Year's Eve at Toscana Divino with a prix fixe, family style menu prepared by Chef Andrea Marchesin for $85 pp for the first seating (6-7:30 p.m.) and $120 pp for the second seating (7:30-10 p.m.). Dinner includes Shrimp Tartare, Foie Gras Mini Burger, Potato Gnocchi with Duck Ragu, Lobster Ravioli, Monk Fish, Lamb Chop, Semifreddo and more.
To complement the menu, specialty wines and champagne will be available for a special price. The restaurant will be outfitted in white décor with white balloons and white flowers for a festive celebration featuring a live DJ, performer and projection screen to watch the NYE countdown.