As 2016 comes to a end (finally), we want to thank everyone for their continued support. It's been fun sharing our food adventures with you this past year, and we have a lot more in store for 2017. With that said, we've eaten a ton of food in 2016 and there have been plenty of highlights.
Below, you'll find a few of our favorite spots. We'll see you next year!
Best Brunch Over $50
Miami is a brunch city — practically every restaurant around here offers some sort of weekend retox. Our favorite this year: Delano South Beach. For $85, you get access to an extensive brunch buffet with hot and cold stations that feature everything from omelets and pastries to pastas, sushi and grilled meats (to name a few). Unlimited top-shelf mimosas and other brunch beverages help you wash it all down while an awesome DJ plays classic and contemporary R&B hits. It's Sunday Funday done right. Check out our full review.
Best Place to Detox After a Gluttonous Week
After stuffing your face all week or drinking yourself into oblivion, there's no better place to visit than DIRT. We've mentioned it several times in our past writeups, but it's impossible not to leave this place feeling healthy AF. Their smoothies, fruit bowls, salads, wraps and hearty seasonal fare will help you overcome a food coma and/or hangover to become a functional human being again. Get a closer look at the restaurant's latest menu here.
Best Place to Relive Your Childhood
To say we love Cream Parlor would be an understatement. We fell head over heels with the Biscayne Boulevard eatery immediately upon walking in. It's hard not to when there's so many charming tchotchkes surrounding you; the place is adorned with childhood items from owners Johnny and Ainsley Tsokos that are sure to make you smile and reminisce. Just as fun as the ambiance is the food, especially the sweets. Two words: unicorn poop. Order it, and it'll all make sense.
Best "Please Take All My Money" Place
Pinch Kitchen is the best restaurant we've eaten at all year. We've made plenty of visits to the spot in 2016  — most recently to try their 1-year anniversary menu — and we're blown away by the quality each time. Johnny Gallo, Rene Reyes and the Pinch team have something special here; all it took was one visit to make us regulars. Odds are you'll want to order everything. If it was physically and financially possible, we would.
Best Place Worth the Drive
In the past few months, we've made an effort to cover more properties outside of Miami. Earlier in the year, though, it would take a miracle to get us up to Broward. That miracle: Steak 954. As the name suggests, the Ft. Lauderdale eatery specializes in all things beef. But as we quickly found out, there's a lot more to this place than its steaks. Read our review to see what we mean.
Best Happy Hour
There's no shortage of happy hours in the 305, but the happiest hour we've encountered is at La Moderna. This Italian restaurant at Sunset Harbour delivers a quality post-work experience that makes you feel like family. Discounted (and tasty) cocktails, complimentary bites, soothing music and movies playing in the background, convenient parking … it's one of our favorite spots to visit before dinner or just because. The last time we visited, we got two free mini margherita pizzas. Before that, we got complimentary charcuterie and cheese. Who knows what's next?
Best Place to Eat Your Vegetables
Vegetables aren't usually exciting. In fact, we'd rather avoid them if we could … unless we're talking about the crudite plate at Sweet Liberty. Raw market veggies and Green Goddess dressing make for a perfect brunch starter that can easily feed a party of four (if not more). It's a great way to prep your body for the onslaught of calories from the menu's heavier fare like chilaquiles and the smoked duck benny. Speaking of Sweet Liberty's brunch, it's always a good idea.
Best Places We Discovered This Year (and Everyone's Already Visited)
Because we're always writing about new places, we've missed out on some Miami staples. This year, we discovered two city institutions: Frankie's Pizza and Joe's Take Away. We thoroughly enjoyed the square pizza at Frankie's; order the pie "half-baked" and put it in the freezer to eat later. At Joe's Takeaway, get the fried chicken. It's buried on the menu, but it'll change your life (and it's super cheap).
Best Sauce We'd Sell Our Souls For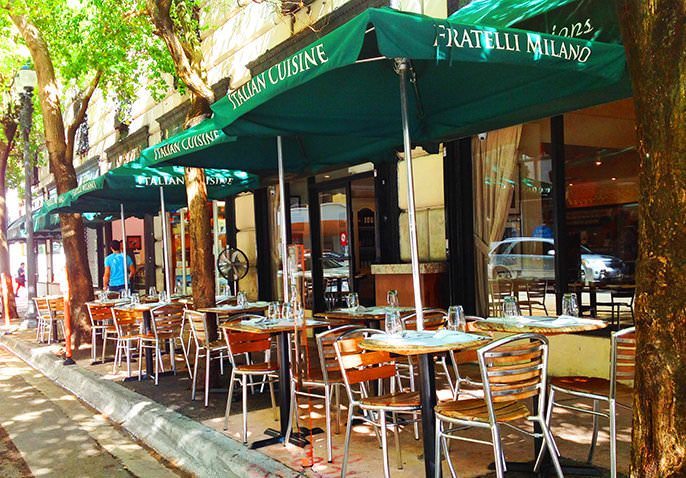 Sauces are underrated: They can easily add new dimensions of flavors to a dish. This year, we've come across one that really knocked it out of the park — just ask Mr. Miami Marvin. At Fratelli Milano in Downtown, guests are treated to a crack tomato sauce with bread service. It's so good that we went through five sauce cups during a recent meal. It kinda tastes like pizza sauce, but it's not. Whatever it is, it needs to be bottled and sold.
Best Place That Needs to Hurry Up and Become a Restaurant
The Avenue British Diner has been popping up across the city at various locations and events this past year: South Beach Seafood Festival, J. Wakefield Brewing, Miami Flea … the list goes on. Their fish and chips, Scotch eggs, and pies are always a treat and constantly sell out — a testament to the quality.Right now, they're focusing on catering and the popups, but we're itching for them to open a restaurant and really showcase their talents. In the meantime, check out their schedule and catch them at an upcoming event.
–