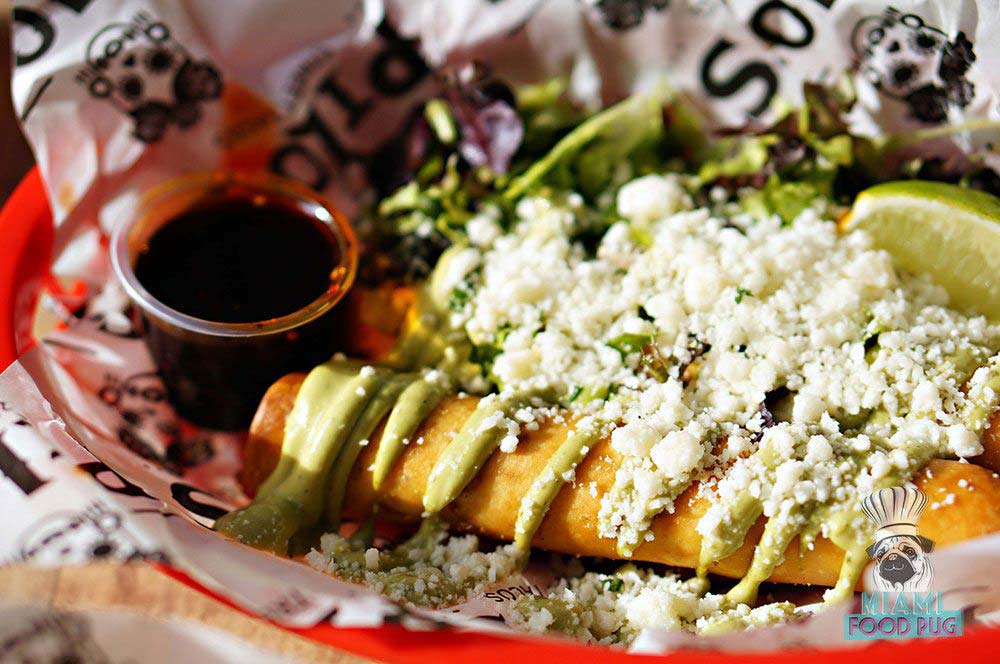 Last month, we spoiled ourselves with tacos in San Diego. It seemed like a good decision at the time, but trying our favorite Mexican dish over on the West Coast made us realize what we were missing over here in Miami. There's no comparison: San Diego tacos — especially fish tacos — just taste better.
Coming back to South Florida, we weren't sure we'd find anything close to the quality we experienced. Pilo's Street Tacos in Brickell proved us wrong.
Derek Gonzalez, a financial advisor and owner of two pugs, is the brains behind the neighborhood joint, which is named after his aunt. He has set out to develop top-notch street tacos reminiscent of  the ones you'd find in Mexico, and in our opinion, he has succeeded. Options abound on the menu, which has just about any protein you can think of. Whether you're looking for meat, seafood or even a vegetarian taco, it's available here.
Us? We love meat, and our hearty selections would have made a carnivore blush. Items like La Sagrona (brisket strips with molten manchego cheese) and El Canijo (crispy chorizo, slow cooked brisket, chicharron) caused our taste buds to fall in love instantly; everything was perfectly seasoned and we found ourselves licking our fingers — sorry for the image. El Costeñito (beer-battered shrimp) was another highlight and a great seafood option if that's more your style. There are almost a dozen salsas to complement your order; be sure to load up.
Although the place is named Pilo's Street Tacos, it serves a lot than just the namesake cuisine. The flautas here are definitely worth your attention. The La Lupita with shredded chicken and cotija cheese blew us away. We almost ordered two since we couldn't stop fighting over it — each bite just got better and better; make it a point to order one if you have room. Same goes for the Aqua Fresca: Few things are as refreshing as the hibiscus flavor on a hot Miami day. Pilo's Street Tacos offers its own house brew for those who prefer something with a little more kick.
Also on the menu: Churros. We didn't think we had room for them, but all it took was one taste to make us go, "Dessert was a good idea." In fact, lunch or dinner at Pilo's in general is a good idea. San Diego may be 3000 miles away, but thankfully, this awesome taco shop is a lot closer.
Pilo's Street Tacos is located at 28 SW 11th St in Brickell. For hours of operation and other information, visit their official website or call 305-800-8226.