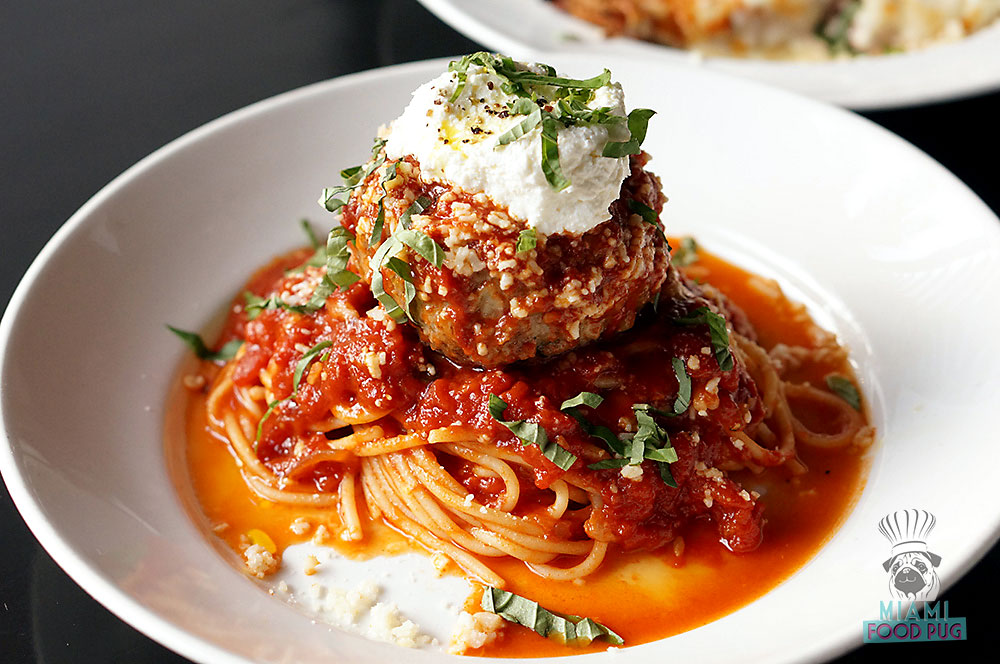 With Miami Spice winding down, there are only so many dinners you can squeeze in. In these final days of the promotion, make sure that Prime Italian is at the top of your list. The Italian restaurant on Miami Beach is one of the best ways to go out with a bang.
Offered every day, Prime Italian's Miami Spice menu features a number of crowd favorites, including the Hawaiian Big Eye Tuna Tartare and Prime Italian Chopped Salad. As appetizers, both of these dishes do the trick in whetting your appetite; they're filling but not so much that you'll hate yourself by the time the entrees come.
Speaking of entrees, prepare to EAT. No matter what you select — we suggest the Chicken Parmesan and the famous Spaghetti with Kobe Meatball — you're leaving with leftovers. The chicken is insanely huge and it's packed with flavor, too. And it's impossible not to look at Prime Italian's giant meatball without jumping for joy. It's a feast for your eyes and stomach. Honestly, you could split one Miami Spice entree and take the other one home; they're that big.
Desserts-wise, you're probably better off opting for something on the lighter side of the spectrum. After eating a day's worth of calories already, finish off with some Panna Cotta; it's simple but delish. If you just want to kick your diet while it's down, order the Fried Oreos and hit the gym twice as hard tomorrow — you deserve it.
This was our first experience at a Prime restaurant, and it certainly won't be the last. The options are varied, and it's an incredible value for Miami Spice. Heck, it's still a good deal at regular price as well. But who doesn't want to save a little bit of money? Make your reservation before Tuesday, or you'll be kicking yourself.
Prime Italian is located at 101 Ocean Dr. inside the Hilton Bentley on Miami Beach. For hours of operation and their Miami Spice menu, visit their Miami Spice page or call 305-695-8484.