December 11, 2020
Each Friday, we compile South Florida food-related news and events that we couldn't fit on the site earlier in the week, as well as other local news that piques our interest. Want to be included in our next roundup? Shoot us an email at bark@miamifoodpug.com.
2 Korean Girls Opens Miami Pop-Up
The Lazy Oyster Pops Up at The Butcher Shop
New Gourmet Gift Boxes by Wild Fork
SLS South Beach Hosts sbe's Celebrity Taste
Comedy Show at Fontainebleau
Social Hour at DiLido Beach Club
2 Korean Girls Opens Miami Pop-Up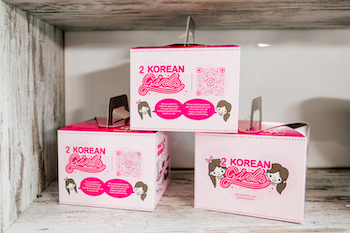 2 Korean Girls, a quick service pop-up restaurant equal parts contemporary flair and old school authenticity, is now open and serving delicious Korean specialties and classic Bibimbap inspired bowls. Their mission is to provide fresh Korean cuisine in a delivery/take-out only fast casual model very much in sync with our modern needs.
The heart of the concept is Bibimbap, a beloved Korean staple of rice with meat, vegetables and egg; balanced, craveable, nutritious and delicious, this one-bowl-wonder is perfect for on-the-go schedules, plant-based lifestyles and gluten and paleo diets.
Inspired by the family's treasure trove of recipes, the vibrant and flavorful gluten-free menu features Signature Bowls including the O.B. (Original Bibimbap) – Ribeye Bulgogi, Korean white rice, sesame spinach, marinated mung bean sprouts, sweet & sour radish, spicy potato, fried egg and Gochujang; and Oh You Spicy Huh? – Spicy Korean Chicken, white rice, cucumber kimchi, Napa cabbage kimchi, spicy potato, fried egg and Gochujang.
2 Korean Girls also have a variety of Snacks + Banchan on offer including but not limited to, Kimchi Fried Rice, 2KG Ribs, Impos-Seoul-ible Meatballs, Napa Cabbage Kimchi and Spicy Potato Stir Fry.
No Korean meal is complete without delicious Desserts including Korean Pear with Spicy Chocolate Sauce, Coffee Chia Pudding and Red Bean Chia Pudding; and select Tea pairings such as Jujube Tea and Barley Ginger Tea.
2 Korean Girls is available from 5PM to 10PM for delivery (Pinecrest to 54th Street) or for pickup at the Coconut Grove ghost kitchen. Orders can be placed online at www.2koreangirls.com/order-now/.
Photo credit: Amanda Julca
The Lazy Oyster Pops Up at The Butcher Shop
The Lazy Oyster, a new Miami-based delivery company that's focuses on bringing in premium oysters and providing guests with the oyster enjoyment experience at home, is popping up at The Butcher Shop Beer Garden & Grill in Wynwood on Thursday, December 17, 2020.
The following oysters will be freshly shucked in the beer garden and available for dine-in next week. To wash down the delicious bivalves, The Butcher Shop will be offering a selection of natural wines, tripels and stouts. A Bloody Igor Oyster Shooter special will also be available featuring Ketel One Vodka.
New Gourmet Gift Boxes by Wild Fork
As more people continue to stay and cook at home, Wild Fork – the South Florida-based meat and seafood market known for quality, affordability and variety, is debuting gift sets that showcase the rapidly growing brand's impressive product roster.
Just in time for the holidays, with newly- increased geographic coverage, Wild Fork is poised to reach several new regions of the United States – with creatively curated new gift boxes that appeal to every palate – from meat and potato mainstreamers to erudite culinary adventurers.
Wild Fork is also closely attuned to budget with gift boxes starting as low as $45. Everything is shipped frozen and arrives within 24 – 48 hours, depending on the zip code. From Wagyu steak selections to eight different smoked salmon flavors, there's truly something for everyone.
Click here to learn more.
SLS South Beach Hosts sbe's Celebrity Taste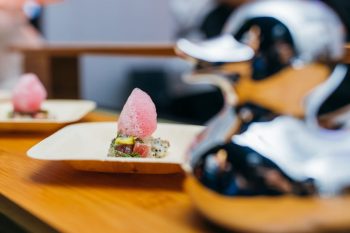 sbe, the leading international hospitality group that develops, manages and operates award-winning brands, today announced the fifth edition of Celebrity Taste, once again transforming SLS South Beach's backyard into restaurant pop-ups with custom tastings, global cuisine, and a star-studded chef line-up on Thursday, December 17, from 8 to 10 p.m.
Situated poolside by the iconic Hyde Beach, the highly anticipated event will feature stations hosted by Chefs Karla Hoyos of The Bazaar by José Andrés; Edgar Vazquez of Katsuya; Mark Iacono of Lucali; Jose Mendin of Pubbelly; Jason Acoba of Tanuki; and Victor Rosado of Fi'lia.
Attendees can enjoy cocktails, beer, wine, and champagne, hosted by vintage cocktail bar SAAM Lounge as well as renowned spirits including Bombay Sapphire, Don Julio Tequila, Estrella Jalisco, Hennessy Cognac, JAJA Tequila, Ketel One Vodka, and Veuve Clicquot. Following the food and beverage tastings, Hyde Beach will host an afterparty for guests to continue the celebration.
To create a comfortable and safe environment in compliance with COVID-19 protocol, Celebrity Taste will implement a multitude of steps and restrictions including required masks at all times unless seated; a minimum of six feet between all seating areas; reduced occupancy; distanced areas between all restaurant pop-ups for proper spacing in queues; plexiglass between all chef stations; and hand sanitizer stations.
To learn more about Celebrity Taste at SLS South Beach and view a full list of participating restaurants, please visit tixr.com. Tickets are priced at $75 per person including access to the event and open bar until 10 p.m.
Comedy Show at Fontainebleau
Lighten up your weekend at Anthony Rodia's comedy show at Fontainebleau Miami Beach on Saturday, December 12, 2020. Rodia will be joined by radio host, comedian, actor and author Goumba Johnny and hosted by Michael Martocci. A variety of dinner and show packages are available at StripSteak by Michael Mina and Pizza & Burger by Michael Mina. Dinner seating is available from 6PM to 7:30PM. Doors to the historic Fontaine Ballroom open at 8:30PM, and the show begins at 9PM.
For tickets, dinner packages and hotel reservations, please visit https://www.fontainebleau.com/comedy.
Social Hour at DiLido Beach Club
It's five o'clock somewhere and Ritz-Carlton, South Beach wants you to join them for a Frosé-Focused Friday social hour at DiLido Beach Club for a cocktail or two! From 4:00 p.m to 6:00 p.m., enjoy menu items for $10. Discounted cocktails include frosé, coquito, and SoBe Sangria. If you're hungry, nosh on some guacamole with chips & salsa, popcorn shrimp, and oysters.