December 4, 2020
Each Friday, we compile South Florida food-related news and events that we couldn't fit on the site earlier in the week, as well as other local news that piques our interest. Want to be included in our next roundup? Shoot us an email at bark@miamifoodpug.com.
Introducing E11EVEN Vodka
SOBEWFF Postponed Until May 2021
Le Jardinier Offers Special Brunch
Weekend Brunch Feast at Tanuki
Downtown Doral Dining Deals
Ol'Days Opens in Midtown
Hora Loca at Pisco y Nazca
Now Open: Tacocraft in Victoria Park
The Salty Donut Hosts Miami Beach Pop-Up
Introducing E11EVEN Vodka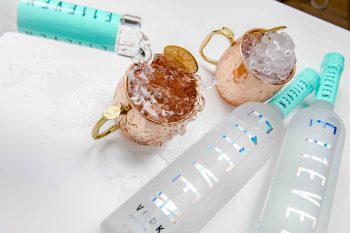 Nikki Simkins (CEO & Chairwoman) is thrilled to announce the official launch of E11EVEN Vodka. E11EVEN Vodka represents the "Miami Spirit," a celebration of unsurpassed excellence that provokes a sense of pure curiosity and guiltless infatuation. Infused with anundeniably captivating personality of its own, the noticeably pure and well-balanced Vodka is now available for purchase online for nationwide shipping and at retail stores & on menus at establishments across South Florida.
The E11EVEN brand is a lifestyle. Created as a 24/7 Ultraclub in downtown Miami in 2014, people flocked to the unique nightlife experience, making it one of the world's most recognized clubs. E11EVEN Miami accolades being awarded "Best New Nightclub Concept," perennially voted among the top 10 nightclubs worldwide, and becoming the highest-grossing nightclub per square foot globally.
People trust E11EVEN to do things better. It was because of this that Nikki Simkins, through a company in which she controls, licensed the intellectual property of the iconic E11EVEN brand to create her own Vodka.
Measured against the highest quality and taste standards, E11EVEN Vodka is an all-natural and gluten-free ultra-premium spirit sourced, distilled, and bottled entirely in Miami. Handcrafted in copper stills, distilled six times from 100% Florida grown NON-GMO corn and then refined through a proprietary seven-step filtration process, E11EVEN Vodka exudes a rounded sweetness that is clean and smooth.
Subtle notes of citrus peels and cacao nibs flawlessly blend to create a divine flavor that's delicately teased with hints of vanilla and cracked peppercorns. The proprietary hand filtration process softens the palate, leaving a graceful finish that is long, warm, and seductive.
E11EVEN Vodka (80 proof / 40% ABV) is now available online for nationwide shipping at 11vodka.com and at South Florida retail stores such as Jenny's Liquor, Primo Liquors, Gulf Liquors, Crown Wine & Spirits, Grove Liquors, and Portofino Wine Bank, among others.
SOBEWFF Postponed Until May 2021
The Food Network & Cooking Channel South Beach Wine & Food Festival presented by Capital One (SOBEWFF®) has announced that the 2021 Festival will be rescheduled to May 20-23, 2021. Due to growing concerns over the COVID-19 pandemic, and with the well-being of attendees, partners, participants and staff as the number one priority, SOBEWFF® has decided that rescheduling the event is the most responsible course of action at this time.
The Festival is steadfast in its plans to celebrate our 20th anniversary in 2021 and postponing the Festival by just a few months will enable them to better execute the safest and best possible experience and to maximize the impact for its charitable partner, the Chaplin School of Hospitality & Tourism Management at FIU, and the local community.
Le Jardinier Offers Special Brunch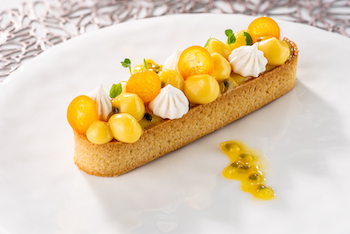 Le Jardinier will be offering a special brunch this Sunday, December 6 only in celebration of Design Miami. It is the perfect place to brunch on the weekend as the restaurant's lush patio has plenty of space to accommodate guests safely + the weather has been so nice!
Highlights include Smoked Salmon Rillette on homemade brioche, avocado, pickled fresno and fried capers; Fried Kampachi Collar with chili, lime and a scallion crepe; and Prime Petit Ribeye Au Jus with crispy potato and fried organic egg. Photo by Ricardo Mejia.
Weekend Brunch Feast at Tanuki
Tanuki's legendary Weekend Brunch Feast is back as of this weekend. Every Saturday and Sunday from 12 p.m. to 4 p.m. guests can enjoy an unlimited selection (not buffet style of course) of Pan Asian signature dishes and sushi, an entree and dessert for $48 per person with free-flowing beverage upgrades available for $20 per person.
Downtown Doral Dining Deals
Patrons to the Miami City Ballet's performances of George Balanchine's The Nutcracker® – the only live outdoor performance by a nationally recognized ballet company – will be able to enjoy pre- and post-performance dining from exclusive Nutcracker-inspired menus at Downtown Doral's renowned restaurants.
Presented by the Miami City Ballet (MCB), George Balanchine's The Nutcracker® in the Park, will be performed live before an audience in the outdoor splendor of Downtown Doral Park. The production opens December 18 with a special free performance in salute of first responders and essential workers, followed by 13 general audience performances from December 19 through December 31.
The innovative multimedia production, which uses animation, projection, video and live sequences, prioritizes the health and safety of audiences, dancers, students and staff while delivering all the magic and joy of the beloved holiday classic. Performances will be presented in the park, in open air, with 153 socially distanced pods and all attendees will be required to wear masks.
The special, pre-and post-performance dining options will take place on the artful Main Street at Downtown Doral at physically distanced tables, both inside and outside.
Participating restaurants include:
– Bachour Restaurant & Bar
– Bulla Gastro Bar
– Dragonfly Izakaya & Fish Market
– Gusto Ristobar
– Las Vegas Cuban Cuisine
– Pisco Y Nazca Ceviche Gastrobar
– The Doral Yard
Click here for more details on the promotion.
Ol'Days Opens in Midtown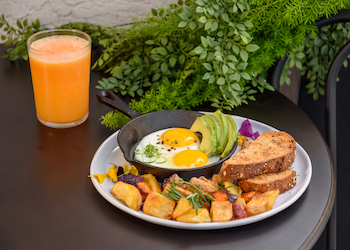 Ol'Days Farm to Table, located in Miami's ever-growing Midtown neighborhood, is now open. The Argentinian specialty coffee shop and restaurant prides itself on its farm-to-table concept, combining fair trade, plant-based, vegetarian, vegan , quality food, and specialty coffee. Ol'Days will be a destination for seasonal ingredients, naturally and locally sourced goods, and a peaceful atmosphere that offers guests a strong sense of home while enjoying all-day breakfast, lunch, dinner, and weekend brunch.
The menu features seasonal coffees, right now a single origin from Ethiopia, as well as a selection of hot and cold brews including espresso, iced lattes, matcha latte, chai latte and cappuccino, with fresh almond milk made inhouse daily. Featured pastries include Grandma's Scone, Cheese Bread (called Chipa), Sweet Papaya & Guava Compote with Farm Cheese, Choco Cake filled with dulce de leche and mousse, and Carrot Cake, to name a few.
Ol'Days also offers all-day breakfast. Guests can enjoy Avocado Toast; Homemade Yogurt, country-style, made fresh daily with house granola; Champ-Pancakes, oats and yogurt pancake filled with banana mashed; gluten-free, vegan Waffles; Acai Bowl, Matcha Colada, or a Bread Basket with cream cheese and house marmalade.
For the meat lover, the Grass Fed Short Ribs are slow cooked for 12 hour with a secret homemade sauce and served with mashed country potatoes and organic broccolini. For those interested in healthy grains the Buddha Bowl is served with wild quinoa, adzuki beans, tomatoes, seeds, sauteed spinach in kiwi vinaigrette, roasted hummus duo, goji berries and cashews. For simple pleasures, the Tapioca Bites are served with organic spicy agave and gluten free.
Ol'Days Miami offers indoor and outdoor seating and is located at 3301 NE 1st Ave, Miami, FL 33137.
Hora Loca at Pisco y Nazca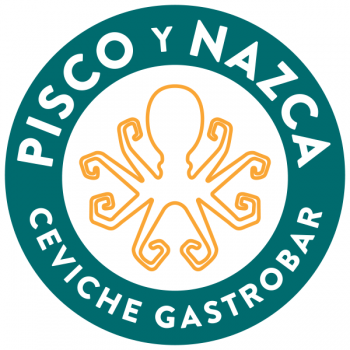 It's time to join Pisco y Nazca for their 'hora loca', which occurs from Monday to Sunday, from 4:00pm – 7:00pm at their Kendall location and 5:00pm – 7:00pm at their Doral location.
Attendees can enjoy special prices on food & beverage such as house wines, beers, liquor, ceviche, appetizers, and tapas. There's no better way to end the day with a steal!
Now Open: Tacocraft in Victoria Park
Tacocraft continues to expand throughout South Florida, with their latest concept in Victoria Park. Located at 510 N. Federal Highway, the 3,600-square-foot Mexican restaurant and taqueria bar features Tulum-inspired decor, an extensive 1,500-square-foot covered turf patio, a to-go counter, and a staggering back bar featuring a collection of over 300 tequilas and mezcals.
The Victoria Park menu will debut new menus that will soon be available at the South Miami and Lauderdale by the Sea locations, like the Achiote Brick Chicken, a boneless half chicken marinated with achiote guajillo rub and served with heirloom tomatoes and cucumber salad; Pan Seared Grouper served with sauteed with sweet potatoes and baby kale; and a fire grilled Skirt Steak served with chile de arbol chimichurri, refried black beans and crispy tostones.
The menu also includes a raw bar selection with locally-sourced seafood plates, like the Snapper Ceviche made with citrus marinated snapper, oranges, avocado, red onion, heirloom tomatoes, cilantro and lime; Tuna Poke Tacos served with avocado, ponzu, seaweed, spicy mayo and crispy wontons; Wild Shrimp Aguachile topped with cucumbers, red onion, avocado, cilantro and spicy chilled serrano water. Guests can also expect to see Tacocraft's signature tacos on the menu, including the Crispy Shrimp taco made with tempura-battered shrimp, mango salsa, spicy mayo and cilantro.
Tacocraft Victoria Park is located at 510 N. Federal Highway, Fort Lauderdale, FL.
The Salty Donut Hosts Miami Beach Pop-Up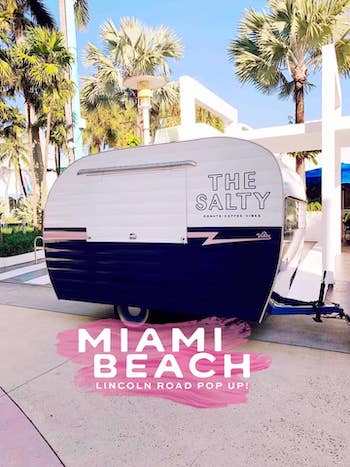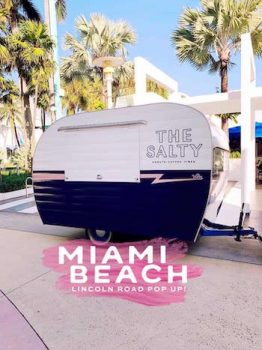 The Salty Donut will be launching a weekly pop-up with El Bagel on Lincoln Road every Saturday and Sunday beginning Saturday, December 5 & Sunday, December 6. The pop-up, which will be located on the 700 block of Lincoln Road in front of J. Crew from 10AM until 4PM every weekend, will bring out the brand's beloved camper, which they sold donuts out of in the first year of operating. The Lincoln Road menu will change each week to offer a mix of The Salty's year round favorites + seasonal flavors.