December 3, 2021
Each Friday, we compile South Florida food-related news and events that we couldn't fit on the site earlier in the week, as well as other local news that piques our interest. Want to be included in our next roundup? Shoot us an email at bark@miamifoodpug.com.
Eleventh Street Pizza x Ted's Burgers Collab
Now Open: Wellfed Miami
Caja Caliente's Food Truck Moves to Superblue
Michael's Genuine Food & Drink Reopens
Eleventh Street Pizza x Ted's Burgers Collab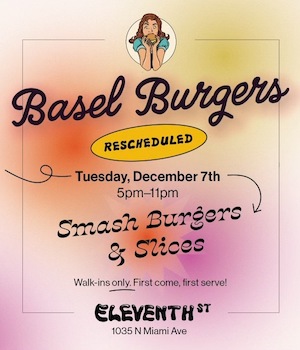 On December 7 from 5 p.m. to 11 p.m., Eleventh Street Pizza will be offering Ted's award-winning classic smash burger and their latest Eleventh Street x Ted's Burgers collab: The Basel Burger – a double patty with bacon, fig jam, caramelized onions, sharp white cheddar, and pickles on a Martin's potato roll. Sicilian slices, wine, and beverages also available. No pre-orders available; walk-ins only (first-come, first served).
Now Open: Wellfed Miami
Chef Federico Tischler's Venezuelan concept, WellFed Miami, located in the heart of Coral Gables, is now open. The Coral Gables full-service restaurant is open for lunch, happy hour, and dinner from Monday-Saturday and offers guests a casual atmosphere with remarkably elevated cuisine.
The array of menu items at WellFed showcases the variety of techniques and flavor combinations present in Venezuela's national dishes, and reflects the assortment of Latin American cuisines found in the South Florida community. WellFed also offers a prepared foods market – with pre-packaged, made-in-house Venezuelan staple foods to take home and enjoy, including arepas, empanadas, sausages, soups, sauces, and other provisions.
Caja Caliente's Food Truck Moves to Superblue
Caja Caliente's famous food truck that made its debut in the Design District over a year ago has found a new home at Superblue Miami, the groundbreaking new enterprise dedicated to producing, presenting, and engaging audiences with experiential art, located in Allapattah!
Caja Caliente owner Monica "Mika" Leon announced the eatery's move earlier this month. Fans of Miami's favorite Cuban tacos can find the food truck at Superblue every day of the week, with the Grand Opening happening Monday, November 29. Hungry explorers of the immersive art experience and long-time fanatics of Caja Caliente will be pleasantly surprised to find the bold and colorful Caja Caliente food truck parked at the outside deck of Superblue among other amazing Miami food trucks along with a container cafe installation by artist Yinka Ilori. Taco lovers can find the food truck located at 1101 NW 23rd St Miami, Fl 33127.
Michael's Genuine Food & Drink Reopens
Earlier this week, James Beard Award-winning Chef Michael Schwartz and The Genuine Hospitality Group have reopened the doors of the Miami Design District culinary icon, Michael's Genuine Food & Drink. During the four month hiatus, the eatery underwent a series of enhancements to elevate its decor, reinvent its kitchen space and expand its dining room to face 40th street. This has created a brighter space that leads into the renovated courtyard and provides an indoor/outdoor experience with seating for up to 200 guests.
The main dining area flows into the outside terrace via sliding doors that lead to a cozy, enticing, and breezy spot for guests to sip and dine. The terrace offers a multitude of seating options that compliment the restaurant design, and a retractable roof that makes outdoor dining possible every day of the year.
Diners looking to experience a brighter space can sit at the front of the restaurant, while those looking for a subdued and cozy ambiance can dine closer to the bar. For larger groups, a new banquette sets the tone for a conversational evening. Guests can also enjoy the Chef's table located in the middle of the action with views into the bustling kitchen.
To accompany the refreshed look, the menu at MGFD will feature new additions crafted by Michael Schwartz, Senior Director of Culinary Bradley Herron and Executive Chef Dillion Wolff including whole roasted tuna collar prepared "Sicilian style"; wood roasted camembert with golden chanterelle mushrooms, garlic toast; long cooked squash with harissa, tomato, caraway, basil crispy garlic and lamb massaman curry with thai fried egg salad, jasmine rice. Many signature items will still be available including favorites such as the stracciatella, wood oven roasted octopus and pan roasted poulet rouge.
The menu features a new market table section boasting simply prepared seasonal vegetables served room temperature or cold including roasted & marinated fennel with anchovy, orange, fennel pollen and calabrian chile; chilled dashi cooked turnips with miso and sesame. The menu also features an enhanced wine list and a new cocktail program designed by the talented beverage team led by Beverage Director Amanda Fraga.
On the heels of the restaurant's much-anticipated relaunch, the fan favorite happy hour returns Monday through Friday from 4:30 p.m. until 7:00 p.m. with half off wines by the glass, beers, speciality cocktails and several snack items to be enjoyed at the bar and high top tables.