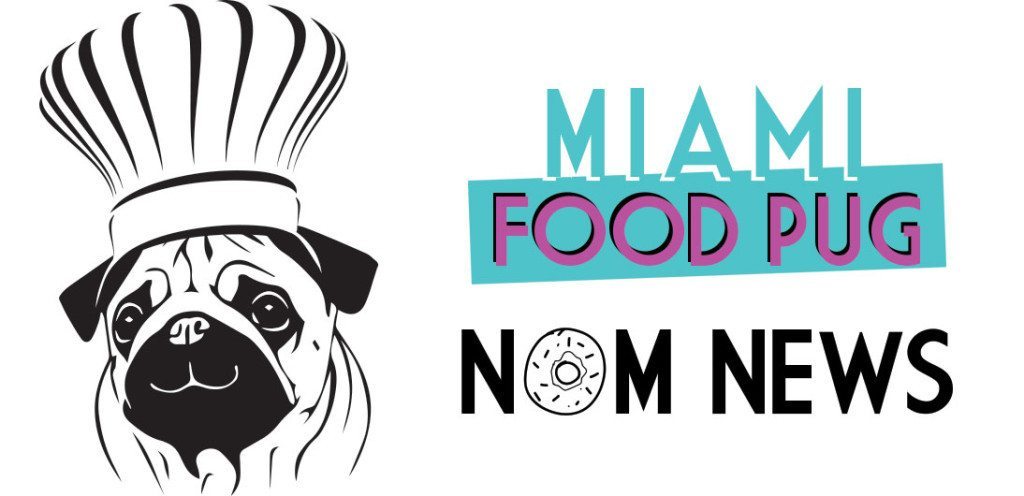 October 13, 2023
Each Friday, we compile South Florida food-related news and events that we couldn't fit on the site earlier in the week, as well as other local news that piques our interest. Want to be included in our next roundup? Shoot us an email at bark@miamifoodpug.com.
New Happenings at Okeydokey
New Menus at Chug's Diner
Toku Debuts Brunch Service
Burgers, Bourbons & Beats at American Social
New Happenings at Okeydokey
On Thursday, October 19th, Okeydokey will host a grand opening celebration for the public from 7 to 9 p.m. to welcome Brickell's newest outdoor patio bar, La Terrasse, followed by an afterparty at Okeydokey's newly debuted third floor lounge, Metronome, from 9 p.m. until 1 a.m.
Located on the first floor of Okeydokey, La Terrasse's opening celebration will feature a night filled with eats, live music and sips to celebrate the venue's newest additions. Perfect for dates, friends and families, the 250-capacity, 60-seat outdoor oasis is designed with boho-chic furnishings and hanging greenery all throughout, making it the perfect space for those looking to unwind, relax, and enjoy good company. With a surround sound system, the vibes are always at an ultimate high. Following its debut, Okeydokey will welcome live music to complement the outdoor patio's ambiance every Thursday evening.
Once La Terrasse's opening party winds down, guests are invited and encouraged to make their way up to Okeydokey's third floor for an exclusive after party. The third floor, now known as Metronome, is an entertainment destination that will soon feature stand-up comedy nights, live music, DJ performances, and more. Metronome is an immersion into Miami's melting pot of sonic identity, blending the sounds of our city.
A musician's oasis, the intimate hidden gem will pay tribute to its namesake and bring together the best of jazz, soul, latin rhythms, and eclectic global sounds. Metronome's listening room boasts long, velvet curtains, a disco ball, and dim, moody candle lights surrounding a center stage. Set to open every Thursday through Saturday night, the music-centric atmosphere will welcome intimate jams, artist showcases, and late-night dance parties.
New Menus at Chug's Diner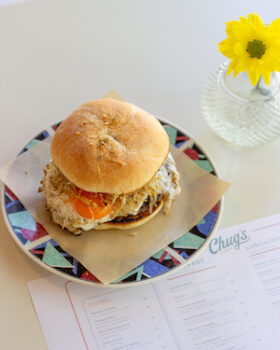 First introduced in 2019 as an idiosyncratic pop-up, chef/owner Michael Beltran's Chug's Diner quickly became a Coconut Grove institution when it turned into a permanent brick-and-mortar restaurant in 2021. Beyond its rep as a bustling lunch spot, Chug's Diner rose to a thing of legend by virtue of Beltran's wildly-popular breakfast sandwich, cast iron pancake and hearty dinnertime fare.
Just in time for fall and amid Hispanic Heritage Month, Beltran – the proudly Cuban-American talent behind Ariete Hospitality Group – has unveiled an extensive new menu and beverage list for the restaurant, which the Miami New Times recently lauded as one of Miami's "Top 100 Restaurants." Combined with the fact that the restaurant recently retained its Bib Gourmand from the hallowed Michelin Guide, there's ample reason to visit Chug's Diner.
To kick things off, what else but Breakfast? Naturally, favorites remain, including Beltran's Bacon, the Breakfast Sandwich and Cast Iron Pancake. But new additions now demanding the spotlight include Phyllis' Broccoli Breakfast Hash – crispy potato, broccoli, cheese sauce Ritz cracker crumble, red onion, Parmesan, and sunny side up eggs; "The Springsteen" – house-made scrapple, sharp American cheese, and sunny side egg on a kaiser roll; Smoked Salmon Platter – latkes, cumin-lime crema, mojo pickled onions and tomatoes; and on the sweeter side, Arroz Con Leche Blintz with seasonal fruit, among others. As a proper diner should, Chug's breakfast is served all day.
Brand new is a Snacks section, perfect as an appetizer or a midday pick-me-up. Standouts include house-made Biscuits served with apple butter and mojo butter; Duck Croquetas with orange mustard, pickled onions and crackers; Chicharron with tamarind mojo, charred green beans and herbs; and Maduros & Hush Puppies served with cumin lime crema, Oli's pickles and mojo onions.
Of course, Handhelds are held in great esteem. New offerings include The Diner Burger topped with caramelized onion, mustard aioli and Cooper sharp American cheese and a Pan Con Lechon with pickled mojo onions, tomato and papitas. Those bemoaning the loss of the famous Chug Burger fear not; though it no longer resides permanently on the menu, every Thursday night the restaurant makes and sells this to-die-for carnivorous delight but supplies are limited and reserving a burger is not frowned upon.
New Entrees include Plantain-crusted Snapper with arugula and green bean salad, cachucha aioli and mojo onions; and Sazón completa-crusted Tuna with charred green beans, tomato, Malta eel sauce and hard-boiled egg. Also new, a ton of Sides ranging from Crispy Broccoli and Waxman Potatoes (in honor of Chef Jonathan Waxman) and Maduros, among others.
Pastries are not to be missed here, whether it's one of Chug's masterful Milkshakes (guava and Mamey Batido with Maria cookies, anyone?), a Pastelito by Miami's own "Pastelito Papi" – aka Chef Gio Fesser, a longtime Beltran collaborator and HG team member; and BK Pie – Manjari ganache, caramelia mousse, whipped crème fraiche and house-made "dirt," among others.
From plates to glasses we go with many new drinks with three distinct vibes, each nodding to Chug's dedication to all-day enjoyment. Rise & Shine-styled solutions to the morning blues include the Miami Mimosa with mango, pineapple, and orange juice; Banana Carajillo – banana, rum, cacao, café Cubano; and a Bloody Maria – mezcal, spicy bloody Mary mix, lemon and sazón completa.
Afternoon Delights include a Guava Gimlet; Guarapo Daiquiri and Whiskey & Coco – whiskey, coconut water, coconut soda and lemon. For sunset and beyond, Stiff & Stirred is the ticket with two killer pours: the Flan Old Fashioned with aged rum, flan almíbar (translation: syrup) and orange bitters; and the F.I.G. – fig and guava infused bourbon, Campari and sweet vermouth. There is a full bar for traditionalists, an array of non-alcoholic drinks including Cuban-American staples such as Jupina, Materva and Iron Beer, and not to mention a collection of coffees.
Toku Debuts Brunch Service
Starting Sunday, October 22, Toku, Aventura's newest dining destination for Modern Asian cuisine, is launching brunch with a bottomless, prix fixe menu.
Toku in Aventura Mall – which opened this summer – is the first Florida location for the New York staple restaurant, offering cuisine that combines ingredients and cooking techniques from across the globe, with predominantly Japanese and Chinese influences, with touches of Thai and Vietnamese flavors.
Savor your Sunday with a brunch prix fixe that combines traditional dim sum offerings with Asian-inspired takes on classic brunch dishes. Highlights include a Dim Sum Sampler starter, Ubi waffles, fluffy Japanese pancakes and Chicken Katsu Benedict. Pair your meal with a bottomless option of Lychee Bellinis, Mimosas, the Toku Spritz or Wasabi Bloody Marys, or order a drink from Toku's wide selection of cocktails, sakes, Japanese whiskies, wines and beers. $45 prix fixe, $30 bottomless add on (all menu items are also available a la carte).
Burgers, Bourbons & Beats at American Social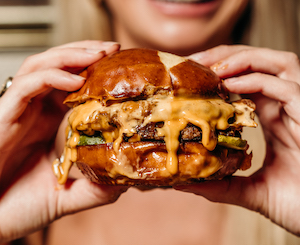 Calling all Locals! Join American Social for complimentary sliders and bourbon on Monday, October 16th from 6 p.m. to 8 p.m.! Check out their brand new look, riverfront bar, and enter for a chance to win a FREE Burgers for a year (every Monday!)
All you need to do is sign up through the Eventbrite/Ticket link, show up to Amso on Monday 10/16 with your local ID or other documentation showing that you live in Brickell (33130), and share a picture of yourself, burgers/bourbon, or our venue on social media, tagging @AmericanSocial! The winner will be announced at 8 p.m.
The first 150 locals will get:
– Complimentary welcome bourbon single mix drink or cocktail (from the menu)
– A chance to win a bottle of AmSo Signature Bourbon
– Amso Sliders, Smashburger Sliders, Crispy Truffle Mushroom Sliders
Click here to register.