December 17, 2021
Each Friday, we compile South Florida food-related news and events that we couldn't fit on the site earlier in the week, as well as other local news that piques our interest. Want to be included in our next roundup? Shoot us an email at bark@miamifoodpug.com.
Coming Soon: Smorgasburg
BRAVA! Reopens at Adrienne Arsht Center
Verde Welcomes New Chef
Now Open: Tropezón
Coming Soon: Smorgasburg
Smorgasburg, the largest open air food market in America with locations in New York and Los Angeles, is launching in Miami in the heart of Wynwood at 2612 NW Second Avenue in March 2022. A play on the Swedish "smorgasbord" meaning a wide array of foods, and the location for the market's debut in Williamsburg, upon opening in 2011, Smorgasburg instantly became a popular destination for New Yorkers regularly drawing upwards of 10,000 weekend visitors in search of a great afternoon of eating, drinking and meeting up with friends. At the same time, the market served as an affordable starting point for food vendors wanting to test out their concepts for a large audience without the overhead and risk of a brick-and-mortar restaurant.
Smorgasburg Miami will be open on Saturdays from 11AM to 6PM and will occupy prime real estate in the epicenter of Wynwood — adjacent to the Wynwood Walls, the 50,000 square-foot park-like setting will ultimately host 60 food vendors and about 10 interesting retail vendors. Visitors will enter Smorgasburg on either NW Second Avenue or 26th Street: vendors will be positioned around the perimeter of the space with central seating comprised of different colored picnic tables. The bar area will have its own seating and be located on the South West corner of the market. Some of the concepts to expect include Ted's Burgers, Drinking Pig BBQ, and Bona Bona Ice Cream.
BRAVA! Reopens at Adrienne Arsht Center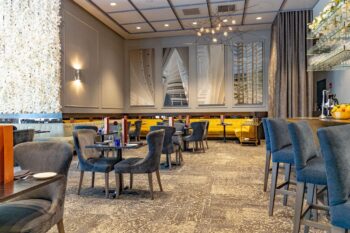 The Adrienne Arsht Center for the Performing Arts of Miami-Dade County has reopened its celebrated restaurant, BRAVA!, coinciding with the opening night of Miami City Ballet's production of George Balanchine's "The Nutcracker." The highly anticipated reopening includes a new menu by the expert team at Constellation Culinary Group.
Starters include Sherry Studded Lobster Bisque topped with chives; the Shrimp Cocktail with poached gulf prawns, pickled vegetables, and cocktail sauce; Filet Mignon Steak Tartare with buttered toast and soft herbs; Chicken Liver Parfait with cranberry, thyme, and buttered brioche; Grilled Baby Gem Caesar with lemon and black pepper dressing, Parmesan cheese, buttered panko, oven-dried tomatoes, and black olives; and Beet Carpaccio, a flavorful combination of baby kale, spinach, walnuts, dried cranberries, pears, and blue cheese topped with sherry vinaigrette.
For the main course, diners can choose from Risotto Cacio e Pepe with Meyer lemon, aged Asiago cheese, and Italian parsley, plus the option to add grilled shrimp or roasted maitake mushrooms; Brick Chicken, a savory combination of roasted fingerling potatoes, parsnip mousse, and sautéed spinach topped with thyme jus; Steak Frites served with béarnaise sauce and French fries; Pan-Seared Atlantic Salmon with tomato beurre blanc, asparagus, and hookah purée; Coq Au Vin, a French classic served with braised chicken, petite vegetables, crispy bacon, fingerling potatoes and white bean ragu served with maitake mushrooms, roasted tomatoes, and baby kale topped with basil oil.
For those looking to indulge in something sweet, dessert options include Baked Alaska, a fiery combination of strawberry, vanilla, and pistachio ice creams, vanilla chiffon cake, toasted Italian meringue, and crème anglaise; Floating Island, which includes mango meringue, passion white chocolate sauce, and fresh berries; Crème Brûlée with brigadeiro and Grand Marnier orange; Raspberry Sorbet with mint; and house-made Girl Scout Cookies, including lemon shortbread, do-si-dos, and coconut macaroons.
Photo by Lazaro Llanes
Verde Welcomes New Chef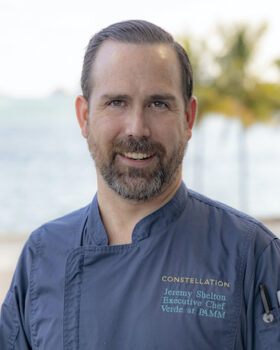 Downtown Miami's Verde has a new chef: Jeremy Shelton. The esteemed culinary professional brings nearly two decades of culinary and hospitality experience to Verde with a resume that spans from Washington, D.C., to Florida.
In his role as executive chef, Shelton oversees all aspects of the restaurant's culinary operations, including managing the food and beverage team, overseeing budgets, and providing exceptional experiences for guests. Shelton has also added new dishes to the Verde menu that reflect his culinary expertise.
New menu highlights include Yellow Tomato & Tahini Soup ($10) with basil oil, dukkah spice, and fresh herbs; Burrata "Sfincione" ($14); Local Snapper Crudo($17) with tomato water, pickled red onions, toasted garlic, basil aioli, and Calabrian chili; Delicata Squash Salad ($18) with Roasted Delicata Squash, labneh, mizuna, radish, pickled onions, preserved lemon vinaigrette, and candied pepitas; Pan-Seared Salmon ($27) served with cauliflower purée, black garlic, caper relish, and celery-apple salad; and Roasted Branzino ($28) paired with walnut romesco sauce, warm cannellini bean salad, toasted bread crumbs, and charred scallion vinaigrette.
Shelton has nearly 20 years of professional culinary experience. He has worked in prestigious kitchens such as BLT Steak in Washington, D.C.; Scarpetta and Macchialina in Miami Beach; and Steak 954 and OVLO Eats in Fort Lauderdale. A Florida native, Shelton graduated from Johnson & Wales University – North Miami with a Bachelor of Science in Food Service Management, cum laude.
Now Open: Tropezón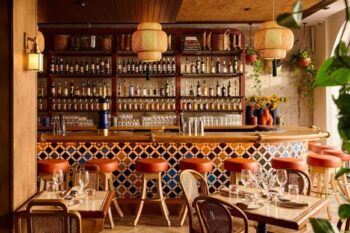 The team behind Downtown Miami's beloved neighborhood bar welcomes their first restaurant, Tropezón, an Andalusian gin and tapas restaurant and bar which opens today, December 14, 2021, at 512 Espanola Way located next door to Esmé Miami Beach hotel. Tucked away in the Mediterranean-like corridors of South Beach's historic street, co-founders Randy Alonso and Chris Hudnall of growing hospitality brand Lost Boy & Co., welcome the funky new spot serving up Spanish-inspired tapas, gin-forward cocktails, and much more.
Tropezón, which means "to stumble" in Spanish, takes inspiration from namesake Spanish village bars where old men play afternoon cards, and women converse over sips of Sherry. Now open for dinner and late-night drinking, the charming indoor-outdoor dining space offers a cozy, old-world vibe that welcomes neighbors, travelers, and locals eager for Spanish comfort, signature tapas, and an insanely good gin program.
Tropezón's fare takes an ingredient-driven approach, featuring a tapas-style menu (linked) that embraces the flavors and ingredients of Spain's Andalusian region. Traditional favorites like Jamón Iberico, Tortilla Española, and Gazpacho are found on the menu alongside other items deep-rooted with the Arabic influence of the Moors and bright flavors of the Mediterranean coast. Organized by tapas, salads, large plates, and sweets, the menu encourages guests to order various dishes from each section to experience the full scope of Tropezóns' global fare.
Must-tries from the Tapas section include Papitas, a simple dish everyone should start with, serving lightly fried potato chips stacked with dangerously thin slices of Jamon Iberico and aged manchego cheese; Boquerones Fritos, fried anchovies with charcoal tempura; Gambas Al Ajillo, grilled prawns with an achiote chili crunch; and traditional Patatas Bravas served with pimento sauce and salsa verde.
On the lighter side, guests can opt for Israeli Couscous or Belgian Endive Salad with poppy sour orange dressing and almonds; and Peaches En Almibar, sweet peaches with a honeyed drizzle over ricotta cheese and topped with pumpkin seeds and nasturtium leaves, among others. Larger plates include favorites such as the Arroz Al Horno with saffron dashi, piquillo sauce, and onion ash with the option to add chorizo, Jamon Iberico or gambas; Local Fish with Albarino-olive butter sauce, cucumber and Arroz Sevillano; and the Cowboy Ribeye with five-spice coffee rub and salsa Malaguena. A few simple desserts are offered daily including house-friend Churros served with olive oil infused ice cream.
Paying homage to the pueblos in Spain, the bar celebrates its love for gin with a wide depth of gin infusions, taking the beverage program to the next level. Guests can choose from a collection of more than 20 variations infused with tea, fruits, nuts, and even cured meats. The Gin & Tonic section of the menu features unique variations that serve as great refreshments for Miami's warm climate. G&T's such as Blue Matcha Yuzu, and Local Strawberry are soon-to-be favorites alongside updated classics like Vermut and Rose Sangria and Gin Martinis. Imbibers will also look forward to the bar's extensive list of Sherry, Vermouth, and selection of classic Spanish cocktails done right.