If you're not in the mood to cook for Thanksgiving, we have you covered. Plenty of South Florida restaurants are offering to do the hard work for you. Check out our roundup below to see what your favorite local spots are serving up for the holiday. Happy Thanksgiving!
Disclaimer: Specials are subject to change, so contact the restaurant to re-confirm the details.
The Ritz-Carlton, South Beach
The Ritz-Carlton, South Beach invites guests to celebrate Thanksgiving on Thursday, November 24 with inspired seasonal menus and a special pie-making workshop led by Pastry Chef John Martinez.
Perfect Pumpkin Pie Workshop
Wednesday, November 23, 4-5 p.m. at Bistro One LR
Price: $35 pp
Master the perfect pumpkin pie with Pastry Chef John Martinez. Participants will learn dough-making techniques to mix and roll pastry from scratch and make a perfect pumpkin filling with favorite seasonal spices.
Thanksgiving Brunch
Thursday, November 24, 12-4 p.m. at Bistro One LR
Price: Adults $110 | Children $35, ages 5-12 years
Gather for a gourmet Thanksgiving brunch featuring traditional culinary selections and carving stations, alongside a special children's buffet with delectable favorites
Thanksgiving Dinner
Thursday, November 24, 7-10:30 p.m. at Bistro One LR
Price: Adults $65 | Children $30, ages 5-12 years
Enjoy a traditional Thanksgiving menu complete with all the trimmings, served alongside seasonal cocktails and sommelier-selected fine wine pairings.
Thanksgiving Dinner To-Go
Price: 8-12 Servings, $400 | 15-20 Servings, $600
Indulge in The Ritz-Carlton culinary experience in the comfort of your home with friends and family, and allow their chefs to create your perfect Thanksgiving holiday dinner complete with all the trimmings, to-go. Orders can be placed with in-room dining by dialing +1 (786) 276-4000 until midnight on November 21.
TALDE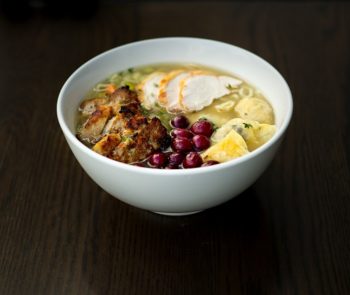 All month long, TALDE at The Confidante is featuring a special Thanksgiving ramen bowl to celebrate the holiday. This over-the-top ramen bowl takes Thanksgiving to a whole new level. Starting off with a traditional bowl of ramen, pile on turkey breast, stuffing, pickled cranberries, mushroom gravy tare, and finally creamed spinach wontons to complete this mouth-watering fusion of flavors.
Talde's Thanksgiving Ramen is the perfect way to satisfy your Thanksgiving cravings all month long in an unusual way. Make sure to bring a friend, as the Thanksgiving Ramen ($25) serves two. Talde is located at The Confidante Miami Beach, 4041 Collins Ave., Miami Beach, FL 33140.
Bazaar by José Andrés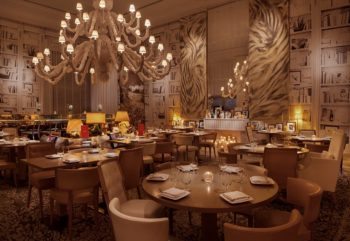 At Bazaar by Jose Andres at SLS South Beach, enjoy a family-style Thanksgiving Menu executed with modern and traditional techniques at $95++ per person. 
Inclusive of a creative first course, second course, sides and dessert options, menu highlights include: Roasted Beet Salad caña de cabra cheese; Joyce Farms Heritage Turkey truffle breast, turkey leg confit, grilled endive, giblet gravy; Butifarra Cornbread Stuffing guindilla and piquillo peppers, pork sausage; and desserts like the Pumpkin Spice Chocolate Mousse Tort chai tea spiced gelato, roasted pumpkin gel, chocolate soil & toasted meringue. 
The Bazaar's a la carte menu will also be available. Reservations suggested.
Red, the Steakhouse

Red, the Steakhouse is known for serving Certified Angus Beef Prime (the top 1.5% of beef available in the U.S.). However, Executive Chef Peter Vauthy knows how to cook a mean turkey too. With a gourmet menu that includes festive-sized portions of organic turkey with house made gravy, granny smith apple-sausage stuffing, and sweet potato fondue with house-made marshmallows make sure to come really hungry. Plus, the 400+ wine selection give you a ton of pairing options. Without further ado, here are the specials:
– Organic turkey with house-made gravy
– Granny smith apple-sausage stuffing
– Sweet potato fondue with house-made marshmallows
– Green beans, pancetta & pine nuts
– World famous four cheese mac & cheese
– Local creamed corn with cornbread crumbs
– Whipped potatoes & gravy
– Cranberry-orange relish
– Pumpkin pie
Red, the Steakhouse is also offering a full à la carte menu. The restaurant will open for dinner service at 5:00pm. Visit www.redthesteakhouse.com for more information.
Il Mulino New York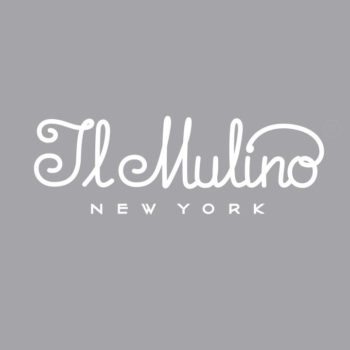 Il Mulino New York is offering a decadent Thanksgiving feast at both of their South Florida locations in South Beach and Sunny Isles. For $50 per person, guests can indulge in Organic Roasted Turkey, Walnut and Sausage Stuffing, Fresh Cranberry Sauce, Green Beans with Toasted Almonds, and Black Truffle Mashed Potatoes. For a sweet finale, Il Mulino is serving Apple Strudel with Gelato.
db Bistro Moderne
db Bistro Moderne will carry on its tradition of offering a lavish feast to celebrate the Thanksgiving holiday, with both a la carte and prix-fixe options. Diners can expect traditional Thanksgiving offerings like turkey and pecan pie in addition to Executive Chef Clark Bowen's fresh take on regional cuisine and local flavors including pumpkin agnolotti and local pompano. Diners will also receive a complimentary turkey sandwich to go at the end of the meal, the perfect snack for the next day (or later that night)!
Essensia Restaurant and Lounge
Gather your nearest and dearest for an oceanfront, farm-to-table take on Thanksgiving at Essensia Restaurant & Lounge inside The Palms Hotel & Spa. Since you're in Miami Beach, dine al fresco on the Essensia terrace and enjoy the special menu that begins with plated smoked salmon and deviled eggs. Next, hit the salad station to get your greens — and don't miss the classic Essensia Kale Caesar. At the carving station, choose from slow-roasted herb-rubbed natural turkey with cranberry-orange chutney, and honey mustard braised beef brisket.
A decadent menu of classic side dishes includes carmelized butternut squash wedges, sourdough herb stuffing, mashed potatoes, roasted root vegetables, and more. No Thanksgiving dinner is complete without dessert, so finish the evening with assorted seasonal mini desserts and pies — and of course, toast to the season with garden-to-glass 'conscious cocktails' or a glass of byodynamic wine. For reservations and more information, please visit www.essensiarestaurant.com or call (305) 908-5458.
Pinch Kitchen

This year, Pinch Kitchen is helping take away the stress of cooking that comes with Thanksgiving with their "Thanksgiving Feast To Go."
The not so traditional dinner – in typical Pinch fashion – is $210 inclusive of tax and serves six. It includes: Whole Roasted Turkey, Spicy Brussel Sprouts with Bacon and balsamic glaze, Truffled Pommes Puree, Green Beans with tzatziki and almonds, Potato Salad with apples, pecan, celery, Sweet Potato Casserole, and Gravy.
Add-ons such as Homemade Biscuits, Homemade Hummus with pita chips, and Homemade Apple pie may also be ordered for an additional cost.To place your Pinch Thanksgiving Feast or for more information on the dinner visit their website, pinchmiami.com, or call the restaurant at (305) 631-2018‬.
The Restaurant at The Raleigh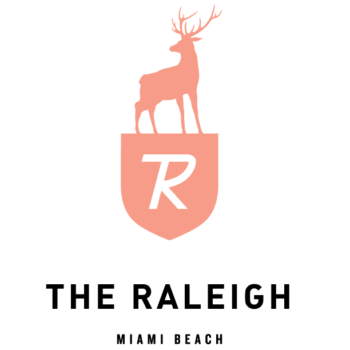 At The Restaurant at The Raleigh for $49++ per person, guests can enjoy the holiday prix-fixe menu for both lunch and dinner. Menu includes a first course, main and dessert including items such as Creamy Mushroom Soup Grilled Abalone Mushroom, Truffle; Roasted Braised Free Range Turkey Natural Gravy, Brown Butter Squash Puree, Sweet + Sour Cranberries, Rustic Baguette Stuffing, sage, Green Beans with Tamari and Candied Almonds and Sweet Rolls; and for dessert Sweet Potato Pie Toasted Marshmallow, Butter Pecan Ice Cream. 
Byblos Miami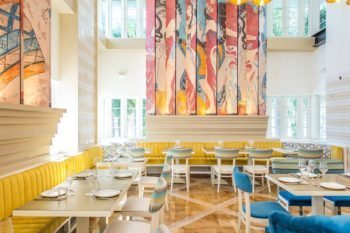 For those in the mood for a Thanksgiving Supper with a Mediterranean twist, visit Byblos Miami and enjoy a special prix-fixe menu at $65++ per person. The menu highlights include SALMON CARPACCIO Biber Pepper + Aioli + Nigella + Lime + Rose; TURKEY BALLANTINE DIINER Lemon Brine + Saffron Barberry Stuffing + Pomegranate Molasses + Jus; ROASTED PUMPKIN Yogurt & Tahini + Nigella + Cilantro and STRAWBERRY CHEESE CAKE QATAYEF Sumac Strawberry + Honey Syrup + Pistachio for dessert.
Bianca at Delano South Beach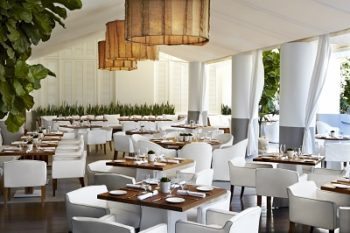 Bianca, the elegant restaurant within the iconic Delano South Beach, offers guests a chance to celebrate Thanksgiving in style. Bianca's Thanksgiving Day menu features an array of delicacies including stone fruit, walnuts or bijou and beets, savory turkey or porchetta. Dishes will be complemented with traditional sides including sweet potato puree with maple and pecans, giblet stuffing, and bourbon caramelized apples. Available from 4:30 p.m. to 11 p.m. for $65 per guest.
Toscana Divino
Toscana Divino is serving a family style Thanksgiving meal featuring beet carpaccio, gran tagliere della tradizione, bruschetta, traditional roasted turkey, Italian sausage stuffing, potato puree, and pumpkin gnocchi. Guests can enjoy traditional pumpkin pie with whipped cream with amaretto. The menu is $55 per person.
Pao by Paul Qui
At Pao by Paul Qui, the Thanksgiving family feast on Thursday, November 24, from 6PM – 11PM enjoys a modern Asian twist with a prix fixe four course menu choices including Sunomono Salad with roasted sesame and crispy buckwheat and Smoked Pennsylvania Duck Breast with five spice ragout and trumpet mushrooms.
$95 per person plus tax and service charge.  Beverages not included.
The National Hotel
The National Hotel is serving up a three-course prix-fixe dinner on Thanksgiving Day. The meal includes choice of appetizer (butternut squash bisque or autumn salad), a Thanksgiving turkey entree and the choice of pumpkin cheesecake or warm apple tarte tatin for dessert. The dinner costs $39.95 for adults and $19.95 for children.
Bachour Bakery + Bistro
Bachour Bakery + Bistro, located in Miami's business district, is an urban oasis featuring pastries by acclaimed Antonio Bachour. Bachour's side features freshly made morning pastries, including Danish, brioche, and a variety of flaky croissants; signature desserts such as bonbons, macaroons, petit gateaux (small cakes), layered verrines, entremets and tarts; and large specialty cakes.
Don't miss Antonio Bachour's Pumpkin dessert, a must-have for Thanksgiving dinner, along with other seasonal desserts such as Apple Tart, Pecan Tart, Sweet Potato and Chocolate Petit Gateau, which will be available through November 30.
The Dutch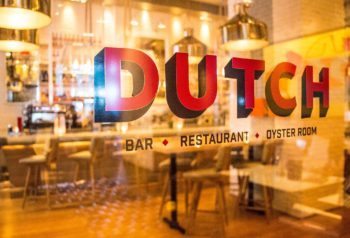 The Dutch at W South Beach is offering a two-course prix-fixe Thanksgiving menu on Thursday, November 24th from 1PM to 9PM. For $55 per person, guests will be treated to Cider Brined Turkey with Whipped Yukon Potatoes, Butternut Squash Brussels Sprouts and Rutabaga, Traditional Turkey Leg Stuffing and a side of Cranberry Sauce and Gravy.
For that final sweet touch, diners can choose from a slice of Apple Pie with salted caramel and vanilla ice cream; Pumpkin Brûlée with cinnamon Chantilly and rum raisin ice cream; or Pecan Pie topped with cranberry compote and a side of maple ice cream. The Dutch is located inside W South Beach, 2201 Collins Avenue, in Miami Beach, Florida, 33139.
For more information or reservations, please call (305) 938-3111 or email info@thedutchmiami.com.
PB Station
PB Station at The Langford Hotel will be celebrating a dual Thanksgiving via two pre-fixe menus ($68 per person), each with a different theme. The Latin menu will feature items such as Malanga Soup with salt cod fritters; Mofongo with chicharrones and shrimp ragu; and a Crispy Skin Cochinillo with spicy guava glaze, smoked pork chuleta, picadillo and chorizo.
Highlights from the American menu include a Roasted Turkey Leg with cranberry relish, cornbread, turkey liver stuffing, and buttermilk gravy; a Loaded Sweet Potato with smoke pork belly confit, pink peppercorns, pork rind crumble and pork caramel; and sides to share such as Butternut Squash Soup, Stone Crab Dumplings, Spiced Pumpkin Seeds and more.
Shooters Waterfront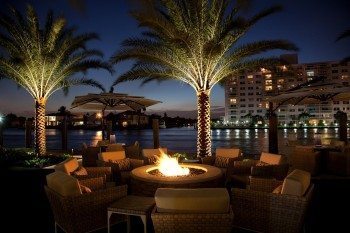 Fort Lauderdale's sophisticated Intracoastal staple will celebrate turkey day with an all-you-can-eat buffet at $49 per person and offer pre-prepared take home dinners with all of the traditional Thanksgiving staples this year for $95 per order.
Shooters' endless Thanksgiving buffet will feature a carving station with herb-infused roasted turkey, Virginia honey-roasted ham and prime rib with au jus alongside a soup and salad bar with seasonal butternut squash soup, tri-color beet salad and a mixed field greens salad.
An array of traditional trimmings include stuffing, mashed potatoes and gravy, sweet potato casserole, green beans almondine, macaroni and cheese, corn succotash, cranberry sauce, fresh dinner rolls with honey butter and spiced pumpkin cheesecake and caramel apple cobbler for dessert.
Quattro Gastronomia Italiana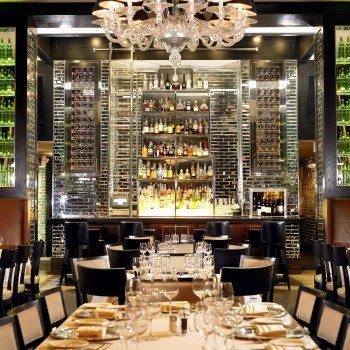 Quattro Gastronomia Italiana, the upscale Northern Italian eatery on South Beach, is celebrating Thanksgiving with special a la carte dishes in addition to the regular dinner menu on Thursday, November 24th.
Families can celebrate the day with authentic Italian cuisine while people watching on bustling Lincoln Road or inside the stunning restaurant. Antipasti includes Insalata Di Arucola e Cavolo con Prosciutto Croccante, Uve, Noci e Salsa al Gorgonzola – baby arugula and kale salad with crisp prosciutto, grapes, candied walnuts and gorgonzola dressing ($18); Crema Di Zucca con Mousse Di Mascarpone – pumpkin soup with mascarpone mousse ($15).
Main course options include Tacchino Ripieno con Spinaci, Macinato e Ricotta – braised turkey breast stuffed with focaccia, ground beef, ricotta cheese and pistachio served with sage mash potatoes and gravy ($38); Risotto con Zucca Noci e Gorgonzola – traditional risotto with pumpkin walnut and gorgonzola cheese ($28); and Cosciotto Di Agnello Al Forno con Pure Di Zucca Al Tartufo – oven roasted leg of lamb with pumpkin mash and truffles ($38).
For dessert, guests can enjoy a Torta Di Noci Pecan – butter pecan pie with vanilla ice cream ($10). Quattro is located at 1014 Lincoln Road. For reservations, please call (305) 531-4833 or visit www.quattromiami.com.
SUGARCANE Raw Bar Grill
Helmed by Executive Chef/Partner, Timon Balloo, SUGARCANE raw bar grill ("SUGARCANE") is located in the heart of Miami's emerging Midtown district. Inspired by all regions of the world, SUGARCANE offers three kitchen concepts — an open fire grill, raw bar and traditional kitchen — all which unite for a fresh take on international spirit.
This Thanksgiving, SUGARCANE raw bar grill will be offering their a la carte menu including festive Thanksgiving specials including Thai Red Curry & Carrot Soup with salted coconut creme and fried almonds at $10; Southern Bird with maple glazed roasted breast and smoked turkey leg, cornbread grits, french green beans at $23; and Pumpkin Panna Cotta with ginger bread streusel and peppermint ice cream at $10.
Epicure Gourmet Market and Cafe
From their table to yours, Epicure Gourmet Market and Café encourages guests to experience their rich, home-style Epicure Family Feast this Thanksgiving season. The classic package features a savory roasted turkey, country stuffing, candied sweet potatoes, fresh dinner rolls, sautéed vegetables and a choice between two freshly-baked, signature Epicure desserts – all prepared to satisfy the seasonal cravings for a table of 10.

Catering to all tastes, families who prefer turkey day without the turkey can purchase Chef Michael Love's Not-So-Traditional Thanksgiving Dinner, which features a spiced pumpkin bisque, fresh basil and crumb-crusted roasted salmon, arugula hearts of palm salad, classic mashed potatoes, mixed artisan dinner rolls and topped off with sweet pumpkin cheesecake – ideal for a family of four.
Making your holiday simple and delicious, the gourmet market invites families to spend less time in the kitchen and more quality time in the company of loved ones.
To preorder, please call (305) 672-1861 for Miami Beach or (305) 974-4581 for Sunny Isles.
50 Eggs
South Florida residents who aren't looking to spend hours in the kitchen cooking this holiday season can count on 50 Eggs to provide hearty feasts for the whole family.
For Thanksgiving dinner, both Yardbird and Swine will be offering prix-fixe menus inclusive of southern favorites like Buttermilk Biscuits with honey butter, Sweet Potatoes, Bourbon Pecan Pie and, of course, a Turkey Dinner served with giblet gravy, cranberry compote and cornbread dressing.
For families wanting to still enjoy the holiday in the comfort of their own home, Spring Chicken will be serving their full menu of fried chicken classics. The restaurant's Family Meals are perfect for takeout dining, with options including Winner Winner Chicken Dinner (full fried bird and 2 large sides) and Tender Love (12 hand breaded tenders and 2 large sides).
BLT Prime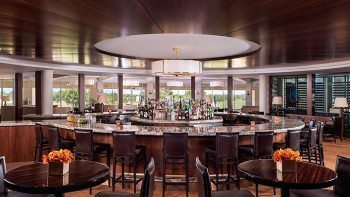 BLT Prime, the modern American Steakhouse in the heart of Doral, is offering families a three-course prix-fixe Thanksgiving Dinner Thursday, November 24th. For $75 per adult and $40 for children under 12, guests can choose from an array of starters such as Celery Root Soup – Honey Crisp apples, chestnuts and sage; Kabocha Squash Risotto with saffron, pumpkin seeds and pecorino; and a Gem Salad – parsnip, squash and cider vinaigrette.
For the main course, options include Roasted Turkey with chestnut-sausage stuffing, cranberry-grenadine sauce and rosemary gravy; Dry-Age Roasted Prime Rib with confit garlic jus and caramelized onion bread pudding; and Striped Bass with Brussels sprouts, Kohlrabi and cranberry. Additional sides include Chestnut-Sausage Stuffing – Brussels sprouts, Cipollini, bacon and honey; Creamed Spinach, Mashed Potatoes and Sweet Potato Gratin.
For a sweet finish, diners can indulge on a choice of Velvet Chocolate Rocky Road with vanilla anglaise and hazelnuts; Cranberry Spiced Bread Pudding with walnuts and cranberry coulis; and a Pumpkin Tart with maple ice cream. Reservations for the dinner can be made at 305-591-6066 or lukas@bltprime.com.
BLT Prime is open daily for breakfast, lunch and dinner. BLT Prime is located at Trump National Doral Miami®, 4400 NW 87th Avenue. www.bltprimemiami.com.
Bagatelle Miami Beach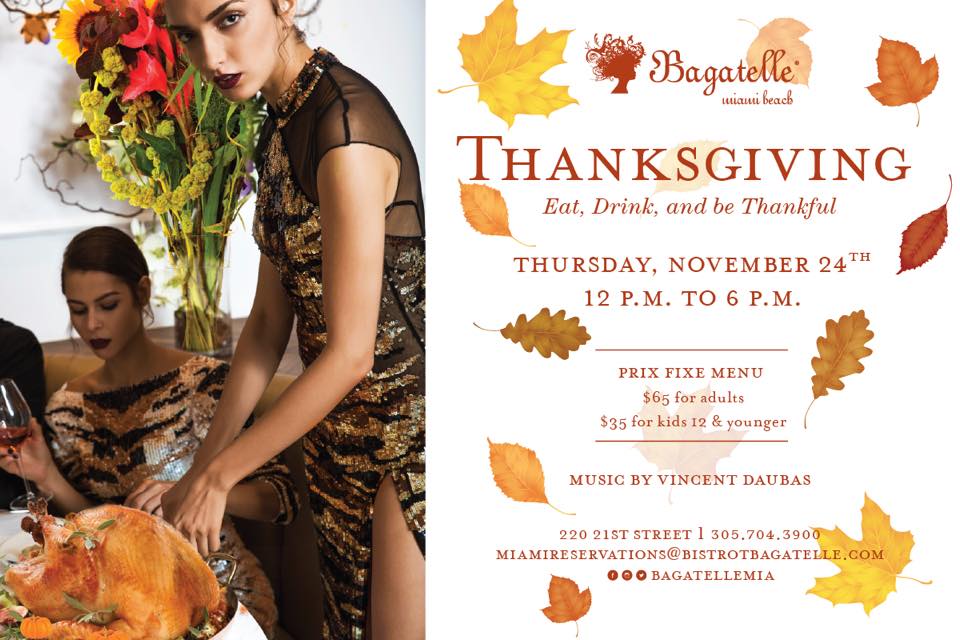 Eat, drink and be thankful this Thanksgiving at the Bagatelle Miami Beach Thanksgiving lunch on Thursday, November 24, 2016 from 12PM – 6PM.
Guests will gobble up a traditional Thanksgiving pre fixe menu priced $65.00 per adult and $35.00 for children 12 years and younger. Give thanks and burn calories to sounds by Vincent Daubas.
Soyka
Locals have come to depend on Soyka for Thanksgiving dinner, and the tradition continues this year with two options for those that don't want to cook. On Thursday, November 24th, guests can enjoy the cozy dining room, which will be serving a traditional Thanksgiving dinner from 5pm along with a limited menu for the non-traditional types; or, they can take home a catered Thanksgiving meal that can easily be passed off as home-cooking.
The catered meal feeds 8-12 people and includes 12-14lb. turkey, traditional gravy, cornbread stuffing, corn bread, toasted almond green beans, cranberry sauce, choice of mashed potato or sweet potato mash, and choice of apple, cherry, and pumpkin pie. Last day to order is November 21st.
Steak 954
Stephen Starr's Steak 954 will be offering a delicious a la carte holiday meal this Thanksgiving. In addition to their regular menu, executive chef Jonathan Capo and pastry chef Sara Magoon will be presenting seasonal specials and traditional Thanksgiving dishes including a classic turkey dinner complete with all the fixings like stuffing and mashed potatoes.
Kitchen 305
Kitchen 305 at Newport Beachside Hotel & Resort will showcase their Thanksgiving specials at various stations including a Cold Station, Carvery, Hot Items and Dessert for $45 per person. Menu highlights include fingerling potato salad, oven roasted beets, brandied pumpkin lobster bisque, tangerine glazed turkey, bourbon peach mustard glazed ham, pecan encrusted salmon, parsnip mashed potatoes, pumpkin pie, pumpkin cheesecake, port wine poached pear and more.
Pizza & Burger
The approachable and affordable concept recently added to the award-winning lineup of restaurants at Fontainebleau will be offering a unique take on Thanksgiving with The Bounty – a house made turkey burger packed with abundant Thanksgiving day flavors like cranberry mostarda and truffled turkey gravy. The special burger will be offered only on Thanksgiving Day and priced at $22.