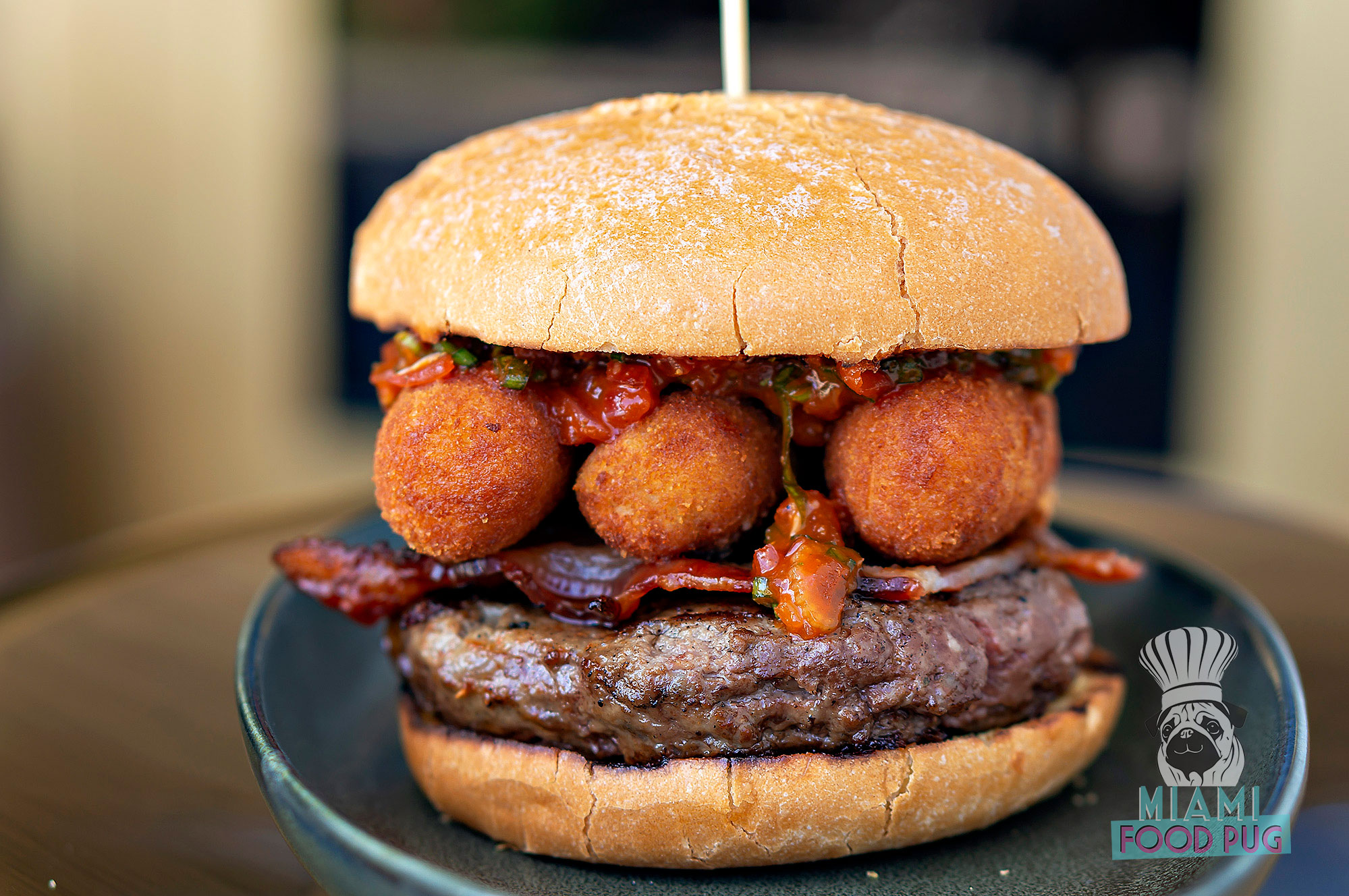 "Bar Spanglish now serves weekend brunch." Those were all the words we needed to hear to book it to the Wynwood restaurant. The cool craft cocktail bar and kitchen has now expanded its offerings to offer weekend warriors a chance to recharge after a night out or continue dehydrating responsibly.
Chef Giorgio Rapicavoli (of Eating House fame) put together a Sunday Funday menu that will help close out your weekend on a high note. We're glad there are no calorie counts listed anywhere because these selections are not for the feint of heart (or those with heart issues). The offerings are massive and mostly fried, so don't expect salads or anything of the sort here. Savory highlights on the menu include a Croqueta Tripleta — Spanglish's brunch burger — and the "Tres Golpes" Sandwich (queso frito, soft scrambled egg, sofrito bacon), which are both pretty shareable.
Guests with a sweet tooth can enjoy Flan-Cakes — exactly what it sounds like — and the Brioche "Torreja" (aka French toast) with sauces like vanilla caramel and cafe con leche, respectively. It wouldn't be a Bar Spanglish brunch without fun cocktails, and the team doesn't disappoint. Brunch-only libations like the Canchanchara with Havana Club or the Strawberry Fields with Fords Gin not only look Instagrammable but also fit the brunch vibe perfectly; they taste "brunchy" (yes, we know that's not a real word). And of course, there are bottomless mimosas available if that's more your style.
Bar Spanglish's brunch menu isn't the most extensive, but the short-and-sweet list of offerings still serves up a great balance of flavors. And its these awesome flavors you'll keep thinking about well into the workweek.
Spanglish Craft Cocktail Bar + Kitchen is located at 2808 N Miami Ave in Wynwood. For hours of operation and more information, please visit their official website or call 305-632-5362.