After almost a year and a half of no travel thanks to COVID-19, we had to get out of Miami — it had been wayyyyyy too long. Last month, we finally decided to hop on a plane and say goodbye to the 305 for a long weekend. Where to? Boston, one of the places we had originally planned to visit in 2020 … but you know. It was our first time in Boston, and it certainly won't be our last.
Boston is a big city, but here's the thing: Everything is a lot closer than it appears. We hardly took the train or ride shares, as many famous sights were within (reasonable) walking distance — especially when the weather is on your side. That said, whether you agree depends on where you stay and what you ultimately want to end up doing.
Which is why we've put together this beginner's guide to Boston. If it's your first time visiting Beantown, we hope this guide will help you make the most of your time in the city. And if you only take away one thing, make sure it's this: Wear comfortable shoes.
Where to Stay
When we asked our Boston buddies where to stay, one neighborhood kept popping up: Back Bay. It's a gorgeous, centrally located neighborhood with tons of shops, attractions and — most importantly — restaurants around every corner. To take advantage of the nearby sights, book yourself a room at Loews Boston. Home to over 220 guest rooms and multiple suites, Loews Boston has plenty of space to host you and your loved ones (including pets!). And because it's a Loews, you know your entire experience will be second to none. There's just something about the New England Hospitality.
Currently, Loews Boston is offering a number of cool promotions.. For any two-night (or more) stays booked direct from now until Labor, Loews Boston Hotel will donate to DonorsChoose to help fund Boston school projects for the 2021-2022 school year. The hotel is also offering a "House Arrest" special, which includes a $25 credit to the Sundry Shop or the on-site restaurant (more on that later) as well as a complimentary in-room movie and free premium Wi-Fi. There's also an array of new kid-friendly amenities like Babo Botanical travel kits and 100% organic baby food by Little Spoon.
One last note: Because you'll be doing a lot of eating in Boston, we suggest spending some time in the spacious Fitness Center, which is home to the latest tech including some much-appreciated Peloton bikes. Be sure to explore the architecture, too, as the building once served as Boston Police Headquarters. No hotel is complete without dining options, which brings us to …
Where to Eat
In our experience, hotel restaurants have been hit or miss. Some hotels put a lot of thought into their cuisine, while others consider food an afterthought. Precinct Kitchen + Bar at Loews Boston falls into the former category. At this beautiful on-site restaurant, guests can enjoy an extensive range of tasty New England cuisine with a strong emphasis on products from local and regional purveyors. For dinner, visitors can expect items like grilled octopus, steak frites, fish and chips, and — of course — lobster rolls. We visited for brunch and found ourselves indulging in delicious huevos rancheros and breakfast sandwiches, as well as Negronis and spritzes. Sunday funday, indeed.
Even if you don't feel like a full-on meal, swing by; order a drink like the Bourbon Cherry Smash or Elderflower Old Fashioned and take in your surroundings. Precinct Kitchen + Bar is huge, but somehow still feels intimate — it's a feeling you have to experience firsthand.
If you only have one meal in the city, make it Saltie Girl. It's the one restaurant we visited multiple times during our trip, and nothing compares to it. Located less than a 10-minute walk from Loews Boston, the seafood restaurant boasts an appetizing array of fish dishes and other specialties that will blow your mind. Our favorite selection: the snow crab toast with avocado, pistachios and stracchitella. The raw items like the tuna and yellowtail are also musts.
Tinned seafood fans will also find a lot to like, including caviar, anchovies and sardines galore. There's also SEAFOOD PIZZA next door. Heck, just order everything A word of advice: Come at an off hour because this place gets slammed. We had a lot of luck finding bar seating so always make sure to check.
A stone's throw away from Loews Boston, Flour is famous for its baked good and breakfast offerings. Think scones, muffins, croissants, coffee cake, pop tarts … if you can think of it, it's likely here. Ask anyone what to order here, and most will gravitate to the sticky sticky bun with its dark, sticky caramel and toasted pecans.
While the bun is certainly a highlight, we suggest complementing it with one of the rotating specialties. Having visited during Pride Month, there was a rainbow Rice Krispie treat that was to die for. On the savory side of things, expect smoked turkey sandwiches, chicken and broccoli rabe panini, and everything-spiced tuna and citrus salad. There's really no wrong choice.
For research purposes, we ate our weight in lobster rolls. We asked locals and visitors alike for the best spots, and after eating what seemed like 200 pounds of lobster, we found our favorite: Yankee Lobster in the Seaport District. It's a trek from Back Bay, but the trip is worth it for the hot buttered lobster that will make your eyes roll back.
Oh yeah: In the battle between cold and warm/hot lobster rolls, the latter wins every time — we will die on that hill. Anyway, this no-frills shack offers one heck of a roll along with other delicious bites like gulf shrimp, scallops, stuffed clams, and Mac and cheese. Bring an appetite.
Myers + Chang — co-owned by Joanne Chang of Flour — is another spot that really blew us away. It's a sizable menu full of succulent selections like dumplings, noodles, buns, rice and other delights, but it's the vegetables that really stood out to us. Dishes like Ming's market greens, red miso-glazed carrots, and sweet + sour Brussels sprouts are all standouts on a menu packed with stars. We suggest this spot for picky eaters, as the menu features no shortage of options for any palate. Save room for a cocktail or two; they may sound light and refreshing, but they pack a punch. Don't forget to get a bag shrimp chips for the road.
You're likely to hear about the legendary cannoli battle between Mike's and Modern Pastry. Skip both and go to Bova's Bakery instead — trust us.
Where to Drink
Beer and breweries are plentiful in Boston, and Night Shift should be on your short list. The Lovejoy Wharf location is just steps away from TD Garden, so it's a perfect pre-gaming stop for a concert or Boston Bruins game. It's also the perfect stop even if you're not doing those things: The place just exudes cool, and the pours will delight even the most discerning beer enthusiast. Selections are subject to change, but you'll likely find gems like the Whirlpool pale ale, Ransom Note stout, and the Hoot Louder: Berry Blast hard seltzer. Food is also available in the form of pretzels, lime lite chicken wings, Nashville hot chicken and Detroit-style pizzas.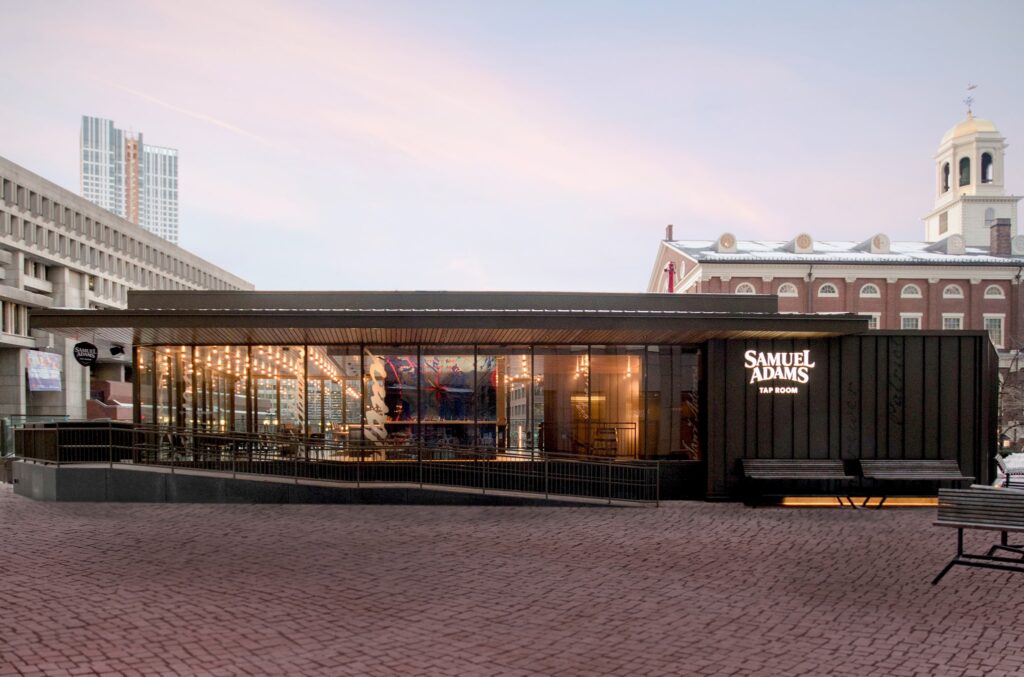 Although the actual Sam Adams brewery is out of the way if you're staying in Back Bay, their Downtown taproom is the next best thing. The 15,000-square-foot venue is a sight to behold, and it's easily accessible from the MBTA orange and green lines. Grab a seat on the rooftop deck and drink up: More than 20 beers are available on draft, so expect to spend a bit of time here. The adjacent square is usually bustling with street performers and shows, too. Before you wrap up your visit, swing by the first-floor gift shop for cool glasses, cans and other goodies.
If you're more the cocktail type, head on over to Drink in Fort Point. The nondescript spot has no cocktail menu, and you won't find any bottles on display — or any decor, for that matter. It's legit a basement bar — one that's full of master mixologists. Your bartender will ask you about your likes and dislikes, and then craft a cocktail to fit your palate. They'll wow you with their creativity and hospitality. The food here is awesome — especially the house sour cream chips with caviar dip. And don't worry if you don't drink cocktails: There is a beer and wine list available.
On your way to Yankee Lobster, make a pitstop at Harpoon Brewery. The beer hall serves up all the Harpoon favorites like Big League, White, Camp Wannamango and the Dragon Weisse. Because the beers are all so different, we suggest ordering a flight to find your favorites; there are four flights to choose from. In terms of food, you can't go wrong with the giant salted pretzel with ale mustard and IPA cheese. Sandwiches, chowder and pizza are also up for grabs. This place is also home to some impressive glassware, which we stocked up on in the gift shop. Needless to say, our beer glass selection after this trip as gotten out of hand.
Tropical vibes abound at Shore Leave in South End, which will quickly become your new favorite Boston hangout. Because of COVID-19, we couldn't go indoors, but the outside terrace left us impressed and excited to revisit. On the menu: rum cocktails, rum cocktails and rum cocktails. Mai tais and painkillers are just a few of the highlights here, but we recommend you get a little adventurous. Several drinks like the Bug Juice feature no description, but just go with it. The drink list is short and sweet, yet every entry is worth a sip.
What to Do
Boston's Freedom Trail is the one thing that every first-timer should do. There's a ton of history along this 2.5-mile walkable route, as it takes you up close to some of the city's top attractions. Museums, churches, burial grounds … you'll encounter them all on this scenic trail. Among the many highlights: the Massachusetts State House, Park Street Church, the Boston Massacre Site and the Granary Burying Ground. We spent quite a bit of time at the last one; it was fascinating to see the graves of historical figures like Paul Revere and John Hancock up close.
The Public Garden was the first public botanical garden in America, dating all the way back to 1837. On a nice day, take a stroll through the grounds and admire the 80+ species of plants, the "Make Way for Ducklings" statues and — of course — the famous swan boats. Also, be on the lookout for the famous bench from Good Will Hunting, where actors Robin Williams and Matt Damon sat for one of the movie's iconic scenes. The garden is also short walk away from other attractions like the historic Boston Common and — a personal favorite — the bar from Cheers (Bull and Finch Pub).
We mentioned that Boston is a very walkable city, and your feet will inevitably hurt. Let someone else do the heavy lifting when it comes to sightseeing: Sign up for the city's famous Duck Tours. The scenic excursion takes you to the city's main sites like the Boston Public Library, Copley Square, Newbury Street, Quincy Market and the Prudential Center. You'll not only explore the city by land, but also by water; these versatile vehicles can do it all. They're also fully narrated by some colorful characters who are as funny as they are knowledgeable.
No trip to Boston is complete without a trip to Fenway Park. Even if you don't like baseball, you need to visit this iconic ballpark. Home to the Boston Red Sox, Fenway Park offers guided tours all year round for just a little over $20. Depending on when you visit, you'll get to go through the various seating sections, see where movies like The Town were filmed, and visit the famous Green Monster that overlooks left field. During our particular tour, we went inside the press box for a quick history lesson and a closeup look at where Brad Pitt filmed a scene from Moneyball.
One thing you should know: Tours always start on time. We learned the hard way.
Charles River Esplanade
If your feet aren't tired yet, take a walk along the famed Charles River. Its popular esplanade features a scenic walking path where you'll spot dogs galore. It's also super close to Cambridge if you want to visit the Massachusetts Institute of Technology and start exploring that neighborhood. The Harvard Bridge leading to MIT seems lengthy, but it's a lot shorter than it looks. Pay attention to all the writings on the bridge, as they'll provide some insight into one of MIT's biggest inside jokes: the almighty smoot.